Uncategorized
The Perfect Pound Cake Recipe
This website may contain affiliate links and advertising so that we can provide recipes to you. Read my privacy policy.
This is a classic recipe that really IS the perfect pound cake! There is something about this exact mix of these simple pantry staple ingredients that results in a velvety smooth and perfectly dense and tender cake.
I love desserts! There is nothing better than a slice of cake or a scoop of ice cream, especially when it is homemade. I guess I can just taste the love in a classic homemade dessert, and this pound cake is no different! Once you finish this pound cake, you've got to try this classic Apple Pie, this amazing Strawberry Shortcake, and this Lemon Ice Box Cake.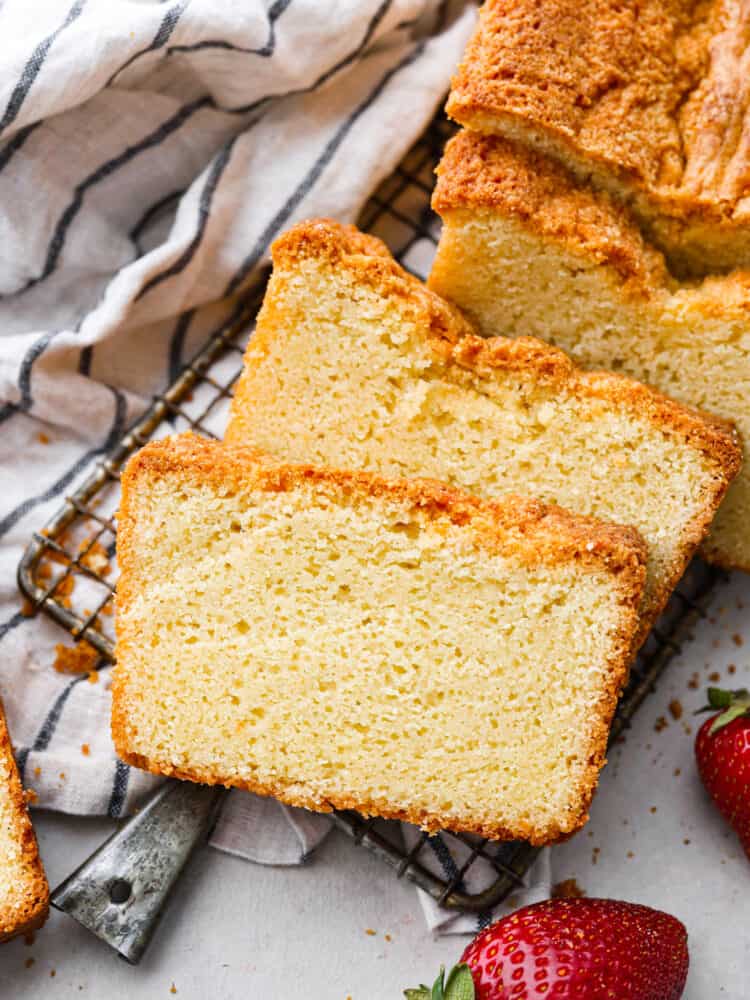 Pound Cake
I have a confession to make. I never really understood why people loved pound cake! It doesn't have any frosting and it's a humble looking thing. It easily is outshined by a fluffy angel food cake or a beautiful layered lemon cake. I know it's a classic, but I'd prefer something like a lemon bar or sugar cookie instead. My feelings changed when I had a pound cake that actually made me say WOW. Out loud. And I set out to recreate that recipe because I couldn't stop thinking about it. So here you go, this is THE perfect pound cake recipe that you won't believe is made from a few simple pantry ingredients.
Originally, pound cake was made from one pound of butter, flour, eggs, and sugar. That's how it got its name! Most recipes have evolved a little over time, and I think it was for the best. This pound cake is made from simple pantry staple ingredients and is a recipe you definitely need to have in your recipe book. It's a classic! It is amazing served with whipped cream and fresh strawberries and is now one of my family's favorites. Imagine that!
Ingredients
Does it get any better than a traditional pound cake? It is such a classic! And knowing a great recipe is key. This is the perfect pound cake recipe that you will want to make again and again! It is a plain vanilla pound cake, so feel free to add some lemon extract or lemon zest to add lemon flavor.
Butter: You will need two sticks of unsalted butter. That is only one-half pound, so no need to panic! This is what gives the cake the yellow color, and that buttery dense flavor. Make sure to let your butter sit out so it's room temperature.
Granulated Sugar: Whatever you have in your pantry will work.
Eggs: This is what gives the egg the rich and velvety texture.
Egg Yolk: Extra yolk helps to make the same flavor of a traditional pound cake without the same amount of eggs and butter. It also adds moisture to the mixture.
Vanilla Extract: I like to add a little to give it more flavor and to bring out all the other buttery flavors.
Salt: A little salt helps to balance all the rich sweet flavors.
All-Purpose Flour: This is just the easiest to work with. You could use cake flour if you wanted to, but all purpose seems to give the cake the rich dense texture with plenty of tenderness that is more traditional.
Baking Powder: This will help the cake rise just enough. This cake has a really nice tender crumb, and you don't want it to puff up too much.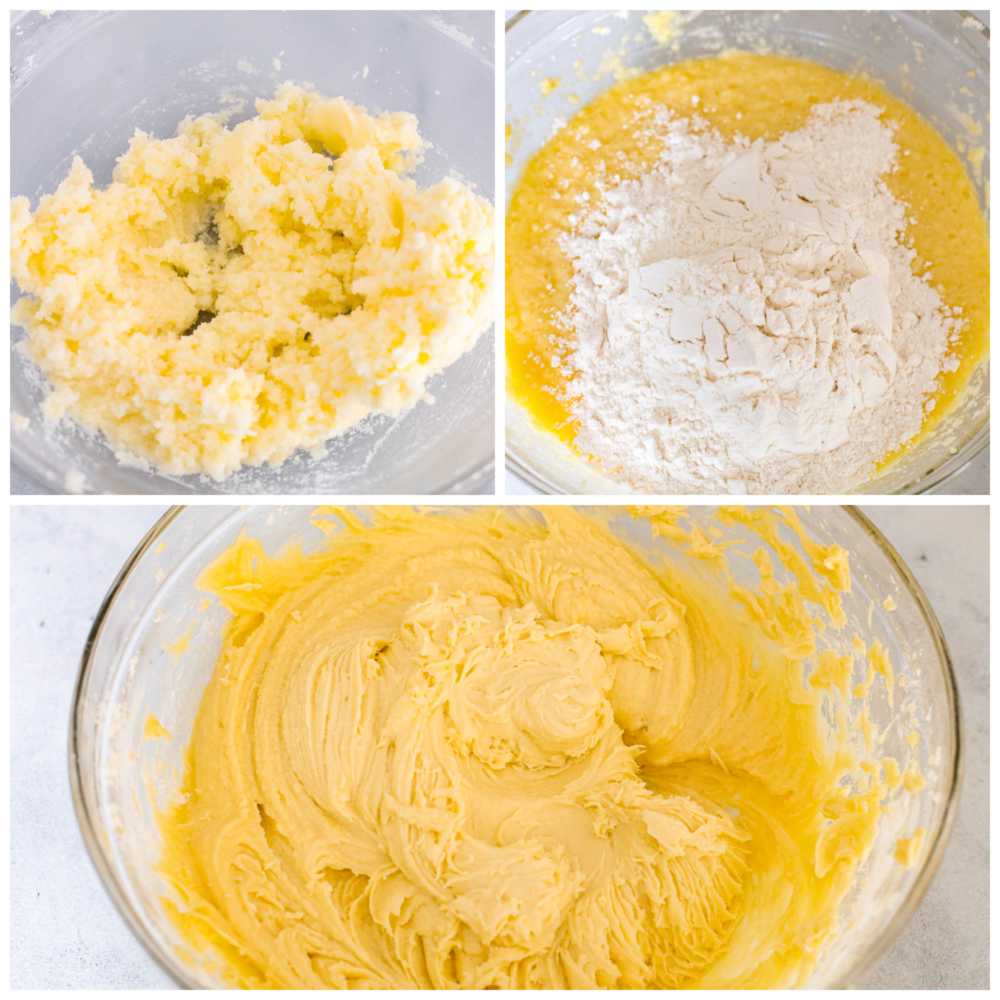 Pound Cake Recipe
This is the perfect pound cake! I tell you what, it is as traditional tasting as can be, and everyone that had some loved it. I bake it in a loaf pan, but you could also bake it in a bundt pan for that classic look. You can make it by hand in a mixing bowl, or in the bowl of a stand mixer. This batter isn't really delicate, so it has worked out for me either way. Make sure to follow the directions, especially scraping down the sides of the bowl while mixing. You will want a wire rack handy to help your pound cake cool properly.
Prep: Preheat the oven to 350 degrees Fahrenheit and grease a 9×5 loaf pan with pan spray, I find the best to be a baking spray with flour. Then set aside.
Beat Butter and Sugar: In a large bowl beat the butter with a paddle attachment or a hand mixer until smooth and creamy. Then add the sugar and beat for about 2-3 minutes, until light and fluffy.
Combine: Add the eggs, egg yolk, vanilla, and salt. Then beat on low speed until just combined.
Mix: Add the flour and mix on medium-low until combined. Then scrape down the sides and bottom of the bowl and beat for another minute.
Bake: Pour the batter into the prepared pan. Bake for 1 hour and fifteen minutes, until a toothpick comes out nearly clean of crumbs. Be careful not to open the oven too early, or the cake can fall in the middle.
Cool: Let the cake cool for 15-20 minutes before turning out of the pan and letting it finish cooling on a cooling rack. Let cool completely before serving.



[Cradit_https://therecipecritic.com]

[ad_3]

Source link
You may also like
Calendar
April 2023
M
T
W
T
F
S
S
1
2
3
4
5
6
7
8
9
10
11
12
13
14
15
16
17
18
19
20
21
22
23
24
25
26
27
28
29
30