Uncategorized
Slow Cooker Corned Beef and Cabbage Stew
This website may contain affiliate links and advertising so that we can provide recipes to you. Read my privacy policy.
Corned Beef and Cabbage slow cook all day with hearty vegetables making one delicious stew! This is a classic recipe with nostalgic flavors, and it's so easy to whip up.
I just love a good stew, they are so filling and the perfect thing to throw in the slow cooker. I've also never heard ANY of my kids complain about stew for dinner, and that's saying something! If you are on the hunt for more stew recipes, you've got to try this Slow Cooker Beef Stew, this amazing Beef Bourguignon, and this tasty One Pot Chicken Stew.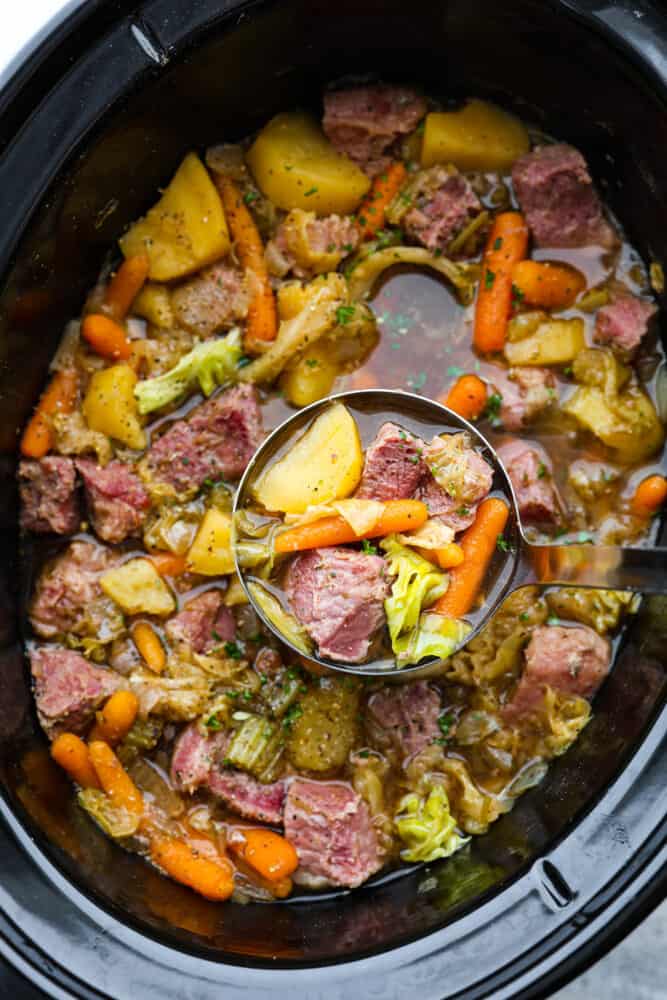 Corned Beef Stew
I am sharing a delicious recipe with you today that has been in our family for years. Whether you are Irish or not, this recipe will become an instant family favorite. It is perfect for your St. Patrick's Day celebration and is hearty and full of flavor. Serve it with some homemade cornbread, this super simple garlic bread, or a refreshing tomato basil salad.
The secret to making slow cooker corned beef and cabbage so flavorful is the pickling spice. Pickling spice has mustard seeds, allspice berries, whole coriander seeds, and red pepper flakes which add a flavorful and unique taste to this stew. I accompanied it with some other great spices including garlic powder, paprika, and salt and pepper.
Slow Cooker Corned Beef Ingredients
The ingredients are so simple for this slow cooker corned beef and cabbage stew, but I think that's what makes it such a classic recipe! The flavors really pop once you add the pickling spice. Find the measurements below in the recipe card.
Corned Beef: You need 2 pounds of corned beef, then cut them into cubes.
Potatoes: I like to use russet. Cut into stew sized cubes.
Celery: They add great flavor and texture.
Onion: I prefer white onion for this recipe.
Carrots: You can buy baby carrots and toss them in, or peel and chop large carrots.
Cabbage: You will need ½ head of cabbage, and slice it into pieces that make sense to pick up with your spoon.
Beef Broth: This is the base of this amazing sauce.
Worcestershire Sauce: Adds spice.
McCormick® Pickling Spice: This is the key ingredient!
McCormick® Garlic Powder: Adds savory flavors. You could add fresh garlic if you wanted to.
McCormick® Paprika: I like a little spice.
Salt and Pepper: Adds extra flavor.
Cornstarch: Optional to thicken sauce.
Parsley, Salt and Pepper: For garnish.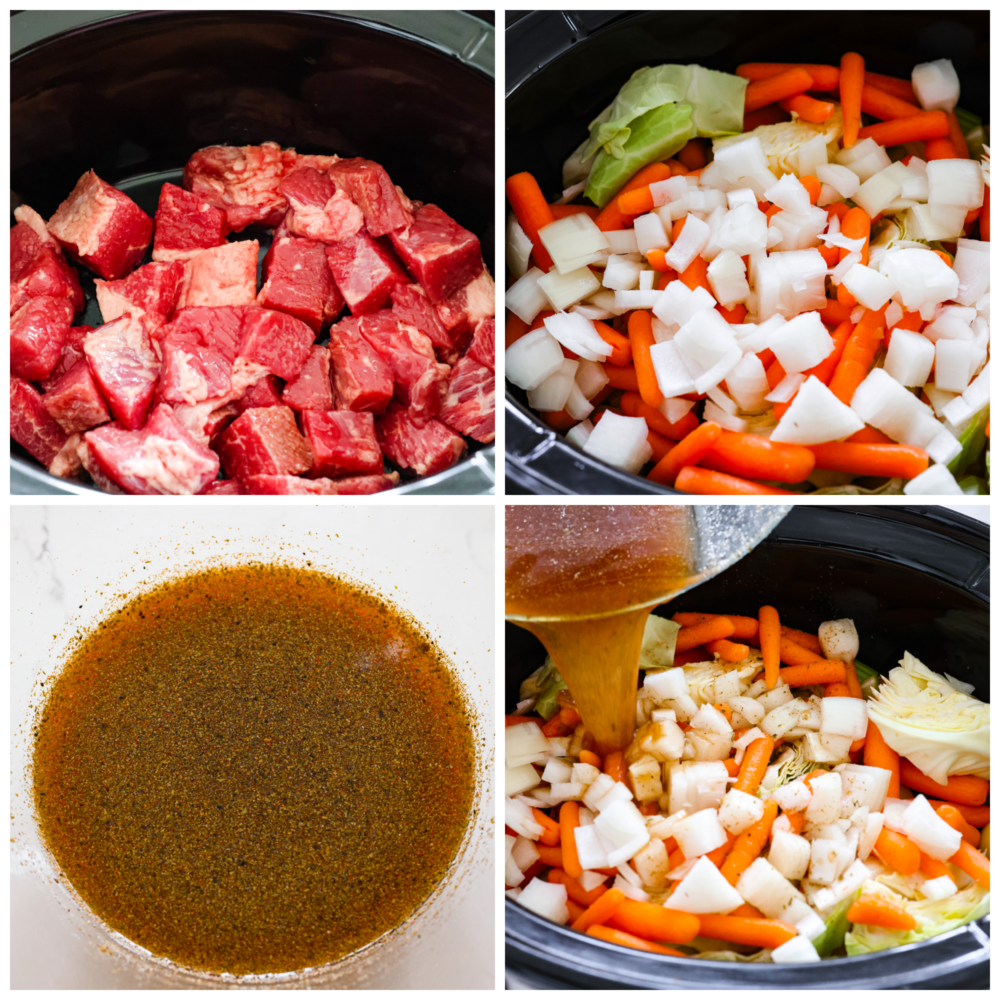 How to Make Slow Cooker Corned Beef and Cabbage Stew
This recipe has been in our family for years. But I decided to add my own spin to it. I wanted to make it in the slow cooker, and I wanted to turn it into a delicious and hearty stew. The result was better than I could have expected! The crock-pot brought all of these ingredients together so perfectly. I don't have alcohol on hand, so I didn't add any beer to the broth but it would be amazing that way. This is a really simple and delicious dish that the whole family will rave about.
Add Ingredients to Slow Cooker: Add corned beef, potatoes, celery, onion, and cabbage to your slow cooker.
Mix Spices in Bowl: In a medium sized mixing bowl combine beef broth, worchestershire sauce, pickling spice, garlic powder, paprika and salt and pepper. Then pour over the meat and veggies.
Cook: Cook on low for 8-10 hours or high for 5-6 until the vegetables are tender and meat is cooked throughout.
Garnish: Add salt and pepper to taste and then garnish with chopped parsley.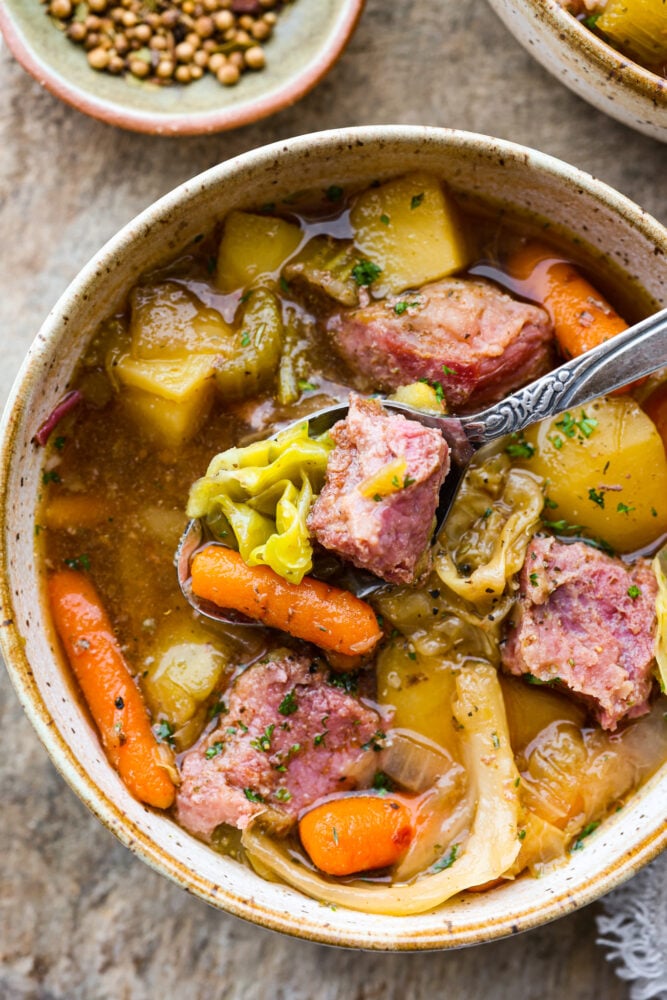 [Cradit_https://therecipecritic.com]

[ad_3]

Source link
You may also like