Uncategorized
Shredded Chicken Tacos | The Recipe Critic
This website may contain affiliate links and advertising so that we can provide recipes to you. Read my privacy policy.
Shredded Chicken Tacos are a filling and flavorful dinner ready in just 10 minutes. The chicken is perfectly seasoned and served on a warmed tortilla topped with all of your favorite toppings. It's always a hit!
I am a huge fan of quick and easy dinners. With four kids it can be a bit hectic in the evenings! That's why I have so many quick and easy recipes here, I love cooking easy and nutritious food as often as possible. If you need some easy and quick meal ideas, check out my Casserole Round Up, this round up of Slow Cooker Meals you'll definitely want to save for later, and these super delicious Air Fryer Recipes!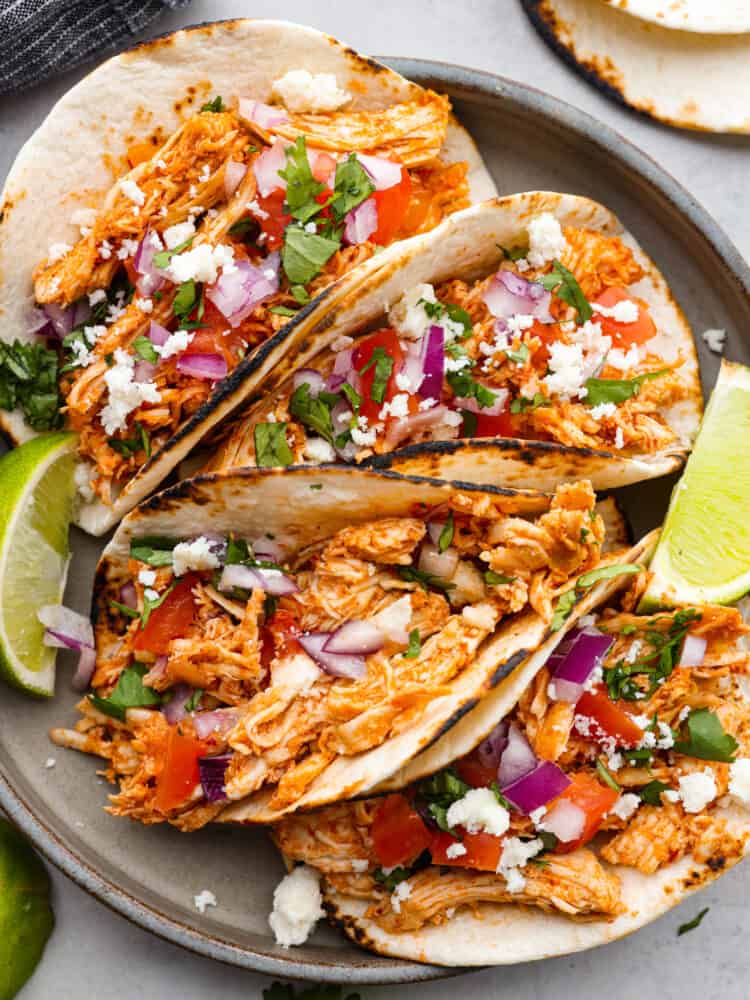 Shredded Chicken Tacos
If you are looking for a quick and easy dinner, you've found the right recipe! These tacos are flavorful, filling, and will satisfy the whole family. The best part is they are so easy to make and really delicious. I love a good street taco. They are one of the things that I actually crave all of the time. If you love tacos then you are going to love this recipe. It's so fast and packed with flavors.
As you know, tacos are so versatile and can have whatever fillings you want it to. I love taking leftovers and making tacos out of them. You can use chicken you made for a different meal, or you can use one of the recipes I've included. Homemade salsa is always a hit, or you can grab it from the store. You can add cheese, lettuce, tomato, or your favorite herbs as a garnish. A dollop of sour cream and a little cilantro on top is always a good idea. You could even make your own guacamole if you want to really impress your guests. Make this recipe your own!
Ingredients
These shredded chicken tacos are made up of simple, fresh ingredients. You can add whatever toppings you would like, this list is just the basics that you will want for this recipe. I love adding fresh pico de gallo and cheddar cheese on top, and then finishing it off with lemon juice!
Boneless Skinless Chicken Breasts: I've included 4 ways you can cook the chicken for this recipe, they are all linked in the recipe card!
Olive Oil: Olive oil is what I prefer to cook with, but you can use whatever oil you prefer.
Garlic Powder: Garlic packs so much flavor, you're going to want to add minced garlic to this chicken.
Onion Powder: Onion powder adds a sweet and savory flavor that you can't get from fresh onions. I love using it in this recipe!
Chili Powder: This spice adds a little kick similar to pepper to the chicken and really rounds out the flavors.
Ground Cumin: This seasoning is rich, hearty, and warm. You'll want it in this recipe!
Kosher Salt: A higher quality salt will make a difference in the flavor. You could use sea salt if you don't have Kosher on hand.
Chunky Salsa, or Salsa Verde: To speed up this recipe, you could buy salsa from the store, or follow one of the recipes that I've linked here for a fresh and flavorful salsa.
Chicken Broth: Chicken broth is a great way to add moisture and flavor at the same time.
Flour Tortillas: My family and I prefer flour tortillas, but you could absolutely use corn tortillas if you like those better for tacos.
Lime: You will want fresh lime juice, so make sure to pick up a lime when you are at the store.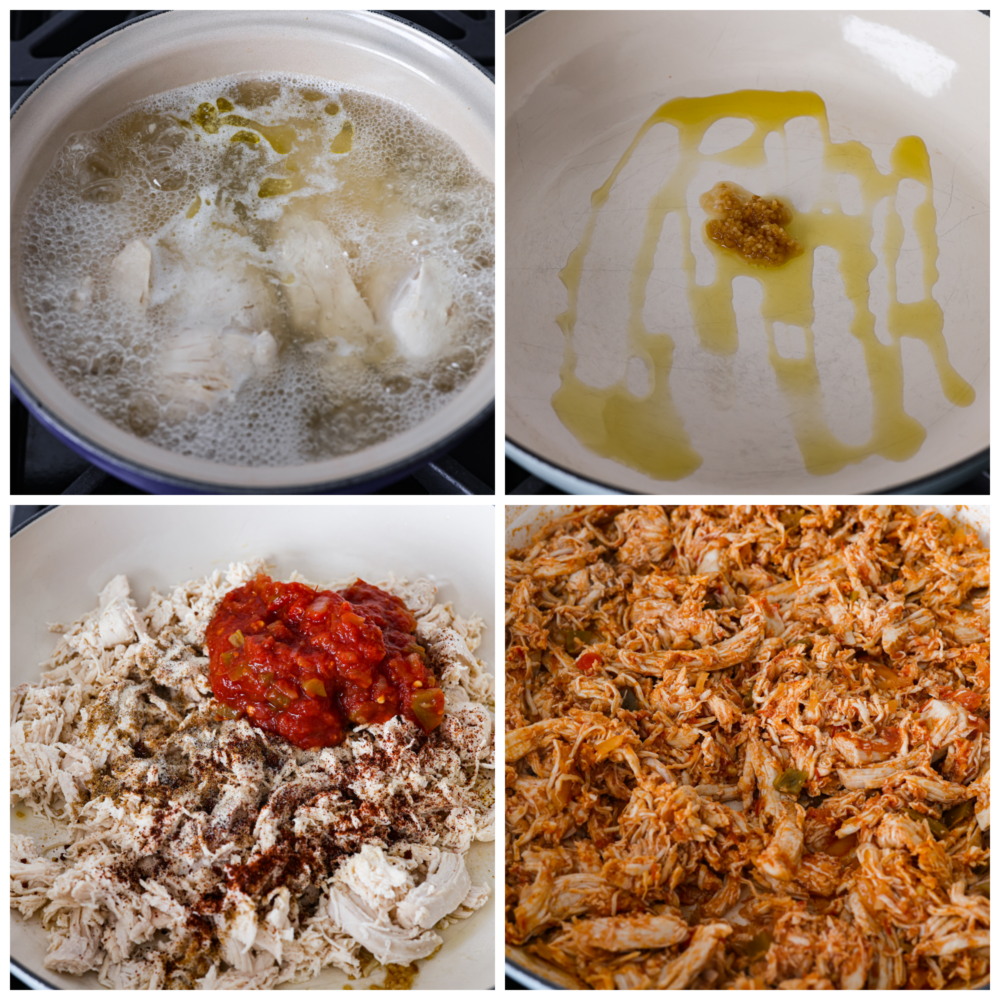 How to Make Shredded Chicken Tacos
These shredded chicken tacos are so easy to whip up when you are in a rush. Especially when you cook the chicken in the instant pot or buy a rotisserie chicken from the store. I can't get enough of these tacos, and my family loves them too!
Cook Chicken: I've included 4 ways you can cook the chicken that are linked in the recipe box or the tip box below.
Sauté Garlic: In a large skillet, heat the olive oil. Then add the garlic, and sauté for 30 seconds.
Cook Seasonings: Then add the shredded chicken, onion powder, cumin, chili powder, and salt. Cook for 1 more minute.
Stir: Stir the salsa, chicken broth, and the juice of one lime into the chicken mixture.
Warm: Stir and heat through for about 5 minutes.
Season: Season with additional salt if needed.
Enjoy: Serve in warm tortillas with your favorite toppings and enjoy!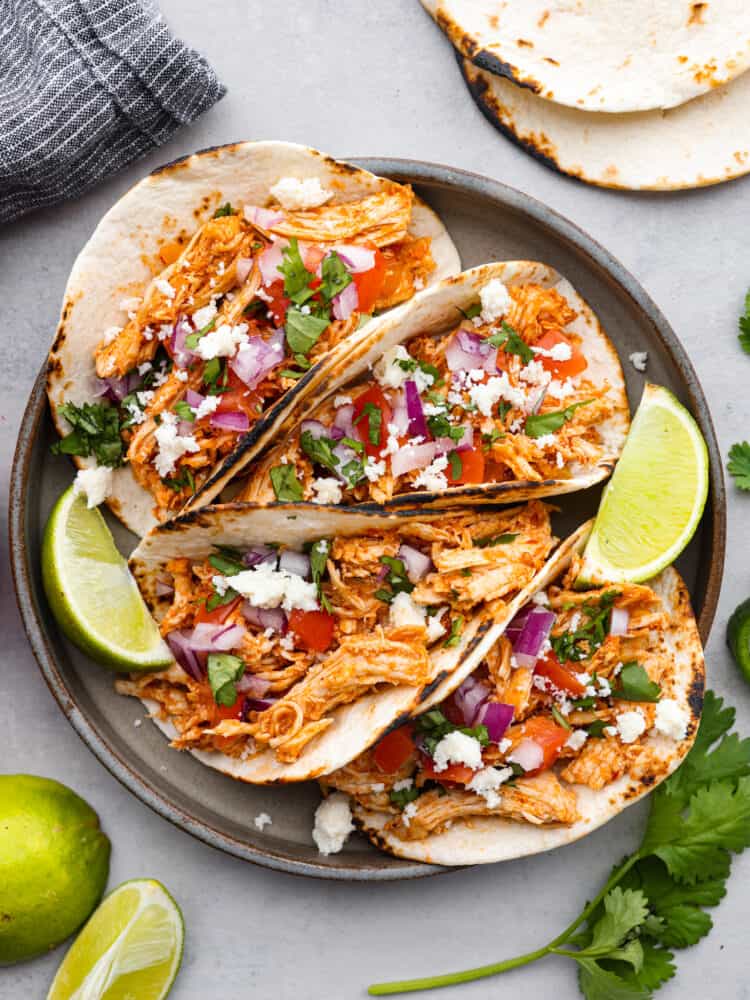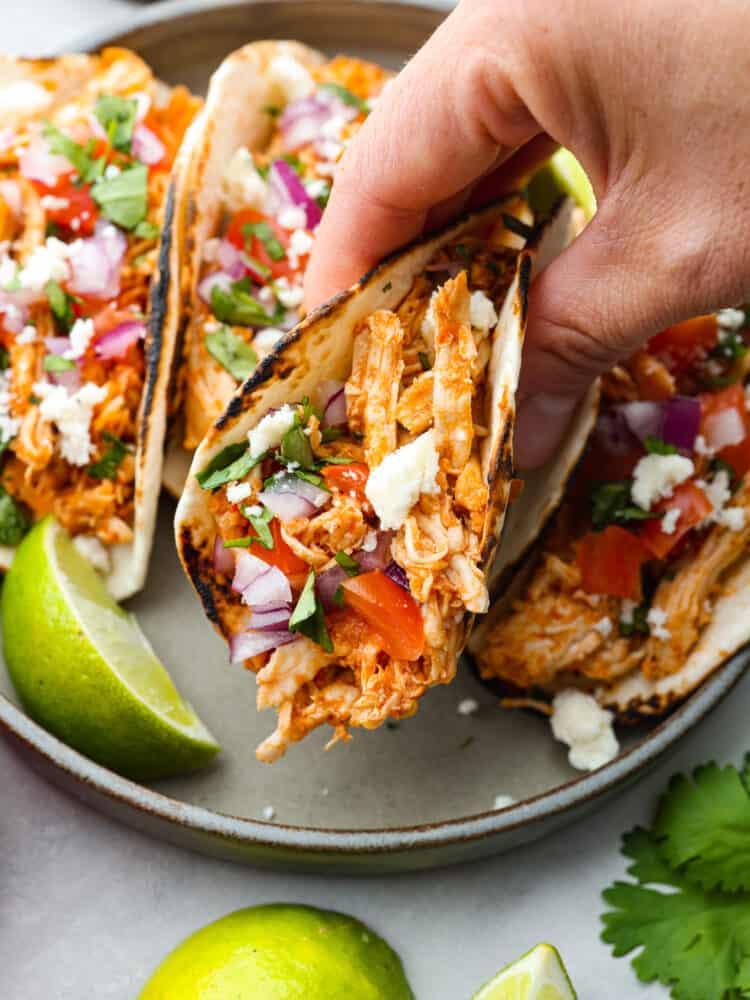 [Cradit_https://therecipecritic.com]

[ad_3]

Source link
You may also like