Uncategorized
Roasted Garlic in the Oven
This website may contain affiliate links and advertising so that we can provide recipes to you. Read my privacy policy.
If you want to infuse your favorite recipes with savory, nutty flavor, roasted garlic is the way to go! You can easily make some at home in a muffin tin with a drizzle of olive oil on top to enhance the overall flavor! The end result is caramelized, garlic heaven.
Roasted garlic is the best way to add depth of flavor to your favorite dishes. Try it mashed and spread over your favorite crackers, added to hummus or guacamole, in soups, or stirred into your favorite pasta sauce!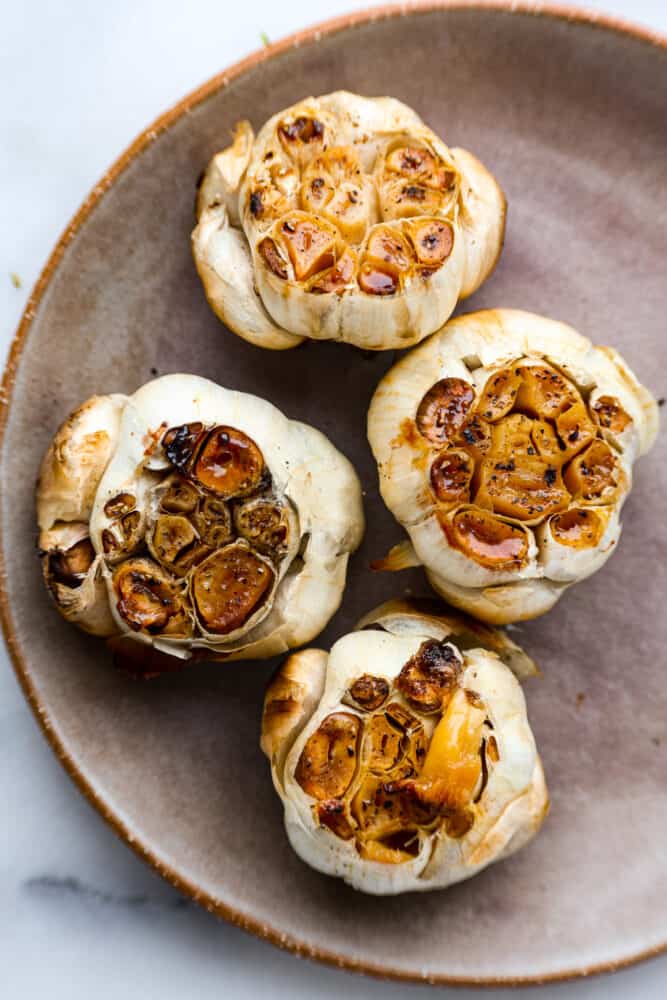 Roasted Garlic Recipe
Not only is roasted garlic easy to make, but it's also a game-changer in the kitchen. Seriously, if you haven't tried roasting garlic yet, you're missing out! It's so simple, even a beginner cook can do it. All you need is a head of garlic, some olive oil, and an oven. Simply slice off the top of the garlic head, drizzle with olive oil, wrap it in foil, and pop it in the oven. In about 45 minutes, you'll have beautifully caramelized garlic cloves that are tender, sweet, and oh-so-delicious.
Don't let its simplicity fool you! Roasted garlic is a versatile ingredient that can elevate any dish and give it the perfect savory flavor. Spread it on bread, mix it into dips, toss it with roasted veggies, or stir it into pasta dishes. It adds a rich, savory flavor to everything it touches, and once you start using it, you'll be as obsessed as I am.
Ingredients Needed for Roasted Garlic
Besides a few heads of garlic, you'll only need a couple extra ingredients to whip this up. It's so simple to make some caramelized, delicious roasted garlic. You'll want to use it in all of your cooking!
Garlic: I used about 4 heads worth of fresh garlic. To prepare them, slice the tops off so the cloves are exposed.
Olive Oil: Olive oil is used to coat the garlic heads before roasting. It helps to keep the garlic moist and adds a subtle, earthy flavor to the dish. If you don't have olive oil on hand, you can also substitute it with any neutral oil like vegetable or canola oil.
Salt and Pepper: I used kosher salt and pepper to season the garlic before roasting. They help to enhance the natural flavors of the garlic and add a little bit of seasoning to the dish.
How to Roast Garlic
Once it's out of the oven, you can use roasted garlic for so many different things! Try it on roasted vegetables, garlic bread, in salad dressing, or mashed potatoes! Roasting garlic gives it the best flavor. It's subtly sweet while also being savory and delicious!
Preheat Oven: Heat the oven to 400 degrees Fahrenheit.
Prepare Garlic: Peel away the extra layers of garlic paper. Leave one thin layer to hold the garlic together. Use a sharp knife to cut off 1/4-inch from the top of the cloves.
Add Olive Oil and Seasonings: Place individual raw garlic cloves, cut side up, in a muffin pan. Drizzle with 1 teaspoon of olive oil. Season the garlic with salt and fresh ground black pepper.
Cover With Aluminum Foil: Top each garlic head with a small piece of foil to prevent the garlic from getting too dark while roasting. The foil also helps create steam to slowly roast the garlic.
Bake: Bake until the cloves inside the packet are light brown and soft. About 40 minutes to 1 hour. Test for doneness by pricking an individual clove with a fork. The garlic should be soft and tender.
Use: Enjoy roasted garlic whole, spread on bread, or use it in your favorite recipes. It adds so much flavor to sauces, spreads, pasta, or any dish!



[Cradit_https://therecipecritic.com]

[ad_3]

Source link
You may also like