Uncategorized
Pumpkin Chiffon Pie With Biscoff Crust
This website may contain affiliate links and advertising so that we can provide recipes to you. Read my privacy policy.
If you are looking for a fun twist on a classic pie often served at Thanksgiving dinner, this Pumpkin Chiffon Pie with Biscoff Crust is your new best friend! It's fluffier than a typical pumpkin pie, and the cookie crust is spoon licking good. This recipe is one you'll want to serve for the holidays or any day!
It's no secret I'm a fan of pie. I mean, can you blame me? Creamy filling with a sweet crunchy or flaky crust, who could find fault with that?! I love making pies all year round, but since the Holidays are approaching, I am looking forward to fall-inspired pies! This classic Chocolate Pie is one I make every year for those who don't like pumpkin. Take it up a notch and try this amazing German Chocolate Pie! This Sweet Potato Pie has also become a favorite around the holidays.
What is a Chiffon Pie?
A chiffon pie is similar to a custard pie, but the filling is folded with meringue to make it light and fluffy. And this pie definitely is! This silky smooth pumpkin pie will knock your fuzzy socks off. It is SO full of fall flavor and is gone faster than my regular pumpkin pie recipe (which is fantastic so that's saying something). This Pumpkin Chiffon Pie is my current favorite pumpkin dessert, it's just so creamy and doesn't feel heavy in my stomach. I can't get enough of it!
If you love a graham cracker crust, you are going to LOVE this Biscoff cookie crust. It's a similar texture, but with so much flavor! Biscoff cookies go perfectly with this creamy pumpkin filling. It's a great way to surprise your family this holiday season with something new. And the best part is, it's not hard to make! If you are worried about whipping egg whites, I've got my tips listed below. They will turn out perfectly!
Ingredients in Pumpkin Chiffon Pie
This pumpkin chiffon pie is so full of fall flavors! It has classic spices that warm your taste buds and is complimented by a light and fluffy filling. It's just too good! And it really doesn't take too many ingredients to make which is always a plus. See the recipe card below for exact measurements.
Biscoff Cookie Crust Ingredients
Biscoff Cookie Crumbs: You can actually buy Biscoff Cookie crumbs, or you can pulse them in a food processor until fine. Or you can use the method I used growing up- put them in a Ziplock bag and crush them with a rolling pin!
Granulated Sugar: The sugar you have in your pantry is what you should use for this pie.
Butter: I used salted butter in this chiffon pie. This recipe calls for melted butter.
Vanilla Extract: Whatever you use for baking will work great for this pie.
Pumpkin Chiffon Pie Filling Ingredients
Unflavored Gelatin: You should be able to find unflavored gelatin in the baking aisle of your grocery store. This helps the pie set up.
Ground Cinnamon: It's a classic pairing with pumpkin, and great for the holidays!
Ground Nutmeg: Adds warm, earthy flavor.
Ground Clove: Cloves are a little floral, and a bit sweet! They really bring the wow factor to this pie!
Ground Ginger: Adds a sharp flavor that pairs perfectly with pumpkin.
Salt: Enhances the flavors in the pie.
Sugar: To sweeten the filling.
Pumpkin Puree: You should be able to find a can of regular pumpkin puree without the spices. If you have canned pumpkin pie filling and want to use that, you'll want to cut back on the other spices in this pie.
Egg Yolks: You will need to separate your egg whites from yolks, so I like that this recipe calls for both so you don't have any extra whites or yolks.
Whole Milk: Whole milk really is best for this recipe. You could probably get away with 2%, but your milk needs to have fat in it.
Egg Whites: This is to make the meringue.
Cream of Tartar: This helps to stabilize the egg whites and helps them get nice and fluffy.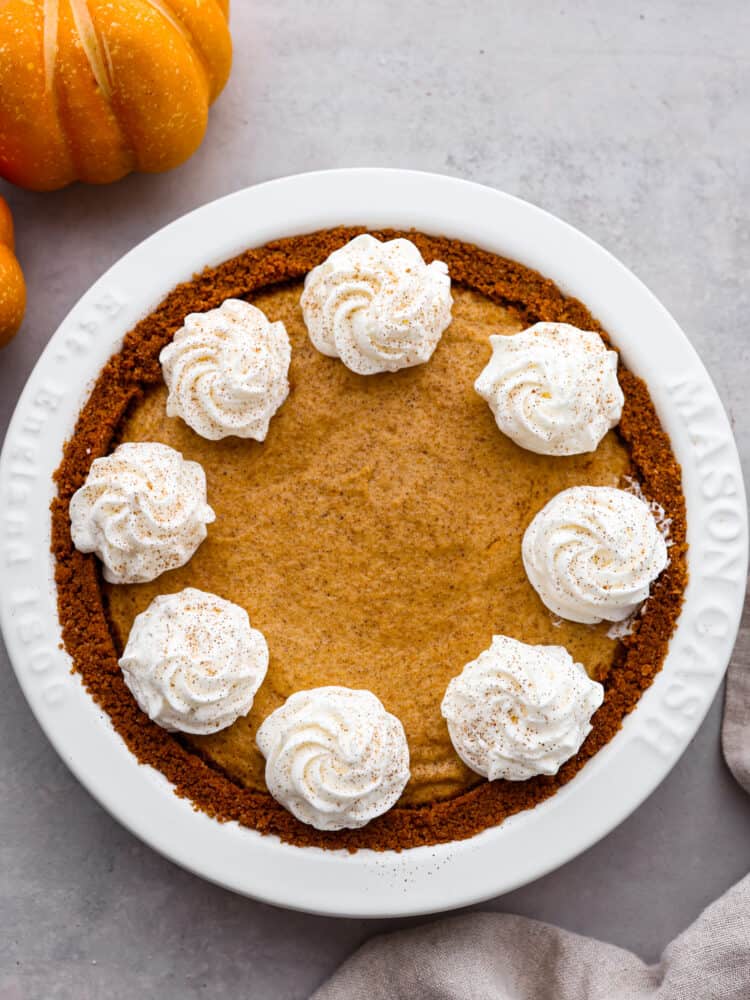 How to Make Pumpkin Chiffon Pie
This pie is so worth the time that it will take to make! The meringue is not as difficult to make as you may believe. I have tips listed below that will help you know how to whip the egg whites. Other than that, this pie is a breeze to make! It's so simple, creamy and fluffy you'll want to make two!
Making the Biscoff Crust
Mix: Using a hand mixer, combine all ingredients in a bowl and mix well.
Press: Press mixture into a 9" pie pan firmly and evenly with the back of a spoon
Bake: Now bake the crust in an oven preheated to 325℉ for 10 minutes.
Cool: Remove from oven and let cool completely before filling.
How to Make Pumpkin Chiffon Pie Filling
Whisk: In a medium saucepan whisk together gelatin, all the spices, and ½ cup of the sugar
Mix Wet with Dry: In a separate bowl whisk pumpkin, egg yolks, and milk. Pour wet ingredients into your saucepan with the dry ingredients and mix well.
Boil: Over medium-high heat bring the mixture to a gentile boil, stirring constantly. Once bubbles start to form around the edges of the pan, remove from heat, pour into a separate bowl and let cool to room temperature.
Whip Egg Whites: In another bowl either using a hand mixer or a stand mixer fitted with the whisk, whisk the egg whites and cream of tartar until soft peaks form.
Add Sugar: Start adding the rest of the sugar in 1 tablespoon at a time while you whisk. Continue until the rest of the sugar is used, and stiff peaks have formed. Don't overmix the egg whites!
Fold: Take about ¼ of your egg white mixture and gently fold it into your cooled pumpkin mixture.
Fold the Rest: Add the remaining egg white mixture to your pumpkin mixture, gently folding until well combined. Be careful not to degas the egg whites when folding in, this is what gives your pie the fluffy airy texture.
Chill: Pour mixture into your cooled pie shell and chill in the fridge, for at least 2 hours, or overnight before serving.
Eat: Serve with whipped cream and enjoy!



[Cradit_https://therecipecritic.com]

[ad_3]

Source link
You may also like