Uncategorized
Pumpernickel Bread | The Recipe Critic
This website may contain affiliate links and advertising so that we can provide recipes to you. Read my privacy policy.
This pumpernickel bread is full of rich and hearty flavor. With three types of flour and brown sugar and molasses, you won't believe how much you can enjoy this nutrient-rich bread! To top it all off, it has cocoa powder to take things to a whole other level.
This bread will fill your house with the most amazing smells! It's rich with hearty flours and a hint of cocoa flavor. The color is so inviting and it's actually a really tender and moist bread. It is a yeasted bread, so if you aren't quite ready to jump into breadmaking, you can start with this easy Award Winning Banana Bread, this simple Glazed Lemon Bread, or this delicious Cinnamon Bread.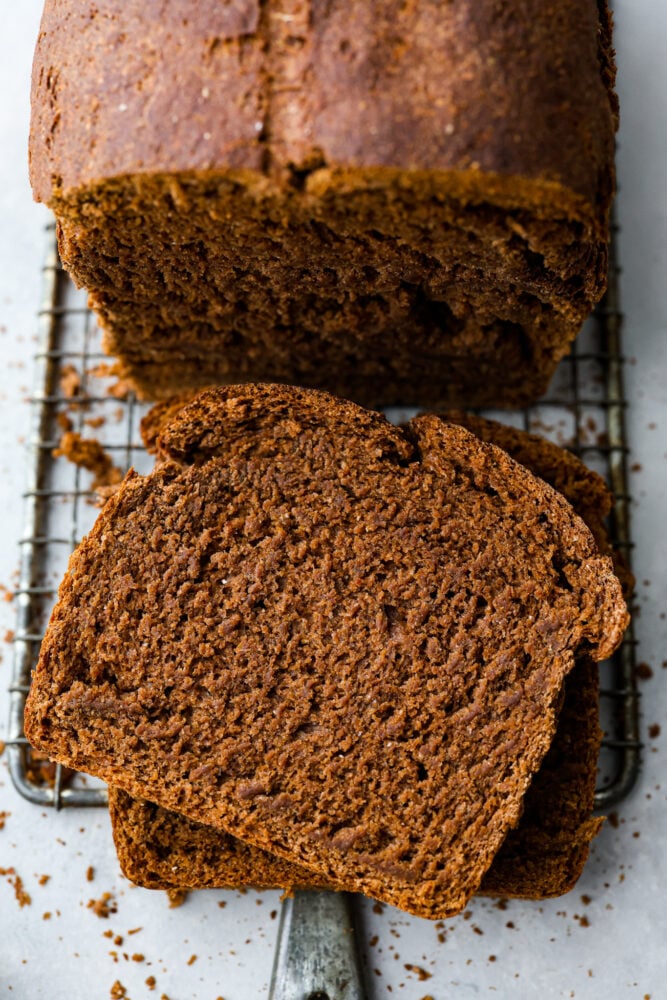 What is Pumpernickel Bread?
Pumpernickel bread is a rich and flavorful combination of molasses, whole wheat, and rye flour. My version is a little more light and fluffy than the traditional sourdough starter more dense bread. This bread is made light and quick with instant yeast and bread flour. It's sweetened and flavored with brown sugar and molasses, and cocoa powder! I absolutely love the combination of the rich grains and the sweet and bitter cocoa powder. You are going to love it too!
Pumpernickel is similar to rye bread, but it has cocoa powder in it, and I'm told traditional rye bread uses a different type of rye flour. I like to keep my bread recipes as simple as possible so even a beginner can try it out and be successful. This recipe makes a delicious sandwich bread that is ready for toasting and snacking. Pumpernickel French toast? Why not give it a whirl! I'm all about testing new foods to their limits.
Ingredients
Like most bread recipes, if you try to switch up to many ingredients in this pumpernickel bread, then you will get a very different result. I talk a little about flour substitutes here and in the tip box below. If you are new to baking homemade bread, I would stick to these ingredients for the best results! You can find the measurements below in the recipe card.
Milk: Warm, this helps activate the yeast.
Brown Sugar: Deepens the flavor and adds sweetness.
Active Dry Yeast: The leavening agent.
Molasses: Additional molasses is traditional in pumpernickel bread.
Butter: The fat in the butter will help to keep this loaf moist and soft.
Bread Flour: Bread flour has a higher protein content than all purpose flour. You may be able to substitute this for all purpose flour in this recipe because of the rye and wheat flour. I haven't tried it myself, but let me know in the comments how it turns out if you do!
Dark Rye Flour: Grinding your own rye berries at home will yield a different type of flour than store bought rye flour. The kind you get from the store was not ground from the whole berry, it has parts removed before grinding. I would stick with storebought, unless you are experienced with baking with your own home ground flours!
Whole Wheat Flour: Full of great nutrients and benefits, and makes a hearty flavorful bread.
Cocoa Powder: This gives the bread extra depth of flavor and a hint of sweetness.
Salt: To balance out and bring out all the flavors.
Pumpernickel Bread Recipe
As far as bread recipes go, this pumpernickel bread is super straightforward! If you are generally comfortable with baking yeast breads, then you are going to love taking your skills a step further with this unique bread. It's going to take around 3 hours from start to finish, and once you get it down you'll have it ready in 2 1/2.
Make Dough
Activate Yeast: To the bowl of your stand mixer, add the warm milk, brown sugar, and yeast. Stir to combine and allow the yeast to become frothy. About 5 minutes.
Mix Dough: Once the yeast is ready, add the molasses, butter, 2 cups of bread flour, rye flour, wheat flour, cocoa powder, and salt. Using your dough hook attachment, on low speed, mix the dough until it comes together, about 4 minutes.
Knead Dough and Rest: Increase the speed to medium and mix for an additional 3-4 minutes to help develop the gluten. Remove the dough from the bowl and place it in an oiled bowl. Then cover and let the dough rest for an hour. The dough should double in size. Prepare a loaf pan by spraying it with cooking spray.
Shape and Bake
Shape: Once the dough has doubled in size, dump it out of the bowl onto a lightly floured surface and pound the air out of it and form it into a batard (a football shape) by folding the top into a point and rolling that point down and into the loaf, roll until you have reached the end of the dough and then pinch the seams together.
Put in Pan and Rest: Place the loaf seam side down in the prepared loaf pan and then preheat your oven to 375 degrees Fahrenheit. Cover your loaf and then let it rise until it comes about an inch above the edges of the pan, and fills the pan in completely.
Bake: Bake the loaf for 30-40 minutes, the internal temperature should reach 190 degrees Fahrenheit. Once the loaf has finished baking, then remove it from the pan to let it cool to room temperature.



[Cradit_https://therecipecritic.com]

[ad_3]

Source link
You may also like