Uncategorized
Prime Rib With Garlic Herb Butter
This website may contain affiliate links and advertising so that we can provide recipes to you. Read my privacy policy.
Garlic butter herb prime rib is melt in your mouth tender, cooked to medium-rare perfection, and marbled with fat. The seared garlic butter herb crust is incredible!
Impress your family with this beautiful cut of meat! When making this prime rib add Green Beans, Mashed Potatoes, and Rolls for a complete meal.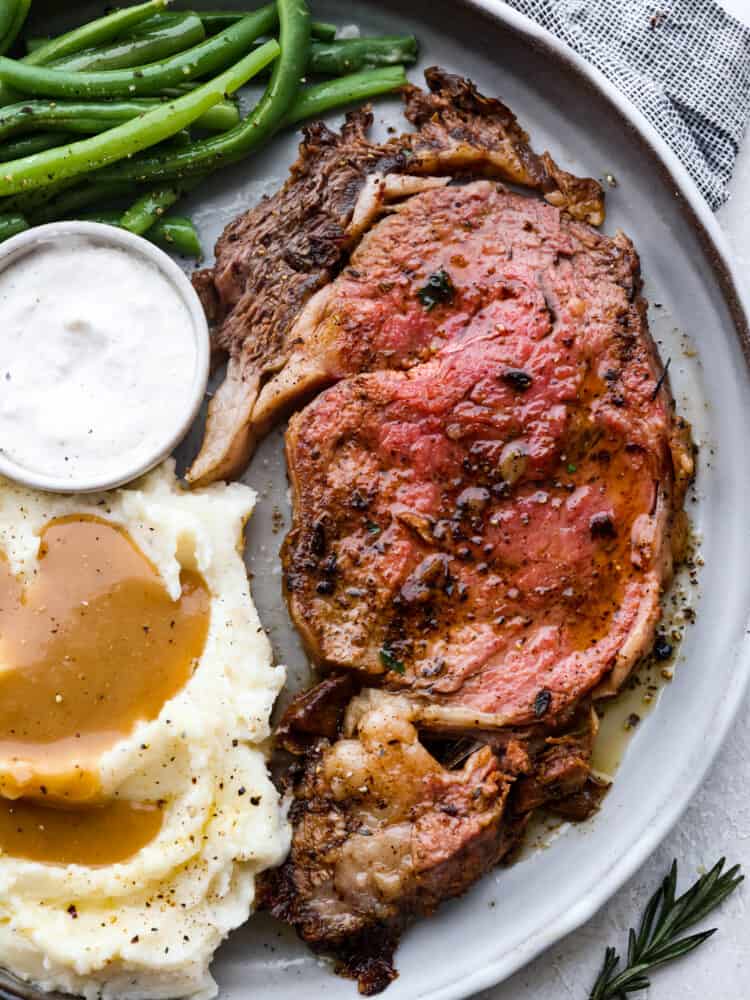 The Best Prime Rib
The holidays wouldn't be complete without a prime rib roast. Well, I am here to bring you the best prime rib recipe with a few tips and tricks for cooking the perfect tender and juicy meat every single time. You are going to bring your A-game to Christmas dinner with a flavorful and bold beef rib roast that is actually really simple to make! Cook up some grilled asparagus or some Brussels sprouts. They will go so well with this!
With these easy-to-follow steps, you will have a perfect Christmas dinner that will be loved by all. Prime rib is top-of-the-line meat that tastes just as AMAZING as it looks. The marbled cut and beautiful bone structure are just what you need to have this slice of heaven on your plate. Cooking this beef does not have to take long. It is best to have a crispy outside and a tender, juicy inside. With this garlic butter herb prime rib recipe you will have the PERFECT decadent dinner this holiday season!
Herb Garlic Butter Prime Rib Ingredients
I always buy my roast with the bone. The butcher at our local grocery store cuts the bone but leaves it partially attached and ties it onto the roast. This makes it easier to carve the meat and the bone creates a rack for the meat to cook on. See the recipe card at the bottom of the post for exact measurements.
Prime Rib: I like to get a cut that is bone in and tied.
Butter: Make sure that the butter is softened so that it will blend well with the herbs and seasonings.
Garlic Cloves: If you don't have any fresh garlic cloves on hand then you can use minced garlic! ½ teaspoon equals about 1 clove.
Thyme, Oregano and Rosemary: I like to use freshly chopped herbs to make the flavor taste top notch!
Salt and Pepper: Use these to taste!
How to Cook Prime Rib
Preparing steakhouse-worthy prime rib isn't as tricky as it seems. Enjoy this decadent recipe this holiday season with friends and family!
Prepare the Meat: Remove the meat from the refrigerator at least 30 minutes before to bring it to room temperature. Preheat the oven to 450 degrees.
Mix Together Garlic Butter Herb Sauce : In a small bowl mix butter, garlic, thyme, oregano, rosemary, salt and pepper. Then, rub all of the butter on the outside of your prime rib and plave in a roasting pan or large skillet with the fat side up.
Cook Prime Rib: Cook for 15 minutes and reduce the temperature to 325 degrees. It is about 15 minutes per pound of meat. Bake until it reaches an internal temperature of 110 degrees.
Let the Meat Rest: Remove from oven and let it rest with foil for at least 20 minutes. The temperature will rise to 130 degrees for a medium rare prime rib.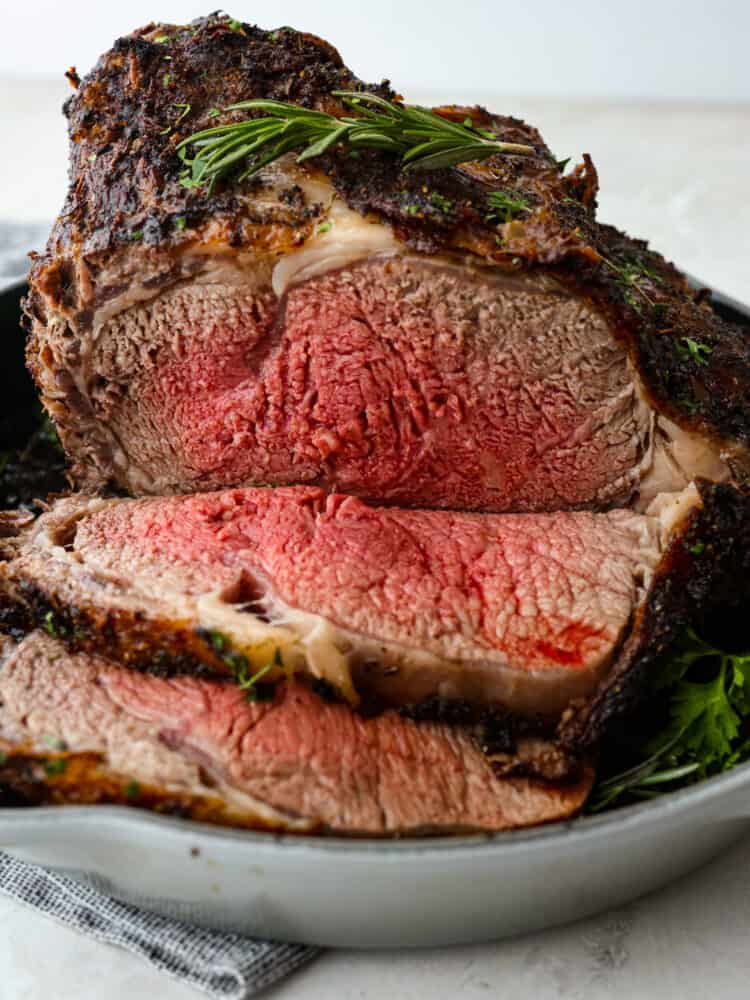 [Cradit_https://therecipecritic.com]

[ad_3]

Source link
You may also like
Calendar
April 2023
M
T
W
T
F
S
S
1
2
3
4
5
6
7
8
9
10
11
12
13
14
15
16
17
18
19
20
21
22
23
24
25
26
27
28
29
30