Uncategorized
Pomegranate Chocolate Chunk Cookies | The Recipe Critic
This website may contain affiliate links and advertising so that we can provide recipes to you. Read my privacy policy.
Pomegranate chocolate chunk cookies are the BEST cookies you will ever make! The pomegranate is tangy like cranberry with a hint of sweetness at the end. The burst of flavor when you bite into this cookie will have you coming back for seconds!
I love a good cookie. I'm a little obsessed with winter baking, it just makes the home smell so good! And it's the one time of year when you actually want the oven to warm up the house! If you love cookie baking in the winter time, you HAVE to try these perfect-for-Christmas Grinch cookies, these gooey and delicious Butter Cookies, and these melt in your mouth Peppermint Meltaways.
Pomegranate Chocolate Chunk Cookies
It's no secret that I love cookies! It was one of the first things I learned how to make (probably like most of you) and they have always hit the spot. I especially love cookies during the holiday season, like these almond cookies and these Italian Christmas cookies. They are so easy to share, and everyone loves to get a delicious cookie for Christmas!
If you have ever had a cranberry cookie, this pomegranate chocolate chunk cookie is kind of like that! Cranberries and pomegranates are similar because they are tangy and have a little sweetness at the end. I am a huge fan of cranberries, but it's fun to switch it up! Pomegranates are so fun to eat in so many different ways, I bet you haven't tried them in a cookie yet. They are a must try!
Ingredients
You will need the same ingredients as any cookie recipe, but for this pomegranate chocolate chunk cookie you will also need, well, pomegranates of course! I also added cream cheese to the recipe which I think you are going to love! You can find the exact measurements below in the recipe card.
Butter: You will want to use unsalted butter, and make sure to leave it out for a few hours before you plan on making the cookies so it is nice and soft.
Cream Cheese: Cream cheese is SO good in cookies. If you haven't tried a cookie with cream cheese in it, you are in for a treat. It's tangy and creamy, and gives this cookie great texture and flavor.
Granulated Sugar: Your pantry sugar will work great.
Brown Sugar: Brown sugar is great in cookies like this because it has molasses in it. Molasses has a nice rich flavor and gives a deeper flavor than just granulated sugar by itself.
Egg: I always use large grade A eggs in my recipes.
Vanilla Extract: Vanilla extract adds vanilla flavor to the dough, and also helps to bring out all of the other delicious flavors in the cookie.
All-Purpose Flour: All-purpose flour is the easiest to work with and will be the best option for this cookie.
Salt: Salt brings out flavor.
Baking Soda: Baking soda will help the cookies to fluff up when they are baking.
Baking Powder: Baking powder also helps the cookies to rise.
Semi-Sweet Baker's Chocolate: You could use chocolate chips too.
Pomegranate Arils: You will need to buy a pomegranate from the store and get all the seeds (arils) out. I have a tip in the tip box below for easily removing the seeds!
Pomegranate Chocolate Chunk Cookies Recipe
This pomegranate chocolate chunk cookie recipe is really similar to a chocolate chip cookie. The main difference is the pomegranates, and adding chunks of chocolate instead of chips. You will love the way these cookies taste, and they are perfect for holiday get togethers!
Prep: Preheat oven to 375° Fahrenheit and line 2 baking sheets with parchment paper. Chop the chocolate and prepare your pomegranate seeds (arils) by removing them from the fruit, set aside.
Beat: In the bowl of a stand mixer fitted with the paddle, beat the butter and cream cheese together until it is light and well mixed. Add in your sugars and beat until light and fluffy, about 3 minutes. Add in your egg and vanilla and beat an additional 1-2 minutes.
Whisk: In a separate bowl, whisk together the flour, salt, baking soda, and baking powder until well combined. With your mixer on low speed add the flour mixture to the butter mixture ¼ cup at a time until just combined.
Fold and Bake: Fold in the chocolate and pomegranate until evenly distributed. Scoop about 2 tablespoon size rounds of dough onto the parchment lined baking sheets, leaving a 2 inch space between each one. Bake for 12-15 minutes, the cookies should be lightly golden all around, remove from oven and let the cookies rest on the hot baking sheet for an additional 5 minutes before moving to a cooling rack.
Cool: Allow the cookies to cool for at least 15 minutes and enjoy!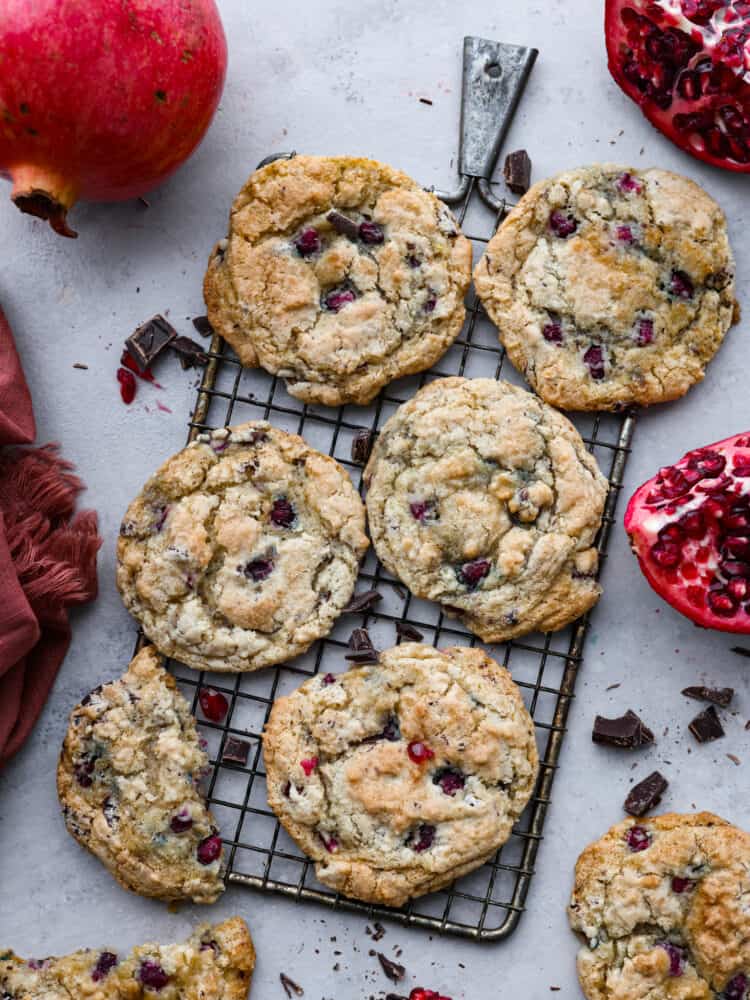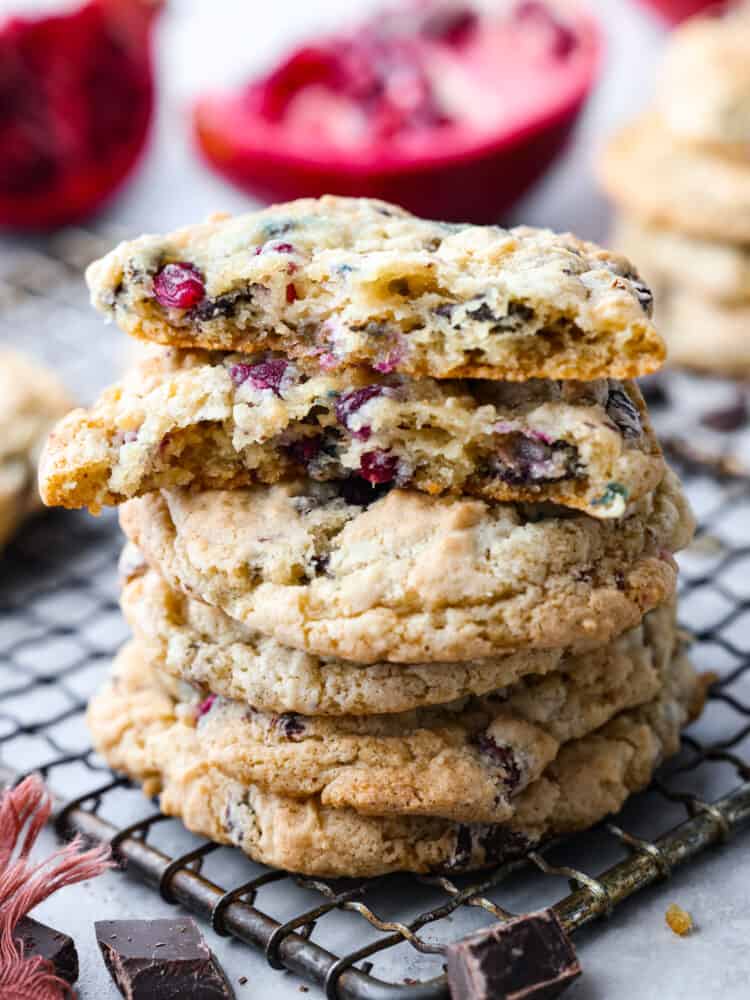 [Cradit_https://therecipecritic.com]

[ad_3]

Source link
You may also like