Uncategorized
Poached Pears | The Recipe Critic
This website may contain affiliate links and advertising so that we can provide recipes to you. Read my privacy policy.
These Poached Pears are gorgeous and so full of flavor! Poached in red wine, they are sweet, spicy, and fruity all at the same time. They also make a stunning and classy dessert to serve at your next gathering.
I love fall desserts. I especially love making fruity desserts with the fruits of the season like apples and pears. If you are looking for fun fall desserts to class up your holiday meals, try this gorgeous Apple Tart, these sweet and fun to serve Crème Brûlée, or these easier than they look Cream Puffs.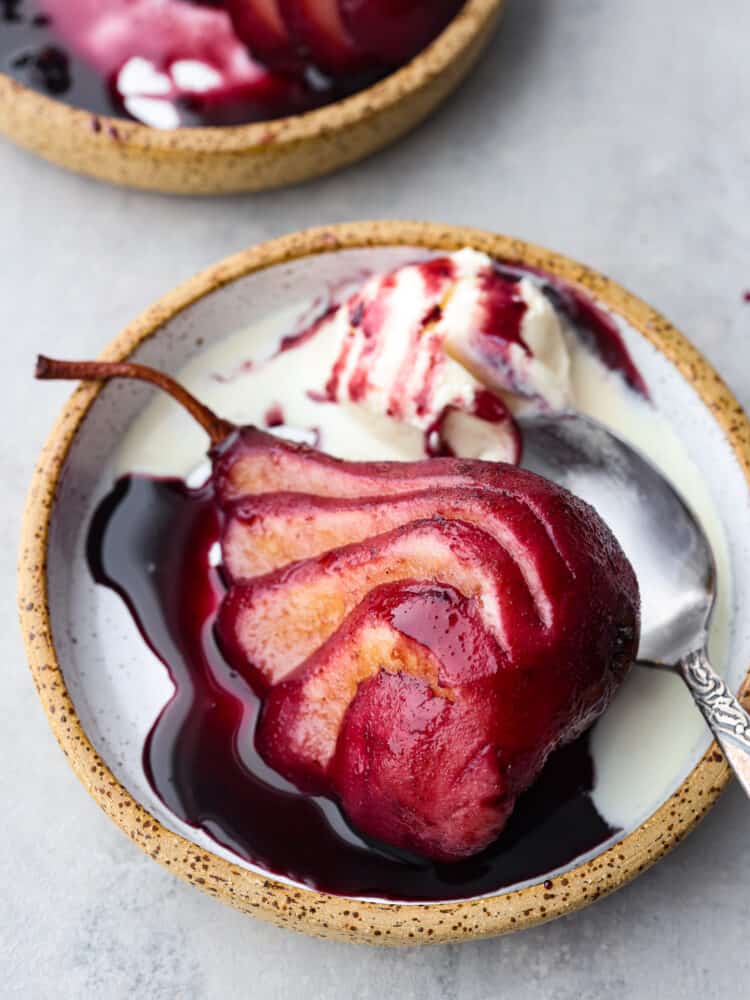 Poached Pears in Red Wine
This poached pear dessert is so easy, but has an impressive presentation and deliciously sweet and developed flavors. You can serve poached pears with marscapone cream or a smooth vanilla ice cream to really wow your guests. The pears are warmed and softened in a sauce made of red wine, simple syrup, and warm spices. If you are trying a poached pear for the first time you will be blown away by how good they are!
I think dessert usually gets overlooked when it comes to presentation. After a meal we are just ready to dig into a gooey messy peach cobbler or a not so perfectly round chocolate chip cookie. Occasionally we expect a pretty piece of chocolate cake or a beautifully decorated cupcake, but mostly we just want it to taste good. I LOVE that this poached pear dessert tastes good and looks absolutely stunning. It really is a perfect dessert to serve to your foodie friends after a meal. It's easy to serve too, because it reheats easily and has a beautiful red color.
Ingredients for Poached Pears
This recipe calls for fresh fruit and spices. These ingredients are easy to find and the spices can be found right in your spice cabinet. You will want to buy a whole orange for the peel. You are going to love how simple and delicious these poached pears are! The exact measurements are below in the recipe card.
Simple Syrup
Brown Sugar: Brown sugar gives a caramel flavor that is deeper and richer than granulated sugar.
Water: This helps the sugar dissolve into syrup.
Poached Pears
Bosc Pears: I prefer Bosc pears for this recipe, they have a great flavor and texture.
Red Wine: I used Syrah wine in this recipe, but any fuller bodied red wine will work.
Simple Syrup: This is the simple syrup you make with the ingredients listed above. You will need about 3 cups.
Cinnamon: Cinnamon and pear go perfectly together, and gives this dish its fall flavor.
Cardamom: This seasoning has a piney and slightly fruity flavor that you'll love!
Fresh Ginger: Fresh ginger gives a pop of flavor that you'll miss if you leave it out!
Orange Peel: The peel of the orange has so much flavor and brightens up the syrup.
Vanilla Extract: I love the added flavor of vanilla and think it really ties the whole dessert together.
Poached Pears Recipe
This recipe is so simple and yet it looks so classy! I love the color on the outside of the pears and the flavors are so complex. It's something you can serve to a group and really impress them. It's also easy to make for a lot of people at once because the syrup can be used for many pears.
Simple Syrup: Make your simple syrup; in a small saucepan, mix your brown sugar and water. Over medium-high heat bring your mixture to a boil, reduce heat to low, and simmer for 5 minutes uncovered. Then remove from heat and allow the syrup to cool some.
Peel Pears: Peel your pears and set them aside. Leave the stems on.
Heat Syrup: In a large saucepan (large enough to fit all your pears) over medium heat, add your red wine, simple syrup, cinnamon, cardamom, ginger, and orange peel. Then bring to a simmer
Add Pears: Add your peeled pears and simmer for 15 minutes, turning the pears every few minutes to coat them entirely.
Simmer: After your pears have cooked for 15 minutes add your vanilla and continue cooking pears for an additional 5 or so minutes. Continually rotating until the pears are tender
Remove From Pan: Remove your pears from the pan and set aside.
Thicken Syrup: Continue to simmer the liquid until it has thickened and reduced by half, about 20 minutes. Then remove from heat and allow to cool to room temp. Next strain out the orange peels and ginger.
Enjoy: To serve, place each pear on a small plate or bowl, drizzle with your reduced poaching liquid and a scoop of ice cream. You can use a paring knife to slice the pear.



[Cradit_https://therecipecritic.com]

[ad_3]

Source link
You may also like