Uncategorized
No Yeast Flatbread Recipe | The Recipe Critic
This website may contain affiliate links and advertising so that we can provide recipes to you. Read my privacy policy.
No Yeast Flatbread is a quick and easy bread recipe that you'll be making for years to come! Use it for sandwiches, gyros, pizza, and so much more. No need to wait for this bread to rise, with no yeast and cooked over the stove, it's a simple recipe that you will want to save for later.
I love no yeast bread recipes because they are so quick and easy to make. They usually don't need much attention and come together in a pinch. There are so many reasons to make bread at home. A few of my favorite no yeast recipes are this Butter Beer Bread, this amazing Traditional Soda Bread, and this simple Zucchini Bread.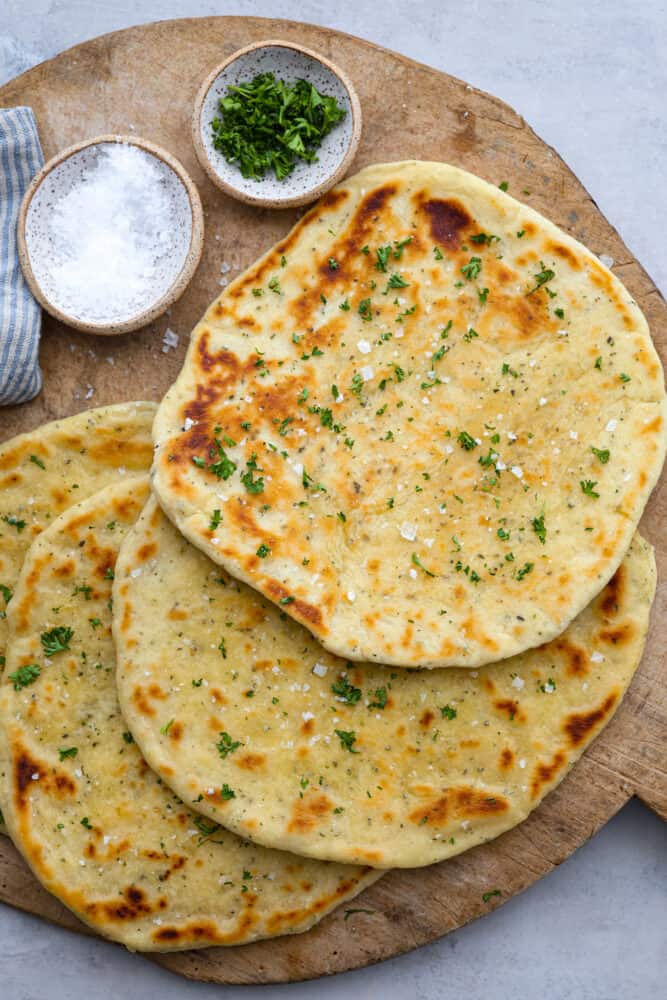 No Yeast Flatbread
Flatbread has so many uses in my house! It's a simple dough that doesn't require turning on the oven or using yeast. I love the flavor of this flatbread, and I love making it at home! The smell as it cooks on the stove is just unmatched. And you can use flatbread for so many things. Gyros are a simple dinner that can be filling and fun for everyone. If you've never had a flatbread pizza, you need to make one right now! And flatbread is amazing all on it's own. One of my favorite ways to dress it up is to add mozzarella, tomato, and a drizzle of balsamic vinegar for a Caprese flatbread. Yum!
Did you know that focaccia is actually considered a flatbread? Other flatbreads are the pita and naan. A tortilla is also technically a flatbread! Flatbread can have yeast or no yeast, and are made by almost every culture all over the world. They are also one of the first breads to be made, so they have lots of history. They are also amazingly delicious! You can make this flatbread recipe your own by adjusting the recipe to exactly how you want it to taste.
Ingredients
I absolutely love how simple no yeast flatbread is to make. You only need 5 ingredients, the rest are just for extra flavor! I like to add dried seasonings to my dough, but if you don't want to then you don't have to. You can find the measurements below in the recipe card.
Olive Oil: This is for bringing the dough together and for cooking the flatbread.
Warm Water: The temperature of the water helps the flour come together in this dough.
All-Purpose Flour: It's easy to work with and you already have some in your pantry!
Baking Powder: This is to help it puff up just the right amount on the stovetop.
Salt: This goes in the dough to help bring out all the yummy flavors.
Garlic Powder: I like to just garlic powder in flatbread, it reminds me of garlic naan which I love!
Oregano: This dried herb is so subtle yet full of delicious flavor.
Basil: I love to add a little dried basil to the dough. You can also add fresh basil over the top once it's finished cooking!
Fresh Parsley: This is for extra flavor and color on the top.
Kosher Salt: For garnish.
Flatbread Recipe with No Yeast
This flatbread recipe is so straightforward, I have my kids help me with it! It's a really simple dough that doesn't require any kneading. You don't have to worry about the dough rising or anything, because there is no yeast and the dough is cooked over a skillet until golden brown.
Mix Wet and Dry: In a large bowl, combine the ¼ cup of olive oil and water. In a separate bowl whisk together your flour, baking powder, salt, garlic powder, oregano, and basil.
Add Dry to Wet and Mix: Add dry ingredients to the wet ingredients and then stir with a spatula until it all begins to come together, it will seem crumbly at first, take it from the bowl and work it with your hands until it forms a smooth dough. This can take 2-4 minutes.
Divide and Shape: Dump the dough out onto a lightly floured surface and divide into 4 equal pieces, then roll each piece into a round and cover with saran wrap. Let the dough rest for about 10 minutes to relax.
Flatten: Roll each piece of dough out into a flat even disk after the resting time.
Cook: Heat a medium sized skillet over medium high heat, once it has come up to temp, then spread about 1 teaspoon of olive oil on the skillet and place one rolled out flatbread on the pan. Cook one side until bubbles begin to form, about 2-3 minutes.
Brush with Olive Oil: Brush the top side of the flatbread with additional olive oil and flip it over, cooking the other side for another 2 minutes.
Garnish: Once the flatbread has finished cooking, remove it from the skillet and sprinkle it with some chopped parsley and flaky salt. Repeat with the remaining rounds of dough.



[Cradit_https://therecipecritic.com]

[ad_3]

Source link
You may also like