Uncategorized
Nacho Cheese | The Recipe Critic
This website may contain affiliate links and advertising so that we can provide recipes to you. Read my privacy policy.
This Nacho Cheese recipe is the genuine Velveeta based topping that is full of nostalgia and amazing flavor! It's so simple to whip up and tastes way better than store-bought.
I know what you are thinking, does anyone really use Velveeta anymore? Well, if you are buying nacho cheese from the store, then this recipe is still a step up from that. It's also way delicious and so full of childhood memories, you're going to love it. If you want some other cheese dip recipes without Velveeta, then try this Super Easy Beer Cheese Dip, this delicious Queso Blanco, and this Cheese Sauce.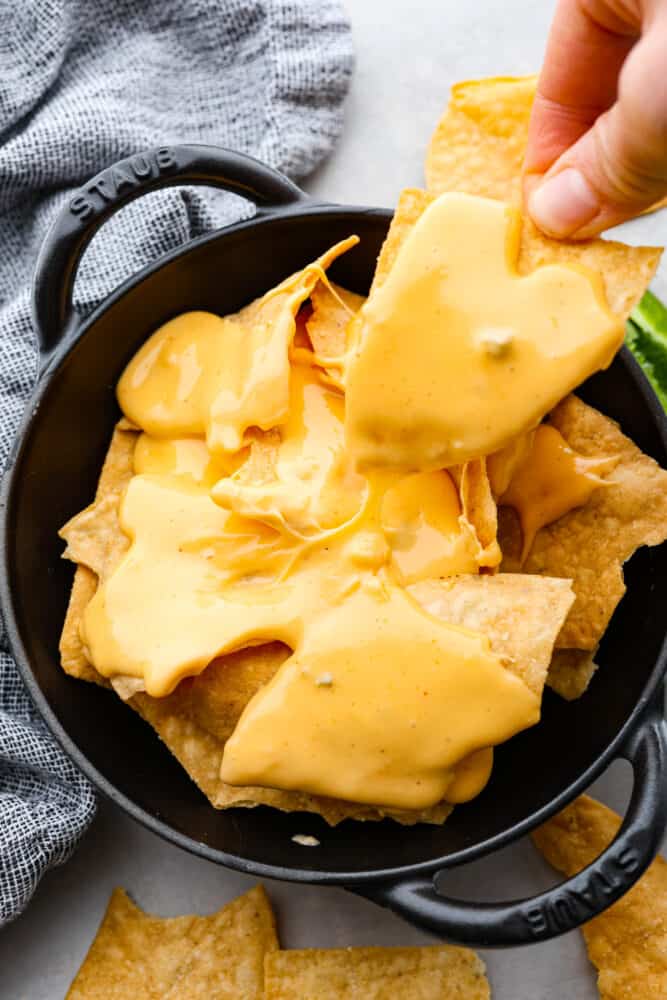 Nacho Cheese Sauce Recipe
We've all had the ball game or movie theaters nachos that you always wish had a little more cheese sauce. This nacho cheese is seriously the same flavor with better ingredients! Of course, it still has Velveeta, but that is what gives it the classic flavor. I share a tip below for how to make this recipe without Velveeta. This cheese sauce is the perfect consistency for dipping or pouring over the top of tortilla chips. It has the perfect amount of spice from the jalapenos and cayenne pepper, it's so hard to stop eating it!
I know it's a nacho cheese dip, but you don't have to just put it over chips! It's also incredible on ground beef tacos or over a chicken burrito bowl. The texture is so silky smooth and the little pop of flavor from the jalapenos is absolutely perfect. This sauce takes just 15 minutes to whip up and it's always a crowd pleaser! It's the perfect party food for everyone to enjoy.
Ingredients
We've already discussed that this homemade nacho cheese sauce has processed American cheese in it. I share other alternative cheeses below! It's really simple to make this recipe with pretty much any cheese you want. You can find the measurements below in the recipe card.
Butter: You will want to use unsalted butter.
Flour: This is for thickening the sauce.
Milk: You could use evaporated milk instead, or half and half if you like it a little more creamy. I like to use whole milk when I use the processed cheese.
Velveeta Cheese: Yup, good old processed cheese is what this recipe calls for! Check out my tip box below for other cheese options.
Chili Powder: This is to add a little spice to the sauce.
Garlic Powder: I like to add garlic powder because it makes it super savory.
Jarred Jalapeños: You can mince them up if you want to make them smaller. It's up to your personal preference.
Cayenne Pepper: This kicks up the spice level a little.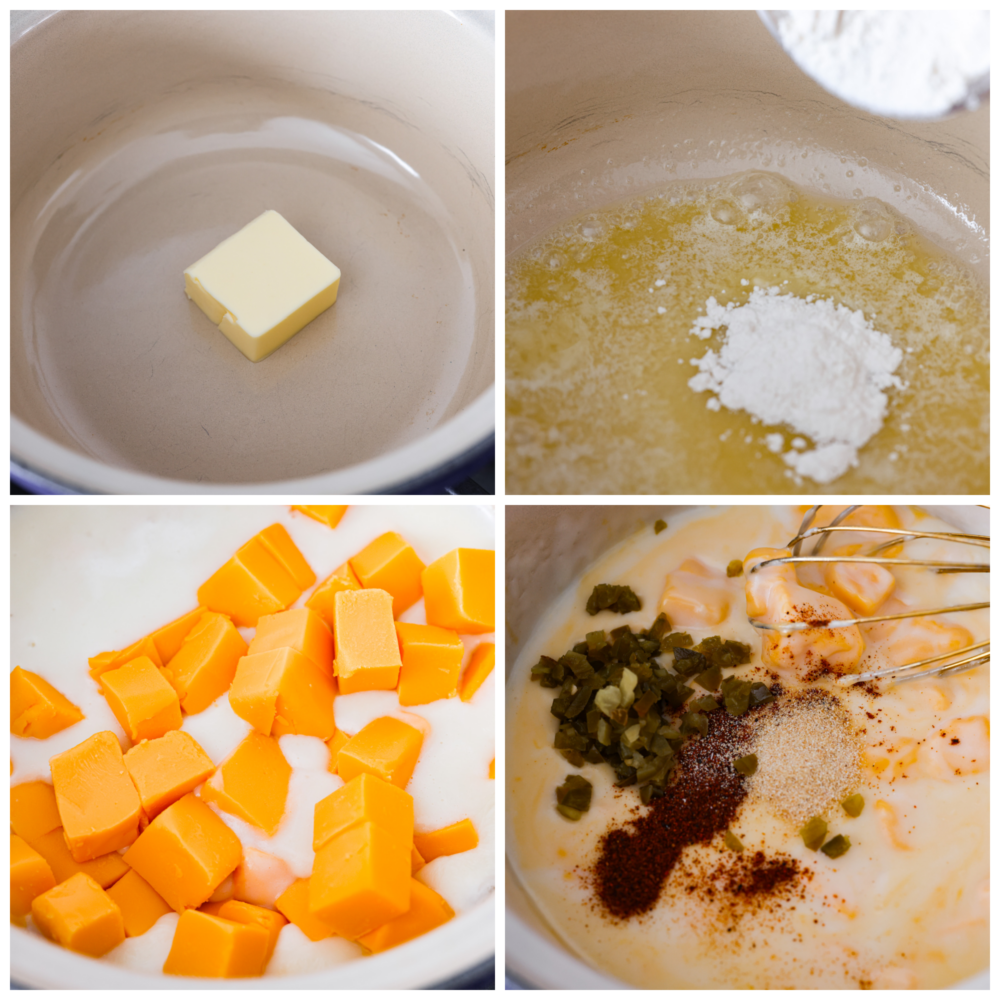 How to Make Nacho Cheese
Nacho cheese is so simple to make! Once you make the roux, I would turn the stove down to low heat or medium heat. It doesn't take very much heat to get the cheese to melt. Other than that, there is absolutely nothing to this recipe. It's so simple and delicious, your whole family will love it!
Melt Butter: In a medium saucepan over medium heat, add the butter and melt.
Make Roux: Whisk in the flour to make a roux and stir until a paste forms.
Whisk: Slowly whisk in the milk.
Add Ingredients and Melt: Add in the cheese, chili powder, garlic powder, and diced jalepenos. Whisk until the cheese is melted and the sauce is warmed through.
Enjoy: Serve warm with chips!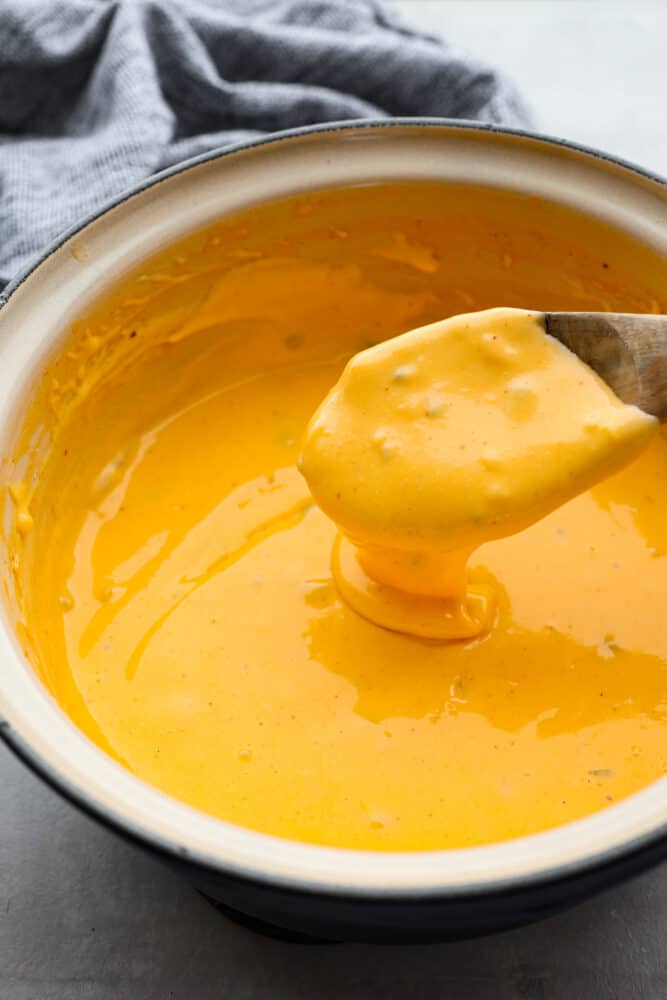 [Cradit_https://therecipecritic.com]

[ad_3]

Source link
You may also like