Uncategorized
King Cake (The Perfect Mardi Gras Dessert!)
This website may contain affiliate links and advertising so that we can provide recipes to you. Read my privacy policy.
King cake is a colorful and festive dessert for Mardi Gras celebrations! With its gorgeous swirl of purple, green and gold icing, this sweet and soft cake is a treat for both the eyes and the taste buds. Whether you're a seasoned king cake aficionado or a newcomer to this sugary delight, there's no denying its irresistible charm!
With Mardi Gras just around the corner, here are a few more must-try recipes inspired by New Orleans cuisine: homemade beignets, gumbo, and jambalaya! You've got to try them all!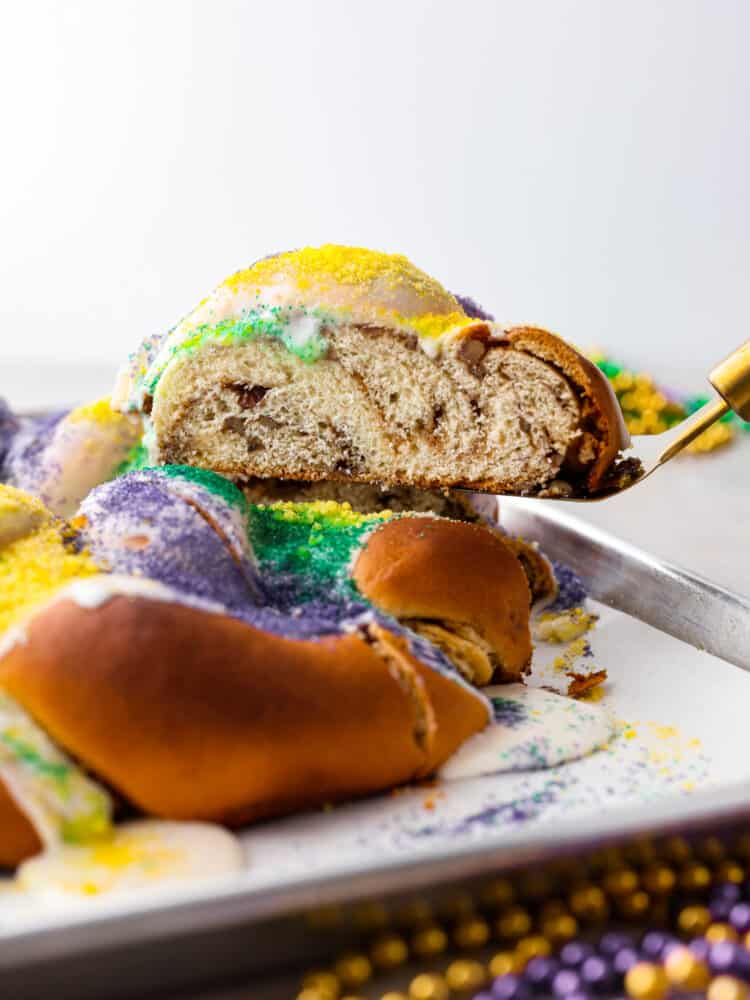 What is King Cake?
If you've never heard of it before, King Cake has a rich history dating back to the ancient celebrations of the Epiphany in Europe. Originating in France, it's now a staple dessert for Mardi Gras celebrations in New Orleans! Although it's called cake, this dessert is more similar to a braided sweet bread like babka!
King cake is soft, sweet, and sure to be your new favorite Mardi Gras recipe. The bread has a brown sugar cinnamon filling with added pecans. It's absolutely to die for! Top it off with a simple glaze, colored sugar, and you have a dessert that's both festive and delicious on your hands!
Everything You'll Need
The great thing about this king cake recipe is that it uses super simple ingredients. In fact, as long as you have some sanding sugar on hand, you likely have everything else to whip up this festive dessert! Looking for measurements? They can all be found in the recipe card below.
Dough
Warm Milk: Warm milk helps activate the yeast, allowing the king cake dough to rise and become fluffy!
Instant Dry Yeast: This ingredient is essential for making the dough rise.
Granulated Sugar: Adds sweetness to the dough and also helps feed the yeast.
Unsalted Butter: You can't go wrong with butter! It adds rich flavor and moisture to the bread.
Eggs: Bind everything together.
Salt: Acts as a flavor enhancer!
Flour: Make sure you use flour with a low protein content. This will make sure your bread turns out nice and soft! I used all-purpose flour and it turned out perfectly.
Filling
Brown Sugar: Adds a deeper sweetness.
Ground Cinnamon: The perfect match for brown sugar! It adds the perfect warm spice.
Melted Butter: Makes the king cake filling smooth and rich.
Chopped Pecans: I love adding chopped pecans because of their tasty flavor and texture! Chopped walnuts or sliced almonds will also work.
Glaze
Powdered Sugar: Adds sweetness and gives the glaze a smooth texture.
Water: For adjusting the consistency.
Vanilla: Adds an extra pop of flavor. I recommend using pure vanilla extract here!
Colored Sugar: For the green, purple, and yellow topping.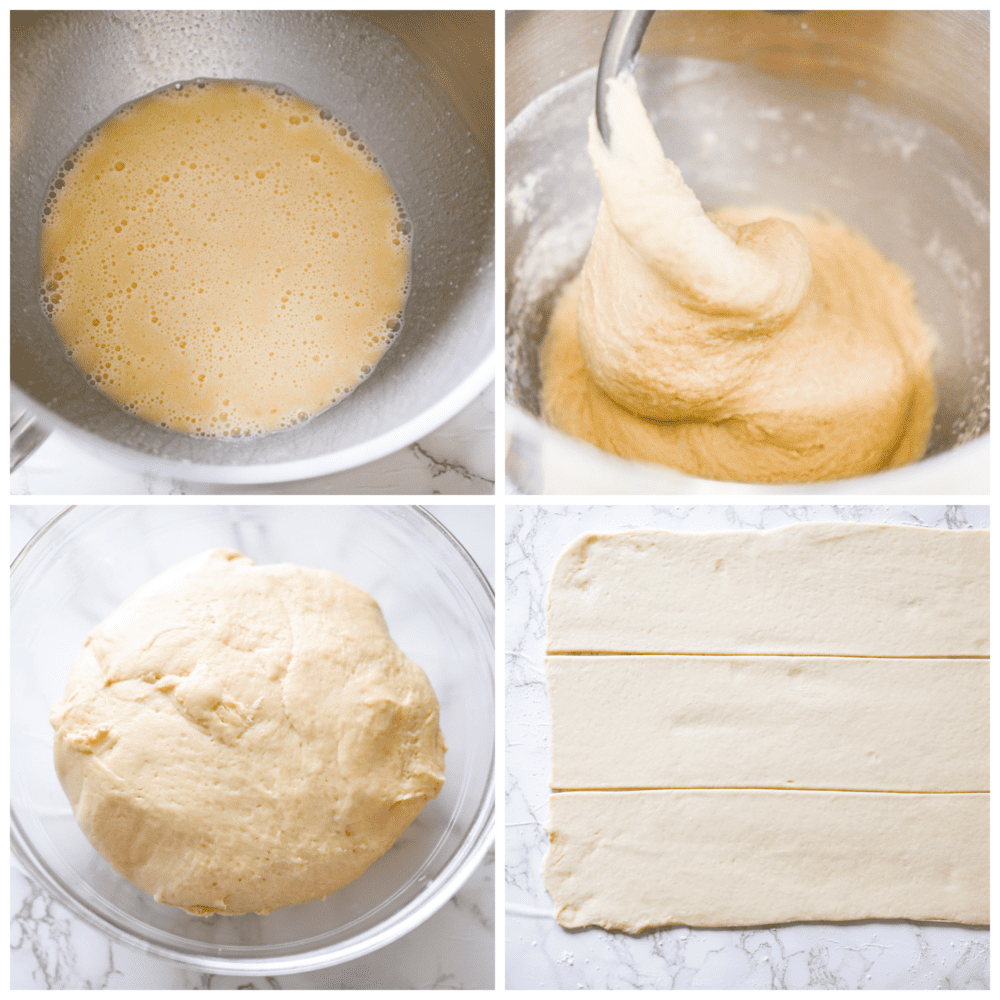 How to Make King Cake
Now, I know this is a pretty lengthy list of instructions, but king cake is a lot easier to make than you'd think! I've broken the steps up into 3 simple sections.
Making the Dough
Activate Yeast: In the bowl of a stand mixer, combine your warm milk, yeast, and 3 tablespoons of your sugar. Allow the mixture to sit for about 5 minutes until the yeast becomes active and foamy.
Mix in Wet Ingredients: Add in the rest of the sugar, butter, and eggs. Mix using the whisk attachment on medium high speed until everything comes together.
Mix in Dry Ingredients: Add 4 cups of flour and your salt into the bowl and switch out the whisk for the dough hook, mix at low speed until the flour is fully incorporated, at this point you can determine if you need to add more flour, the dough should pull clean from the mixer when it is the right consistency, but not be too stiff, it should be slightly sticky.
Continue to Mix: Increase the speed to a medium-high speed and mix for an additional 3-4 minutes. This last step will knead the dough and build the strength of the gluten.
Proof: Remove the dough from your mixer and place it into an oiled bowl, cover with plastic wrap and keep covered for about an hour, until the dough doubles in size.
Preparing the Filling, Baking
Combine Ingredients: While your king cake dough is proofing, make your filling. In a medium bowl, mix your sugar, cinnamon, and butter. Set aside.
Roll Out Dough: Once your dough is doubled in size, tip it out onto a floured surface, roll into a large rectangle, mine was about 24 inches by 15 inches. Cut the slab into 3 equal strips, mine were 24 inches by 5 inches.
Add Filling: Spread your filling evenly on each strip and sprinkle your chopped pecans on top. Roll each strip lengthwise so you have 3 long filled rolls.
Braid Together: Lay the strips side by side and secure them together at the top. Braid the whole length of the 3 strips together and secure the other end by pinching the dough together. Form the braid into a circle and secure the two ends together as best as you can.
Proof: Place the prepared rolled and braided dough onto a baking sheet lined with parchment. Cover and allow the cake to proof until it is nearly double in size, depending on the temperature of the room you are making this cake in it could take 45 minutes to a little over an hour.
Preheat Oven: While your cake proofs, preheat your oven to 375 degrees Fahrenheit.
Bake: Once the cake is ready, bake for 25-30 minutes, a toothpick inserted should come out clean, and the loaf should be a golden brown color all over. Remove from the oven and allow the king cake to cool completely before glazing.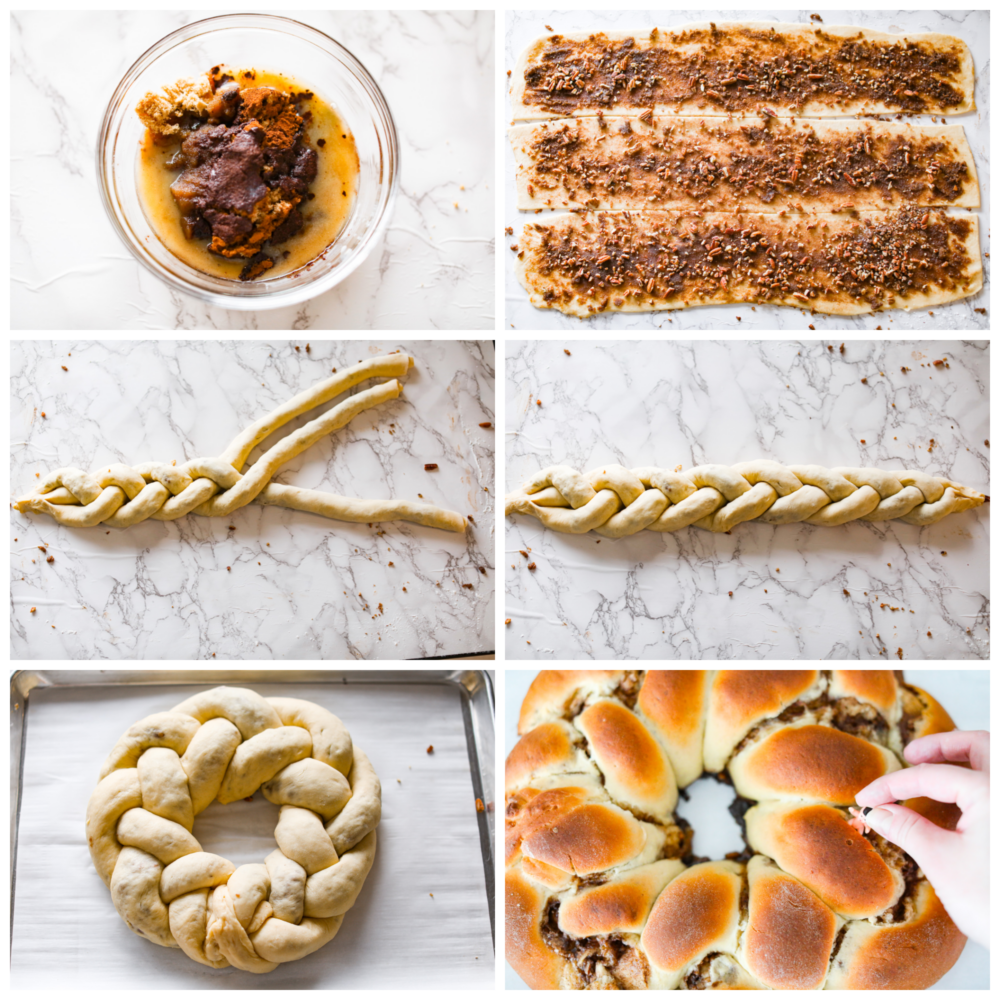 Adding the Glaze
Add Plastic Baby: Before glazing your cake, take a mini plastic baby and poke it into one of the folds of your cake, hiding it completely for someone to find later.
Prepare Glaze Mixture: In a medium bowl, mix together your powdered sugar, water, and vanilla. Pour the glaze over your cake evenly and while the glaze is still tacky, sprinkle the colored sugar over it in colored stripes.
Find the Baby: Make sure to have everyone inspect their cuts of cake to find the baby before eating!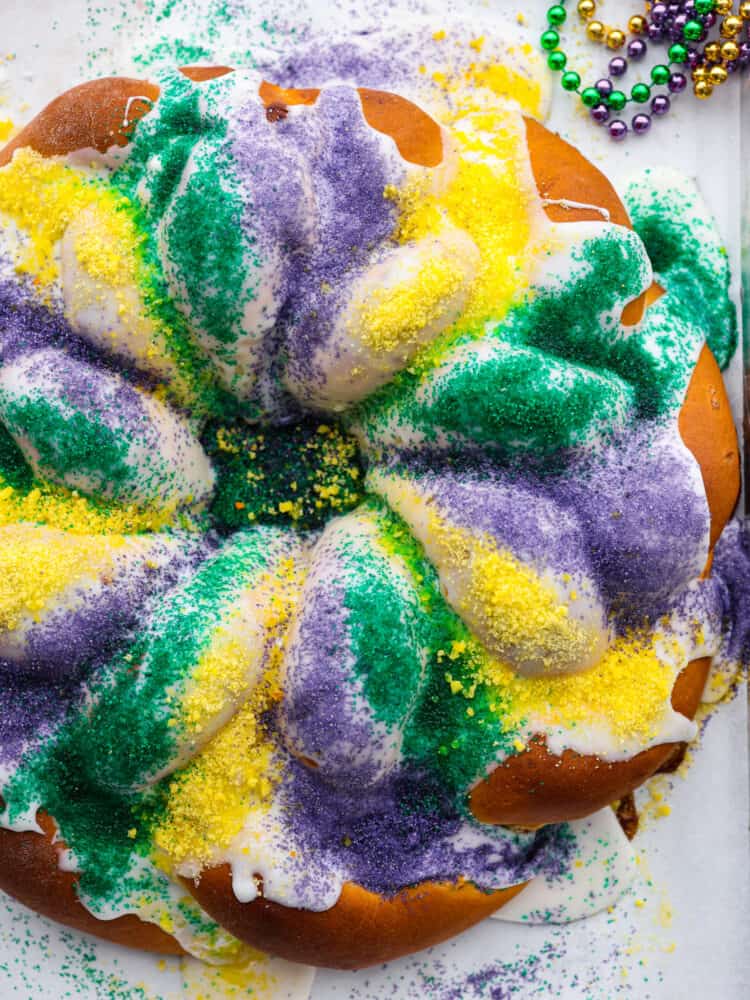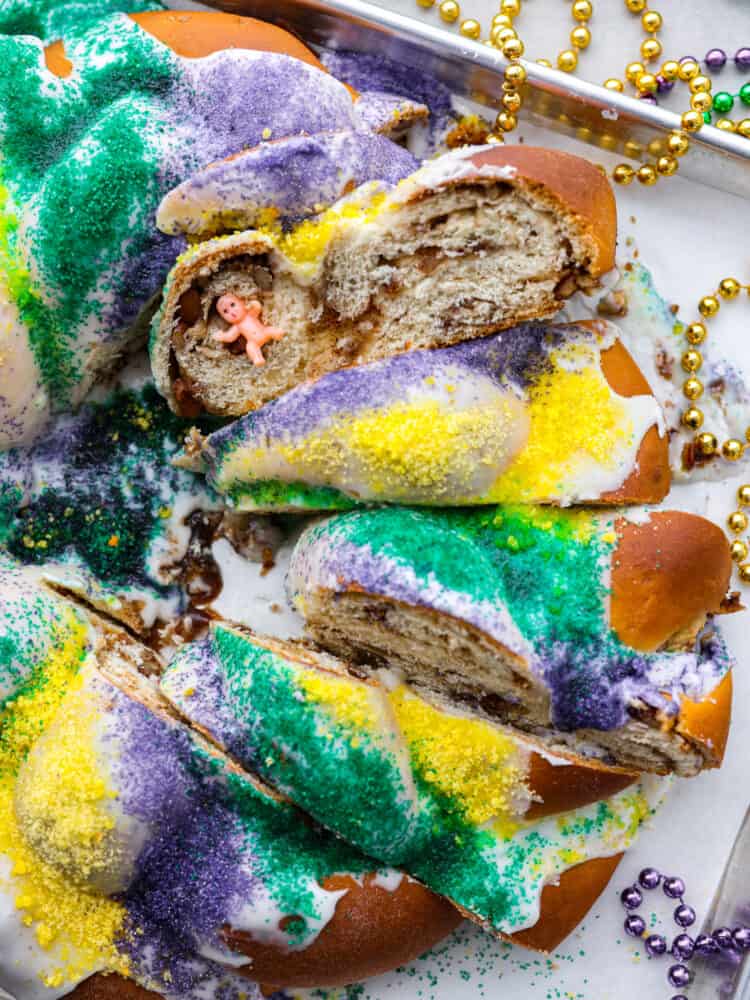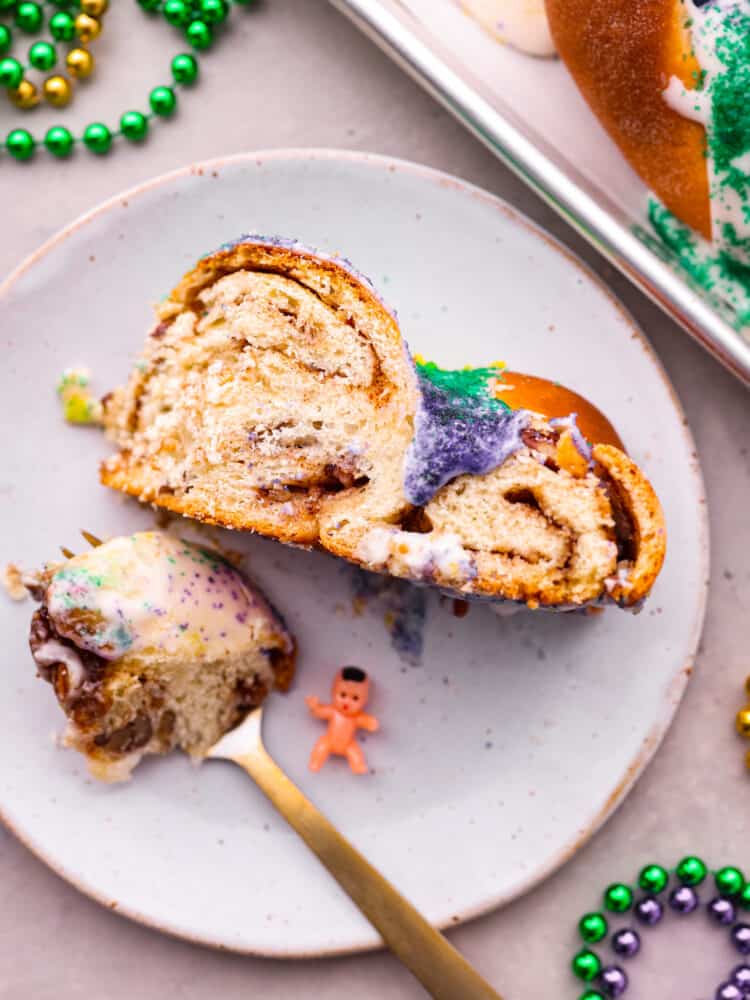 [Cradit_https://therecipecritic.com]

[ad_3]

Source link
You may also like
Calendar
April 2023
M
T
W
T
F
S
S
1
2
3
4
5
6
7
8
9
10
11
12
13
14
15
16
17
18
19
20
21
22
23
24
25
26
27
28
29
30