Uncategorized
Israeli Couscous | The Recipe Critic
This website may contain affiliate links and advertising so that we can provide recipes to you. Read my privacy policy.
Looking to add a burst of Mediterranean flavor to your dining table? This delicious Israeli couscous is the answer! With its aromatic blend of olive oil, lemon zest, garlic, and fresh parsley, you won't be able to get enough. It's the perfect side dish for summer!
Israeli couscous is a light and delicious side dish that's perfect for accompanying your favorite meals this summer. A few more great recipes to try next are yellow rice, lemon rice, and maybe some baba ganoush to dip your favorite veggies in!
Israeli Pearl Couscous
This little pearl-shaped pasta made from semolina flour is a wonderful ingredient. It makes any dinner a bit more special! Cooked in a vegetable broth, mixed with lemon juice and olive oil, it becomes a side dish that's supercharged with flavor. The garlic powder, salt, and pepper add a savory note to the mix, while the fresh parsley and lemon zest bring freshness and a hint of bitterness. All in all, it's a complex and tasty combination that will make your stomach happy!
But what to serve with it? Well, that's up to you, really. Israeli couscous is a versatile side dish that pairs well with almost anything. If you're feeling fancy, you can serve it with a rack of lamb or roasted chicken. If you're in the mood for something lighter, pair it with a green salad or some sautéed veggies. And if you're feeling lazy, it's delicious all on its own! Whatever you choose, Israeli couscous is a great addition to any meal. It's easy to prepare, delicious to eat, and always leaves you wanting more. It's so hard to resist with its amazing texture and savory flavor!
Ingredients Needed
To make this flavorful Israeli couscous, all you need is some vegetable broth to cook it in, a splash of olive oil and lemon juice for added flavor, then some spices and herbs from your spice rack! The end result is filling and flavorful but still light and perfect for summer!
Olive Oil: Used to toast the couscous in. It helps to make it tender and also adds a tasty, earthy flavor.
Pearl Couscous: Next up we have Israeli pearl couscous, which is the star of the show! This pasta (also sometimes considered a grain) has a unique texture that's firm and chewy, and it's perfect for soaking up all the flavors of the broth and seasonings.
Vegetable Broth: Speaking of broth, we need a few cups of vegetable stock to cook the couscous in. It provides a savory base for the dish and infuses the couscous with extra flavor. If you don't have vegetable broth, you also can substitute with chicken or beef broth, or even water in a pinch.
Lemon Juice: Adds a splash of bright and tangy flavor!
Seasonings: I used garlic powder, salt, and black pepper. These three ingredients work together to bring out the best in the couscous and make it absolutely delicious. You can also use fresh garlic if you want a little more garlicky goodness.
Fresh Parsley: You can never go wrong with fresh herbs! Parsley adds an extra layer of flavor and amazing aromatics. Fresh mint leaves are another great option to use.
Lemon Zest: If you're using fresh lemon juice, don't let the rind go to waste! The zest gives the couscous a tangy flavor.
How to Make Israeli Couscous
It takes less than 30 minutes to make from start to finish, and most of that time is spent with the couscous simmering on the stove. It's extremely easy to make. Be prepared for this to become one of your new favorite side dishes!
Toast Couscous: Heat your olive oil in a medium saucepan over medium high heat. Then add in your couscous and toast it in the oil for about 5 minutes, stirring occasionally.
Add In Remaining Ingredients: Once your couscous is toasted, add in your vegetable broth, lemon juice, garlic powder, salt and pepper and, over high heat, bring the liquid to a rolling boil. Reduce heat to low, then cover and simmer the couscous for 13-15 minutes.
Check Consistency: Uncover the couscous and fluff with a fork, all of the liquid should be absorbed, if there is some remaining liquid, continue to simmer for a few more minutes.
Garnish and Serve: Once the couscous is fully cooked and tender, remove from heat, transfer to a serving bowl, then add in your chopped parsley and lemon zest. Stir to mix and serve fresh.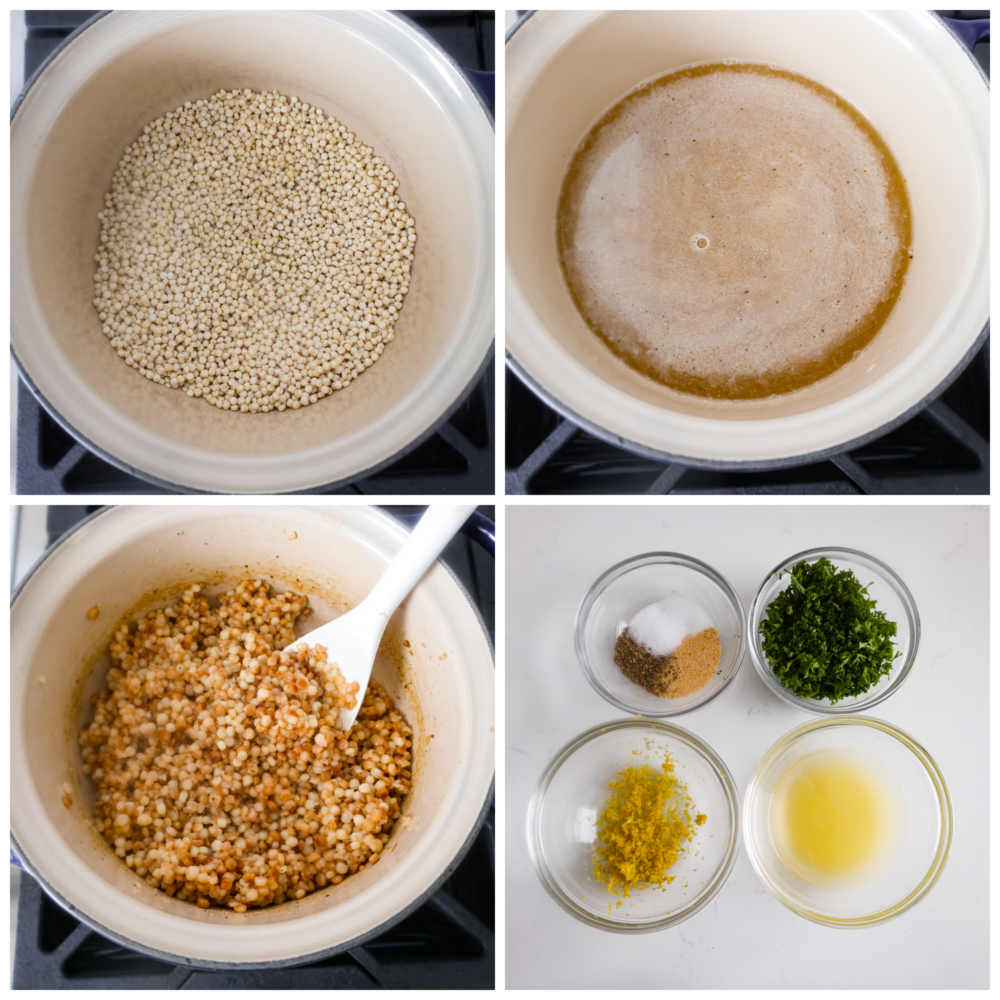 [Cradit_https://therecipecritic.com]

[ad_3]

Source link
You may also like