Uncategorized
How to Make Szechuan Sauce
This website may contain affiliate links and advertising so that we can provide recipes to you. Read my privacy policy.
Once you taste homemade Szechuan sauce, you'll be wondering how you ever survived without it. It's so easy to mix up and doubles as both a dip and a marinade! It will take all of your Chinese-inspired dishes to the next level and have your family licking their plates.
I probably sound like a broken record by now, but homemade sauces really all the best. They add so much flavor to your meals without all of the nasty preservatives and artificial flavors! If you love Szechuan sauce, I know you'll love this yum yum sauce, hoisin sauce, and peanut sauce just as much! Try them all!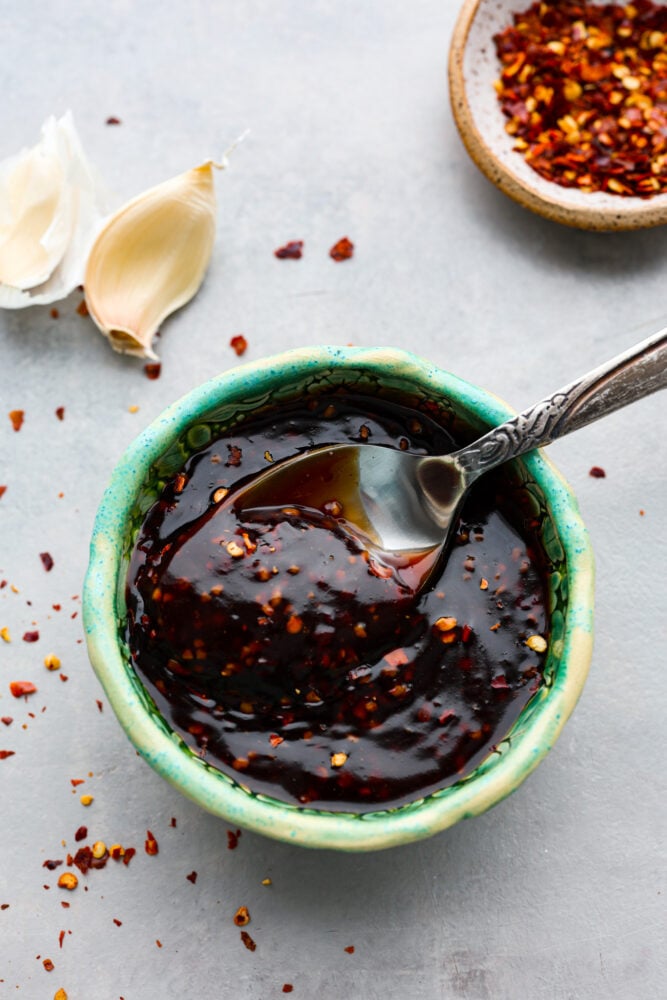 What is Szechuan Sauce?
Let's dive into the wonderful world of Szechuan sauce! This delectable condiment hails from the Sichuan province of China and packs a powerful punch of flavor. The sauce typically features a combination of spicy chili peppers, mouth-numbing Szechuan peppercorns, garlic, ginger, soy sauce, vinegar, and sugar. When made from scratch, each ingredient is perfectly balanced to create a deliciously addictive sauce that will leave your taste buds wanting more.
So, why is homemade Szechuan sauce superior, you ask? Well, for starters, you can customize the spiciness level to your liking. Plus, when you make it from scratch, you know exactly what's going into it (no mystery ingredients here). And let's be real, there's just something satisfying about creating your own delicious sauces from scratch. So go ahead, give it a try and prepare to be blown away by the bold and addictive flavors of homemade Szechuan sauce! If you're anything like me, you're going to want to put it on everything. It's so flavorful and delicious!
Ingredients in Szechuan Sauce
This is everything you need to make Szechuan sauce at home! Feel free to tweak the ingredients as needed to preference and what you have available in your pantry. Exact measurements can all be found in the recipe card below.
Soy Sauce: The main ingredient in Szechuan sauce. It adds a salty and umami flavor! You can also substitute it with tamari sauce, which is gluten-free and has a similar flavor.
Chinkiang Vinegar: This vinegar is made from glutinous rice and has a sweet and sour flavor. It is an essential ingredient in Szechuan sauce, and you can't substitute it with any other vinegar. You may need to make a stop at your local Asian grocer for it! It can also be found on Amazon.
Sweet Chili Sauce: This sauce adds a sweet and spicy flavor to the Szechuan sauce. If you don't have sweet chili sauce, you can substitute it with honey and chili flakes.
Brown Sugar: Adds sweetness and depth of flavor to the sauce. You can use either light or dark brown sugar, but the flavor will differ slightly.
Garlic Powder: Adds a bold, savory flavor to the sauce! You can also substitute it with fresh garlic cloves if you prefer.
Red Pepper Flakes: These flakes add a spicy kick to the Szechuan sauce, and you can adjust the amount depending on your heat tolerance. If you don't have red pepper flakes, you can use fresh red chilies or chili paste as well.
Ground Ginger: Ginger adds a warm and aromatic flavor to the sauce. You can use freshly grated ginger if you prefer.
Water: Thins out the sauce and makes it easier to mix. Adjust the consistency to your liking!
How to Make Homemade Szechuan Sauce
A batch of homemade Szechuan sauce is just what you need to take your Chinese dishes to the next level. Whether you're making meat dishes, rice bowls, or stir fries, it's the perfect condiment to have on hand!
Combine: In a small pot, whisk all your ingredients together and over medium high heat, bring your sauce to a gentle boil.
Thicken: Reduce the heat to low and simmer the sauce until it thickens, stirring constantly. This should take about 3 minutes.
Enjoy: Use immediately or store in an airtight container in the fridge for up to a week.



[Cradit_https://therecipecritic.com]

[ad_3]

Source link
You may also like