Uncategorized
How to Make a Salami Rose (2 ways!)
This website may contain affiliate links and advertising so that we can provide recipes to you. Read my privacy policy.
A salami rose is the perfect way to dress up your charcuterie board. This recipe will show you how to make a salami rose in two different ways that will be fun to put together and really wow your guests!
I love a good how-to recipe. I didn't grow up cooking with my mom in the kitchen. I've had to look up a lot of things on the internet, which is why I also share a few great how-to recipes on my website. My favorite is How to Make Buttermilk, it's come in handy so many times! Another one that sounds like a no-brainer but doesn't work out unless you know the tips is How to Freeze Peaches. An easy one to save for later is How to make Half and Half!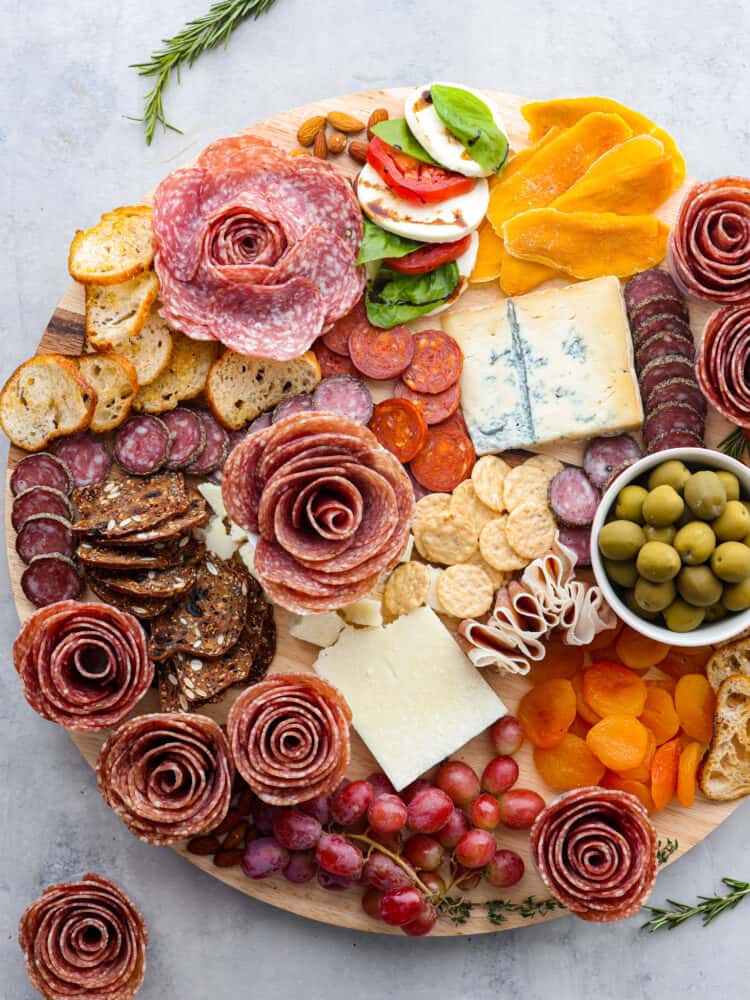 How to Make a Rose Out of Salami
I had so much fun putting this tutorial together for you! Charcuterie boards are the best and I make one for almost every gathering. I always make a few for the holidays, like this beautiful wreath-shaped Christmas Charcuterie board. I really loved making these roses for my Valentine's charcuterie board, but they are a great way to dress up your simple charcuterie board too!
This recipe will walk you through step by step of how to fold your slices of salami using a wine glass (you can also use a champagne flute). I also show you how to fold salami slices without a glass and they look beautiful! You may have seen a tutorial online of someone using the rim of the glass to make salami roses, and thought, "I could do that!". Well, now is your time to shine. You can totally do this, and I'm going to show you how!
Ingredients
You are going to need to get some sliced salami from the deli. This is usually refrigerated, or you can have them cut it fresh for you. Make sure to get it pre-sliced, because it needs to be really thin so it can bend into the rose shape. You could also use Proscuitto, pepperoni, turkey, roast beef, ham, or really any thin meat you wanted to! You will want to cut the meat using a biscuit cutter so that it is the same shape for making your meat rose. It's a great way to make your appetizer beautiful. Don't forget to grab grapes, olives, provolone, dried fruits, and crackers to fill up your snack board!
Italian Dry Salami: This salami is full of flavor and is what you usually find on a charcuterie board. It is full of savory spices and I've never met anyone who didn't love it, especially with cheese!
Genoa Salami: This salami has wine and vinegar in it, which gives it a really bright and tangy flavor. It is so refreshing and delicious. You should be able to find it at your local grocery store.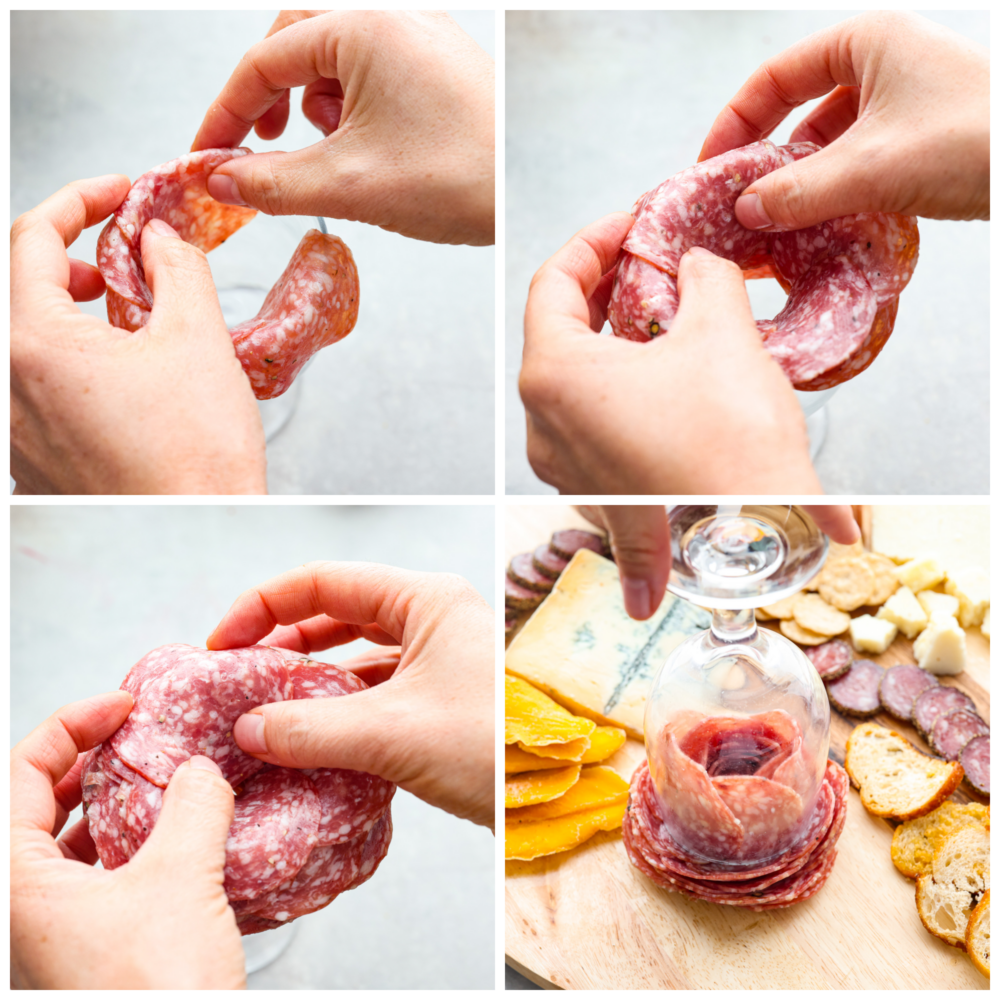 How to Make a Salami Rose Using Glass
It is so simple, and you can make different size salami flowers by using different-sized glasses. Use a champagne flute for smaller flowers, and a wine glass for a little bit bigger, You could even use a regular water glass in your house and try different sizes to see the different sizes of beautiful roses you can make.
Fold: Start by folding a salami piece over the edge of the wine glass. You will have half of the salami inside the glass and half folded over the outside.
Layer: Start layering the salami about ¼ inch over each seam.
Repeat: Continue to layer the salami over each seam until the hole in the center starts to close.
Flip: Once the hole is closed then flip the glass on your charcuterie board.
Remove: Remove the glass and lightly fan the rose.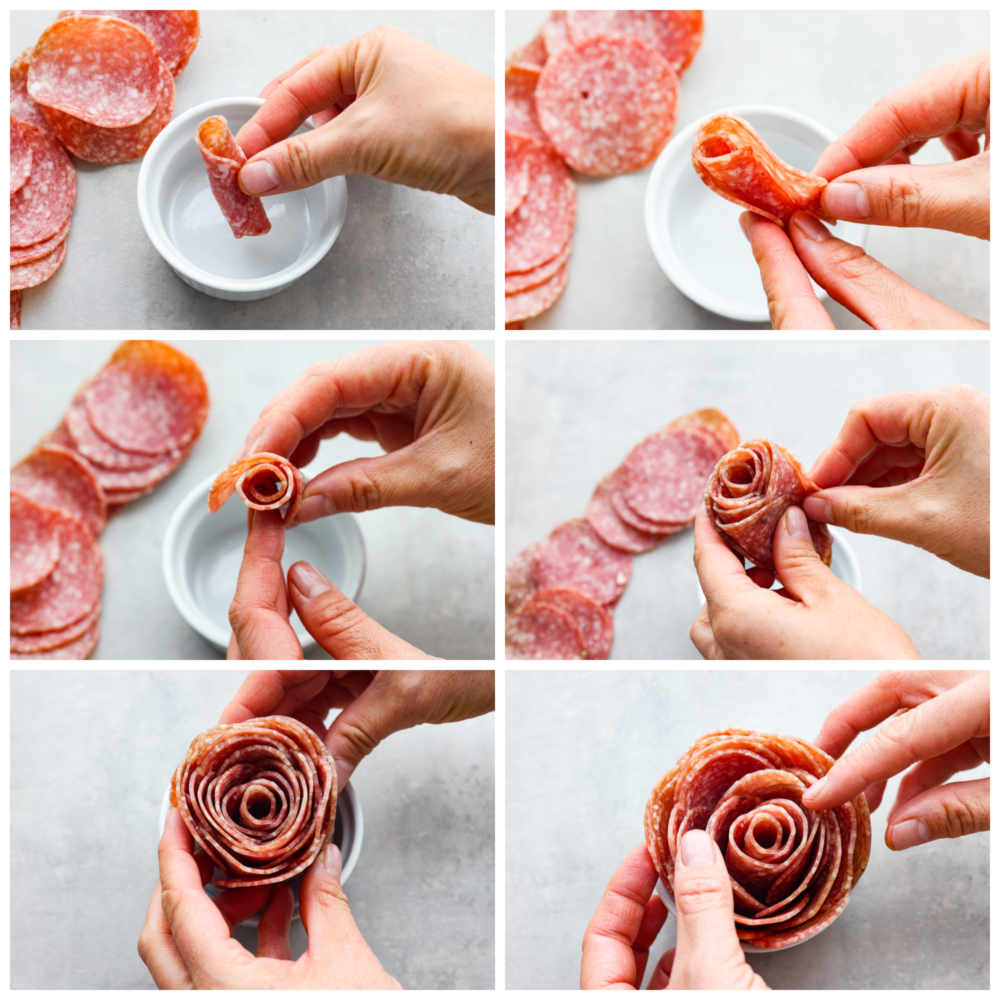 How to Make a Rose Inside Out
This method is really pretty too. You can make smaller roses if you have small ramekins to put your beautiful rose into. This method is my favorite because it really looks exactly like a rose, and all of my guests love them too.
Roll: Start with one piece of salami and roll it up.
Wrap: Grab another piece of Salame and wrap it around the seam of the rolled-up salami. Continue to wrap around the seam with salami until it starts to take a rose shape and look like petals.
Put in Bowl: Place in a small bowl to hold the shape and gently fan out the flower. Place the flower in the center of a round board.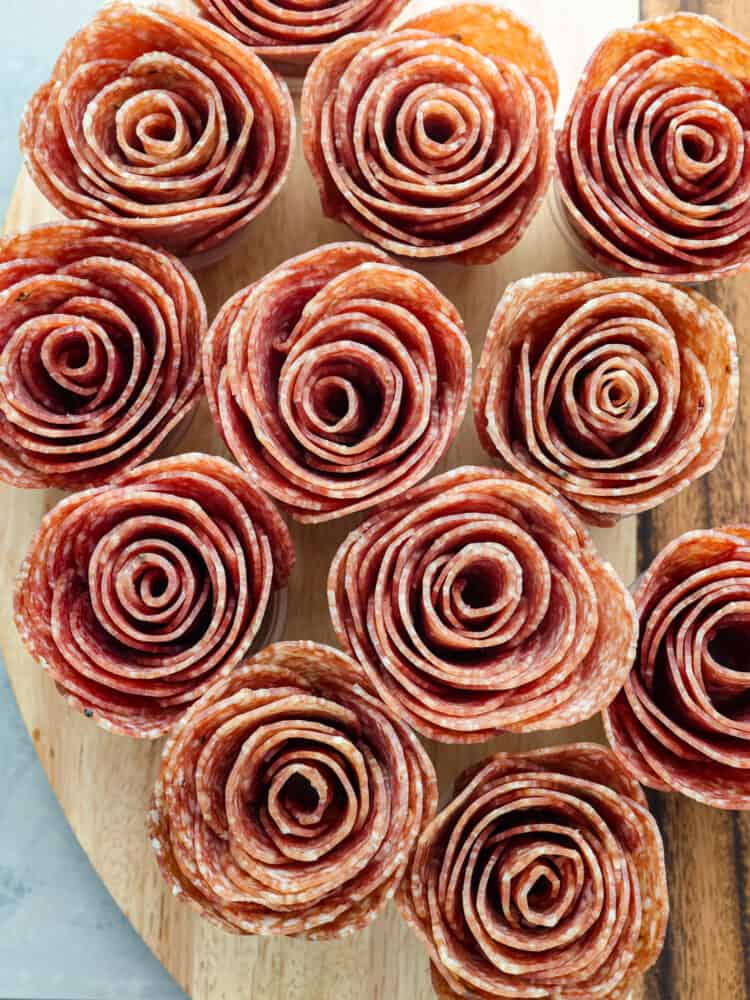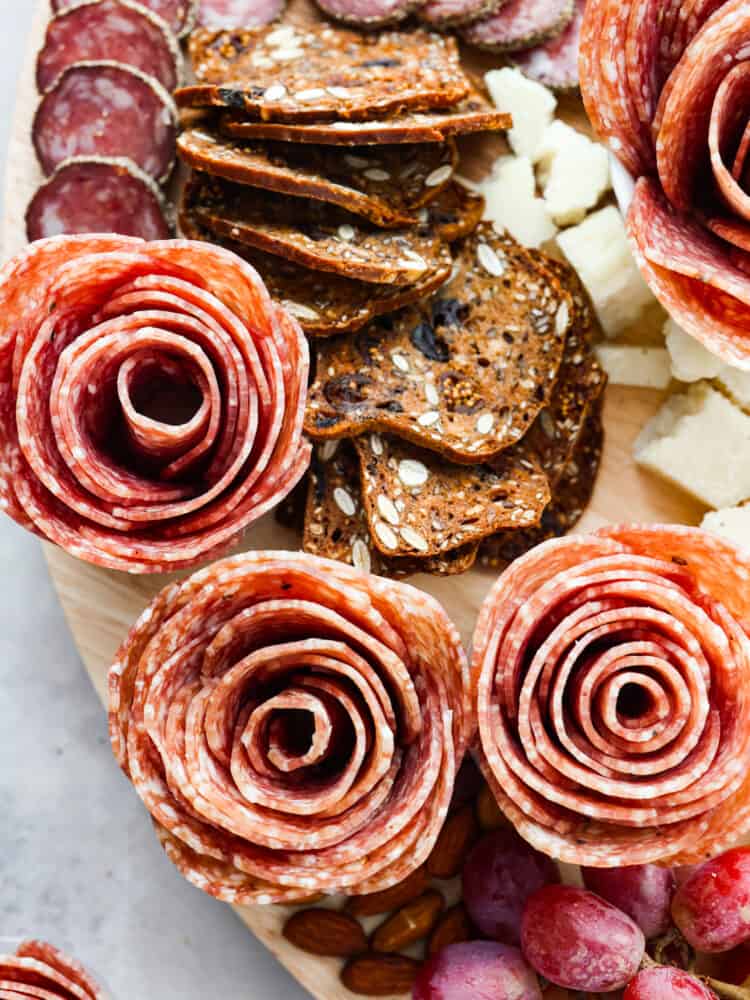 [Cradit_https://therecipecritic.com]

[ad_3]

Source link
You may also like
Calendar
April 2023
M
T
W
T
F
S
S
1
2
3
4
5
6
7
8
9
10
11
12
13
14
15
16
17
18
19
20
21
22
23
24
25
26
27
28
29
30