Uncategorized
How to Boil a Whole Chicken
This website may contain affiliate links and advertising so that we can provide recipes to you. Read my privacy policy.
Learning how to boil a whole chicken is a great skill to have in your back pocket, especially if you're trying to eat clean or meal prepping! This boiled chicken is flavorful, juicy, and can easily be transformed into a one-pot meal.
Not only is boiled chicken healthy, juicy, and delicious, but you can use it in so many different ways. Try it out in any recipe that calls for shredded or rotisserie chicken. If you're looking for another great way to prepare your chicken, try this shredded chicken in the Instant Pot!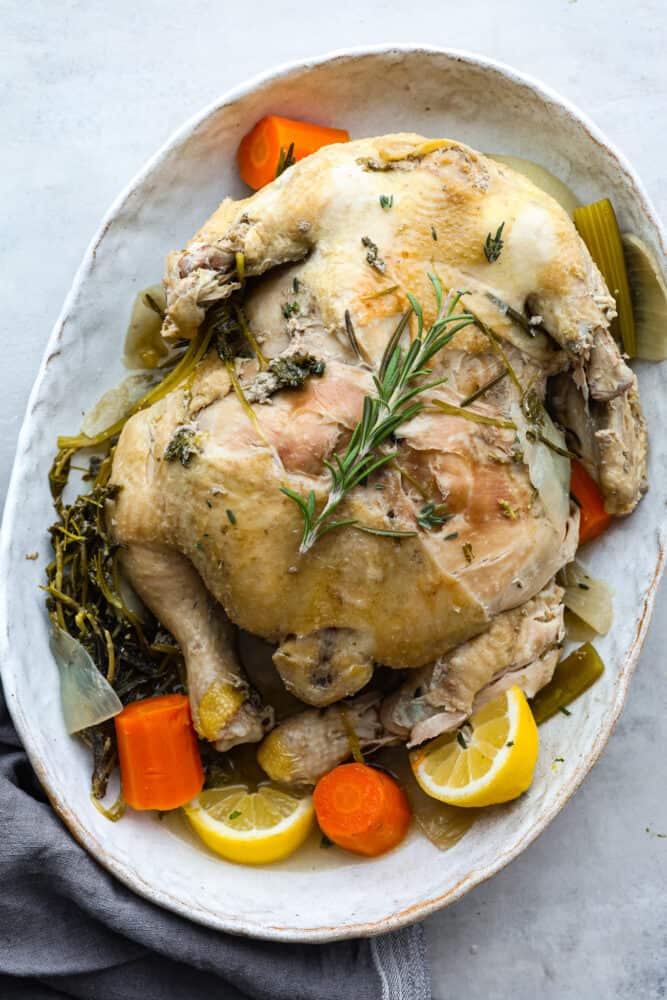 The Best Boiled Chicken
Let's talk boiled chicken. If you're thinking it comes out rubbery and flavorless, think again. Boiling chicken is actually one of my favorite ways to prepare it! Every time I use this recipe, the chicken turns out juicy, fork-tender, and absolutely delicious.
So why boil a whole chicken instead of just chicken breasts or thighs? There are a few reasons. One, when you boil a whole chicken, the bones, skin, and connective tissues infuse the broth with incredible flavors. The result is a broth that's bursting with deliciousness, and in turn gives any veggies you're cooking it with a savory touch. Two, the skin and bones act as a natural barrier to keep all the moisture in, making your chicken more delicious and tender. And three, just look at that presentation!
Ingredients You Will Need
Besides the whole chicken and spices, feel free to throw in any veggies that you may have in your fridge! They become so delicious when the cook in the chicken's natural broth. For exact measurements, check out the recipe card below.
Bone-In Whole Chicken: The chicken I used was about 6 pounds. You may need to adjust the cooking time a little depending on the size of the chicken you use.
Yellow Onions: Chopped yellow onions are a must-add for any hearty dish.
Whole Carrots: Cut into 2-inch pieces. Is there anything better than chopped carrots that have been cooked in broth? They're so tender and flavorful!
Celery Stalks: These also become nice and tender when cooked. Stews and roasts are the best way to get your daily dose of veggies.
Whole Garlic Cloves: For a punch of savory flavor.
Fresh Herbs: Adding fresh herbs is a no-brainer. They add the best flavor and aromatics! I used fresh parsley, thyme, and rosemary.
Salt: Help to boost the flavors of the boiled chicken.
Whole Peppercorns: Adding these in is another great way to flavor the chicken.
How Long to Boil a Whole Chicken
Boiling a whole chicken is incredibly easy. Simply add all of your ingredients to a large pot, and let it do its thing! I love how hands-off this recipe is. It gives you plenty of time to make some side dishes, or just watch a few episodes of your favorite TV show!
Add Chicken to Pot, Cover With Herbs and Vegetables: Place the chicken in the bottom of a large stock pot. Then add the rest of the ingredients on top and around the chicken.
Cover With Water, Boil: Cover everything completely with water and then bring to a boil over high heat.
Simmer: Once your water has come to a rolling boil, reduce heat to medium-low and simmer, uncovered, for 2-3 hours. The cooking time will depend on the size of the chicken. When it's done, the internal temperature of the chicken should be 165 degrees Fahrenheit.
Serve: Carefully remove the whole chicken from the pot. Then shred and debone the chicken and use it as desired for recipes.
Save Chicken Stock: Strain the chicken stock and save it for later use!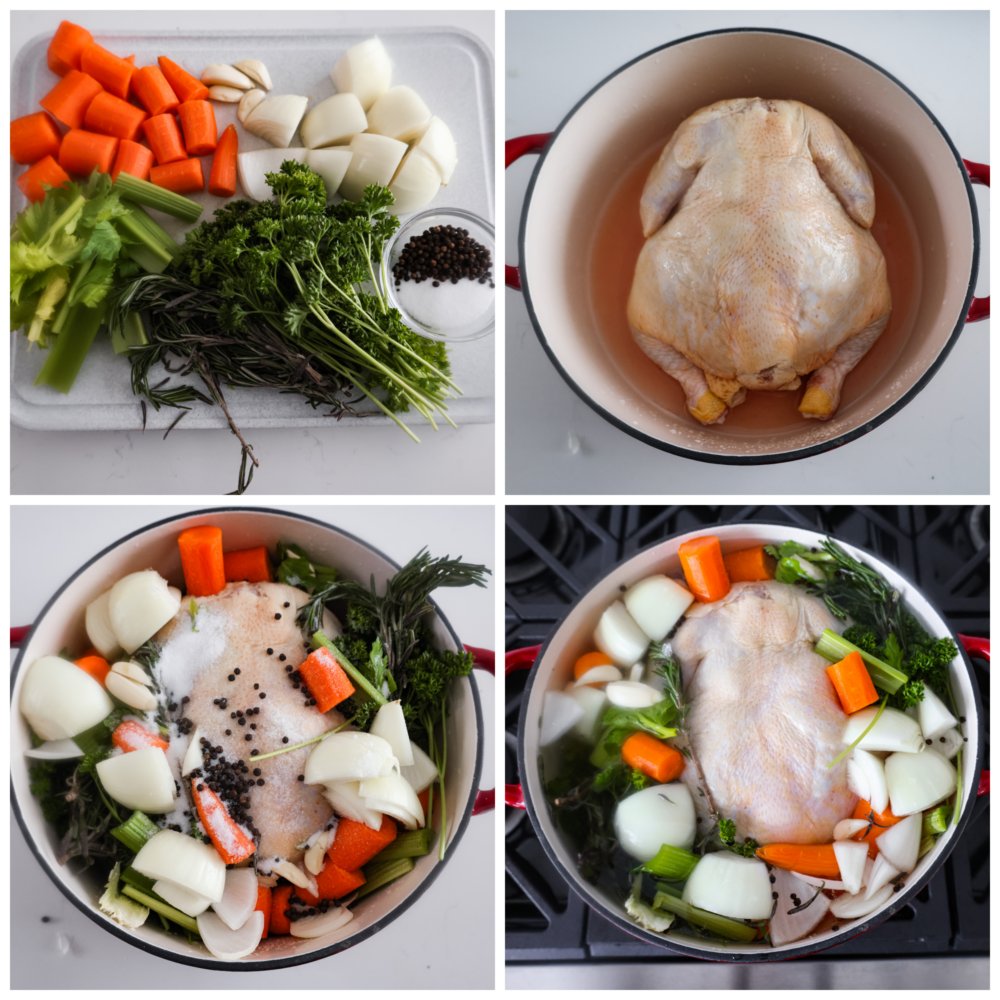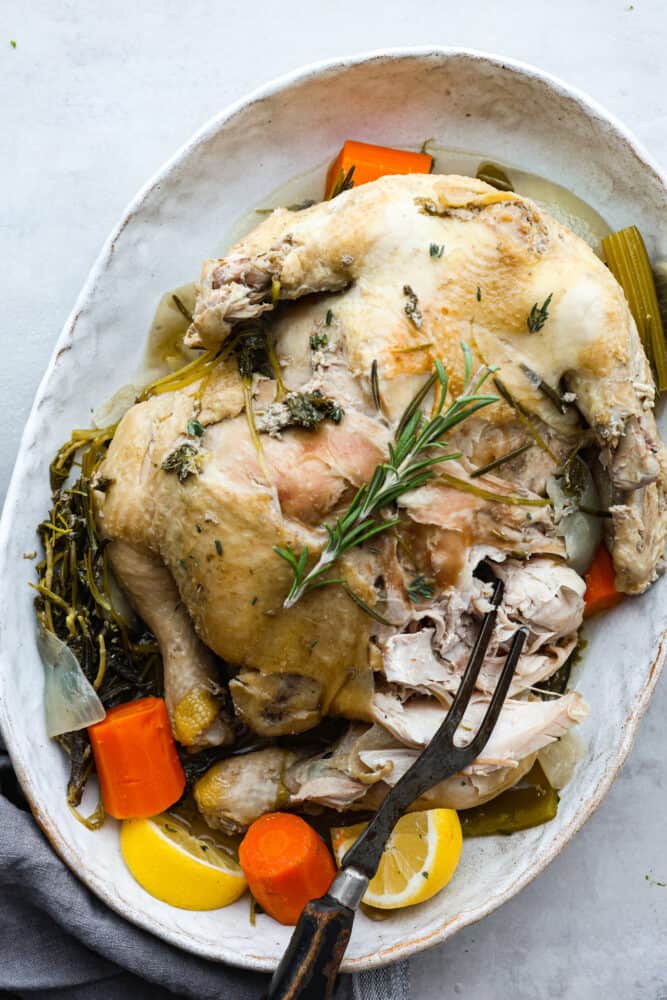 [Cradit_https://therecipecritic.com]

[ad_3]

Source link
You may also like