Uncategorized
Crystal Candy (Kohakutou) | The Recipe Critic
This website may contain affiliate links and advertising so that we can provide recipes to you. Read my privacy policy.
This gorgeous crystal candy tastes as good as it looks! Inspired by the Japanese candy "Kohakutou," it's such a fun treat to make with the kids. It has an addictive crunch to it and can be made with any flavor of your choosing!
I love fun activities with the kids that double as a tasty treat! Nothing quite lives up to this crystal candy (isn't it beautiful?!) but a few more fun recipes to try are: ice cream in a bag, snow ice cream, and hot chocolate bombs!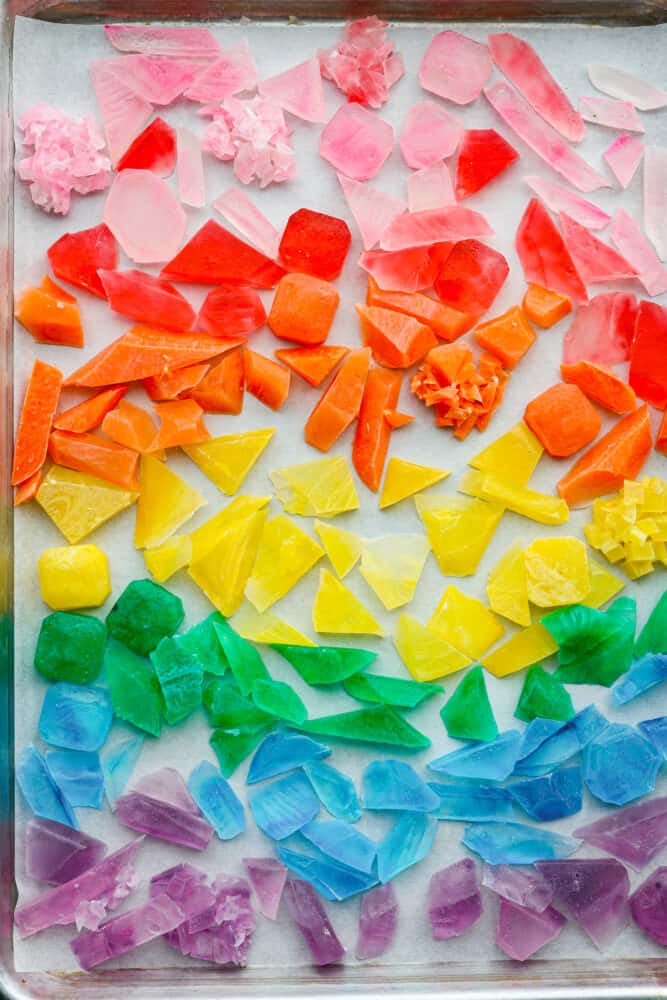 Kohakutou Crystal Candy Recipe
You may have seen this gem-inspired treat popping up on social media. It's actually called "Kohakutou" and originated from Japan! Translated, it means "amber candy." The great thing about this crystal candy is that it only needs a few simple ingredients to make. This includes sugar, agar agar, food coloring, and your flavoring of choice! Plus, did I mention it's vegan and gluten free? It's the perfect sweet treat for anyone in your family!
Kohakutou crystal candy is made by coating small cubes of agar jelly with sugar. The candy has a unique texture that is chewy with a crispy exterior, and it's usually fruit-flavored. Kohakutou is often served as a dessert or snack in Japan, and is popular for its beautiful appearance as well as its yummy taste! The candy is often packaged in small boxes or bags, making it a great gift! Give a bag of this to your neighbors and they'll love you forever.
Ingredients Needed
The BEST part about this crystal candy recipe is all of the simple ingredients it uses! It's so easy to whip up with the kids. Just make sure you have agar agar, that's what's going to give the candy a slightly gummy texture.
Water: Water is a crucial ingredient in making crystal candy as it is used to dissolve the sugar and agar agar powder.
Agar Agar Powder: Agar agar is a type of seaweed-based gelatin. It's used to give crystal candy its firm and slightly chewy texture. It's dissolved in boiling water along with the sugar to create the candy base!
Granulated Sugar: Adds sweetness to the crystal candy and also helps to create a crystal-like structure when it cools!
Flavoring: A small amount of flavoring, such as vanilla, fruit extracts, or other flavorings, is added to the candy mixture to give it yummy flavor. Use your favorites here! I used a variety pack of fruit oils from Amazon.
Liquid Food Coloring: Adds color to the crystal candy. You can adjust how much you add in to make it vibrant or more subtle like a real gemstone.
How to Make Crystal Candy (Kohakutou)
Crystal candy is so fun to make! It's super simple, honestly the hardest part is waiting a few days while it sets! So, grab your family and make a batch of this delightful candy! My kids love to customize the colors and flavors of their candy. The process is so fun!
Prepare Ingredients: Before you begin, make sure you have everything out and ready because the candy begins to set up quickly after cooking. However many different flavors and colors you would like to use, lightly grease small containers. I used small tupperware and do 2-3 flavors per batch. Have your food coloring and flavoring ready to go.
Agar Agar Mixture: Add the water to a small pot and then sprinkle the agar agar in. Stir and let stand for 5 minutes.
Boil, Add Sugar: Bring the water and agar agar to a boil and then boil for 3 minutes. Add the sugar and stir. Reduce the heat and simmer for 2-3 minutes.
Separate: Remove from the heat and separate into the different prepared containers. Move quickly but carefully and add your flavoring and coloring to the candy. In total you should use about ¼ teaspoon of flavoring, so if you choose to do more than one flavor stick with just a few drops of flavoring to avoid it being too strong.
Swirl: Use a toothpick or wooden skewer to swirl the flavoring and color through the candy.
Creating the Crystal Shapes
Chill: Cover and refrigerate for 1-2 hours, until the candy is firm. Then use a knife to pop the candy out in one piece onto a cutting board. It should be firm but sticky.
Cut: Use a paring knife to cut the crystal candy to whatever shapes you want. You can trim, or "bevel" the edges so the pieces look more crystal or gem like.
Add to Baking Sheet: Lay all the candy pieces out on parchment lined baking sheets.
Set: Then store in a cool, dry place for 5-7 days at minimum, rotating them as needed so all the pieces form a crust on the outside.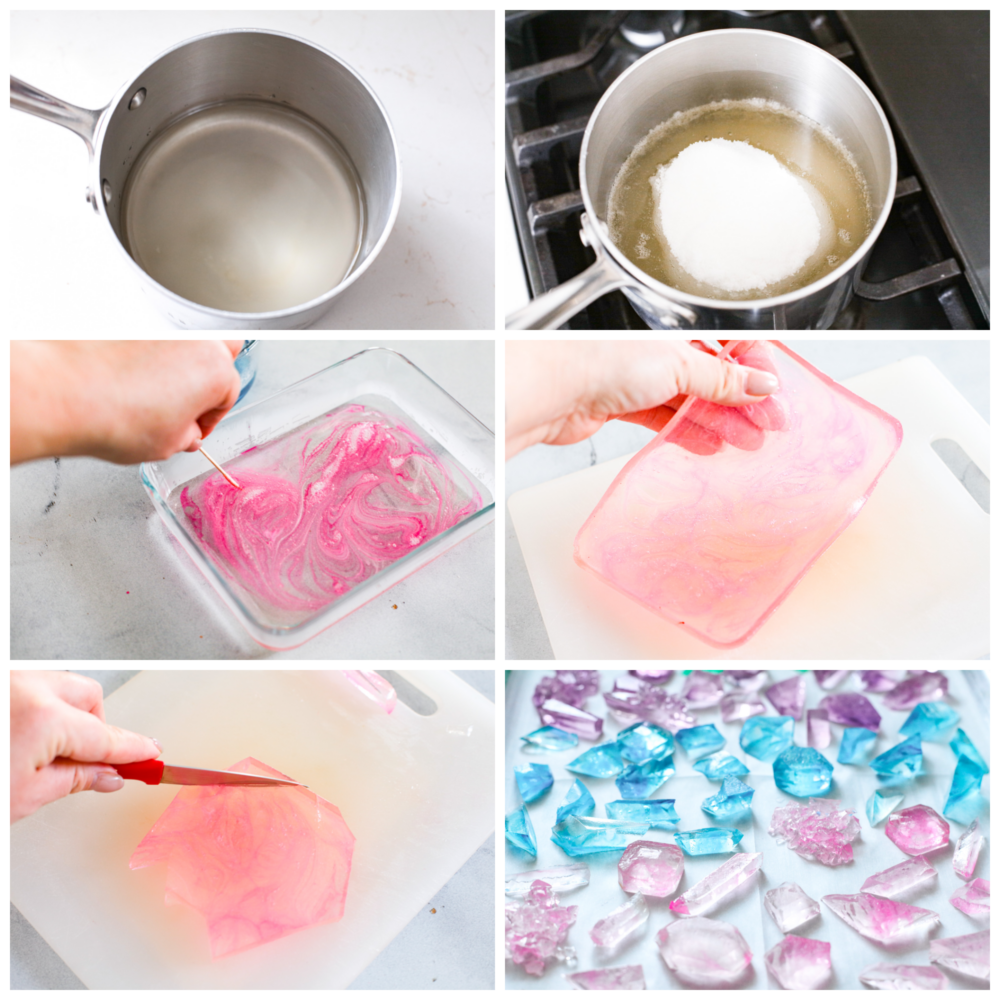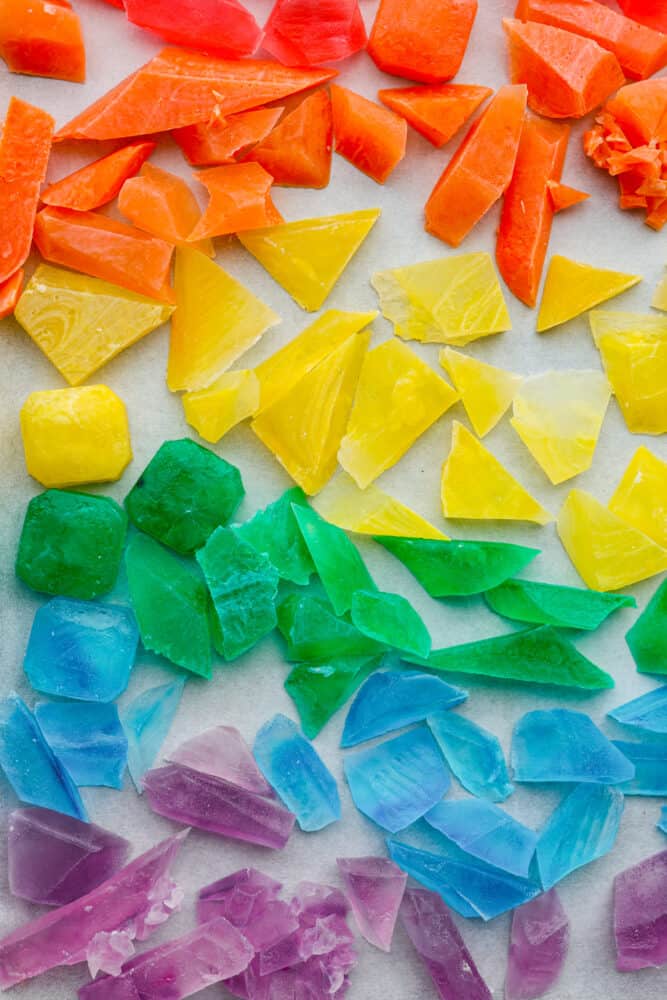 [Cradit_https://therecipecritic.com]

[ad_3]

Source link
You may also like
Calendar
April 2023
M
T
W
T
F
S
S
1
2
3
4
5
6
7
8
9
10
11
12
13
14
15
16
17
18
19
20
21
22
23
24
25
26
27
28
29
30