Uncategorized
Creamy Pesto | The Recipe Critic
This website may contain affiliate links and advertising so that we can provide recipes to you. Read my privacy policy.
This creamy pesto sauce is so bright and packed with fresh flavor, and the best part is there is no cooking required! This quick and easy creamy sauce is ready in just 15 minutes and is perfect on your favorite cooked pasta.
I love a quick and easy pasta recipe. My kids all love them too! It's a great way to have dinner ready in a pinch and I know that everyone will be full and happy. Homemade pasta sauces are the best way to go! They don't have to be complicated to be absolutely delicious. You are going to love this super easy homemade Alfredo Sauce, this delicious Mushroom Sauce, and this simple Cherry Tomato Sauce.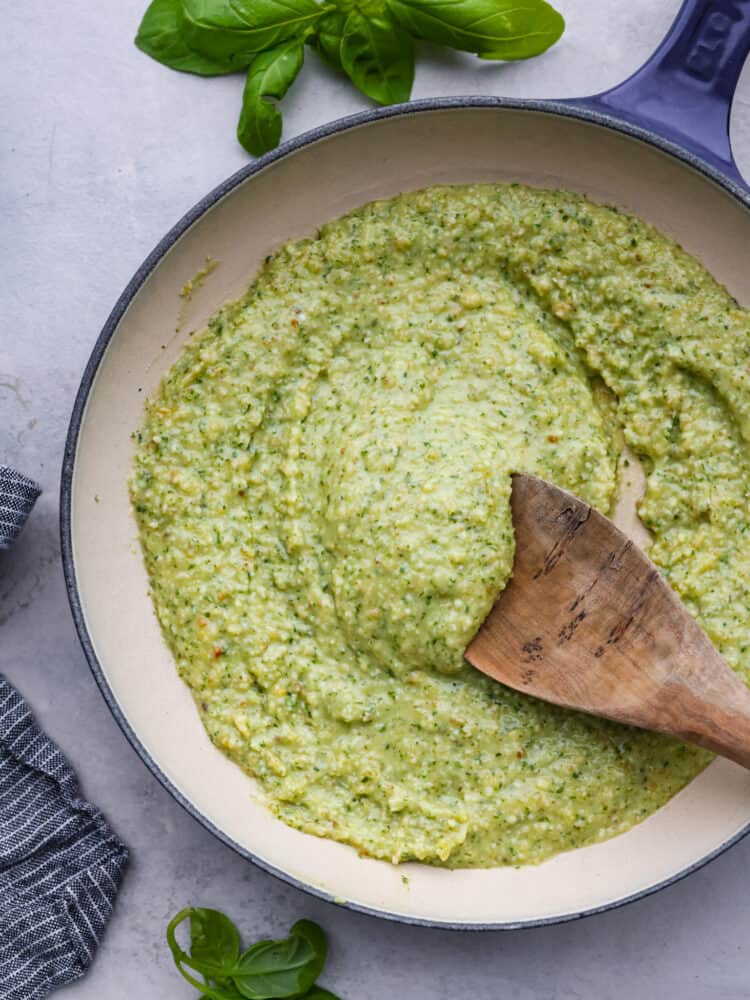 Creamy Pesto Sauce
If you love homemade pasta, then you have to try this easy creamy pesto sauce! This is seriously the easiest and most flavorful pasta sauce you will ever make. It is SO good, and all you need is your food processor. You heard me, you don't have to cook anything for this sauce. It is made of delicious fresh ingredients like pine nuts, parmesan cheese, basil and garlic. You add heavy cream and olive oil to bring it all together. You could add a little lemon juice to brighten it up and pepper to taste. It's so simple!
You can make this sauce to go on top of zucchini noodles for a totally healthy and delicious meal. Another way I've enjoyed it is on top of tagliatelle pasta and this spinach artichoke pasta. It really is good on top of whatever your favorite noodles are! I've even put it on top of chicken breast and fish, and it was absolutely delicious. However you decide to use this sauce, I think you are going to fall in love with this easy and flavorful recipe.
Ingredients
Creamy pesto is super easy to make with only 6 ingredients and salt to taste. You can use pine nuts or walnuts. The biggest difference between the two is the way they blend up and the flavor. I personally prefer pine nuts because I think they are smoother and have a really nice flavor. Whatever you choose, I definitely would pop them in the oven and get them nice and toasted. You can find the measurements below in the recipe card.
Raw Pine Nuts or Walnuts: Either nut will work great. You will want to get raw nuts, and then toast them in a pan before adding them to this sauce.
Parmesan Cheese: You will want to grate fresh parmesan cheese, or buy it pre-shredded. I prefer to grate it myself so that it's nice and fresh and doesn't have any added preservatives.
Fresh Basil: Basil is a main ingredient in this sauce because it is very similar to basil pesto. You will want about 6 oz of fresh basil.
Garlic: Garlic is the perfect pair with basil and parmesan. You will take fresh cloves of garlic and toss them into the food processor.
Kosher Salt: A high-quality salt makes all the difference! A little salt helps to bring out all the delicious flavors in the sauce.
Extra-Virgin Olive Oil: This is the base of the sauce, and it's really important to use olive oil! It has the best flavor and blends up to make the sauce really smooth.
Heavy Cream: Heavy cream makes this sauce creamy and irresistible. I absolutely love the flavor and texture that heavy cream adds. I bet you could use other milk alternatives, or leave it out and just add more olive oil as needed to get the right consistency.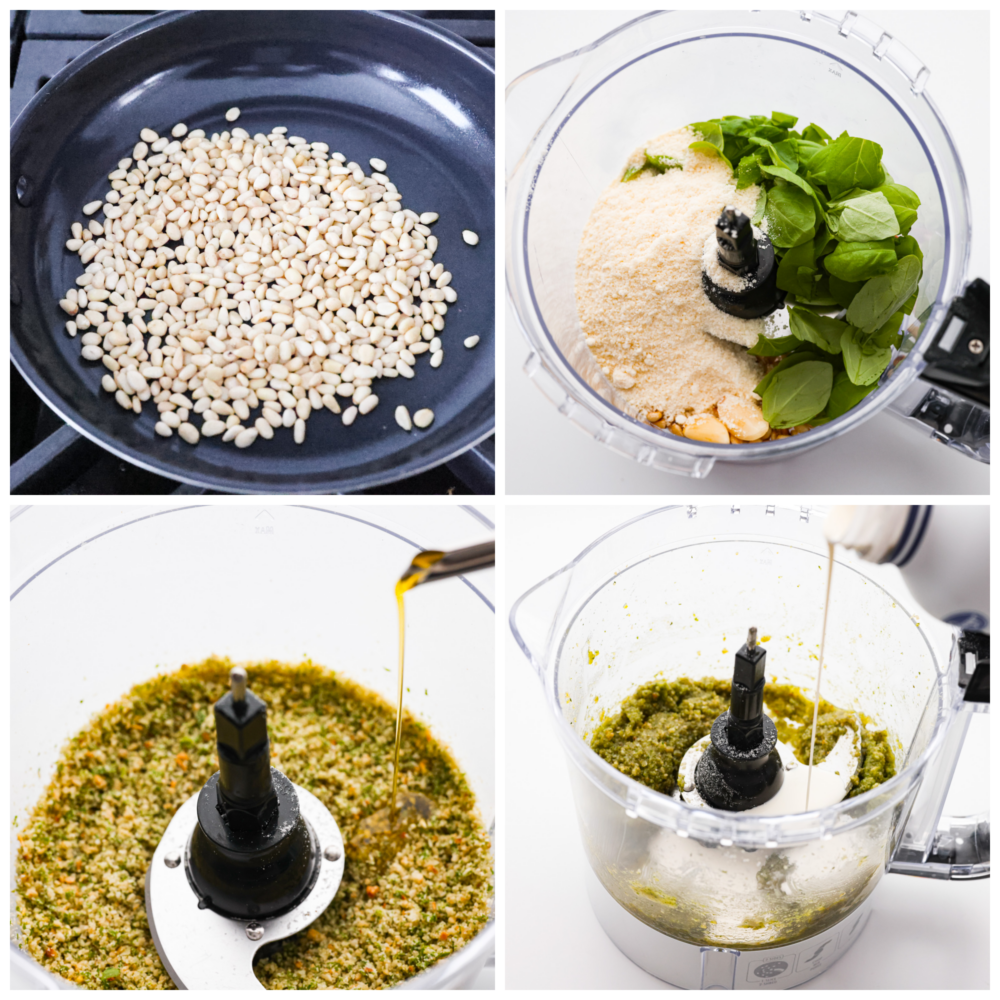 Creamy Pesto Sauce Recipe
I love pesto cream sauce for so many reasons, but I probably love it the most because of how simple it is to make. It is so fresh and full of nutty savory flavors. You will want a food processor for this recipe. I haven't tried it in a blender, so I'm not sure that it would work exactly the same but I think you could get away with it.
Toast Nuts: Place the pine nuts in a small frying pan over medium heat. Cook, occasionally tossing, until light golden brown, toasted, and fragrant, 3 to 5 minutes. Allow them to cool slightly and place them in the food processor.
Pulse in Food Processor: Place half of the basil leaves into a food processor with the pine nuts, parmesan cheese, garlic cloves, and salt. Pulse until the ingredients are finely chopped.
Scrape Sides: Use a spatula to scrape down the sides of the food processor then add the remaining basil. Continue to pulse until paste-like consistency forms.
Add Olive Oil: Remove the lid and slowly pour half in the olive oil and pulse the ingredients together until it's mixed well. Scrape down the sides of the bowl with a spatula.
Add Cream: With the motor running, slowly pour in ½ cup heavy cream and process until smooth and creamy, about 30 seconds. Taste and season with more kosher salt as needed.
Toss and Enjoy: Toss with warm cooked pasta and enjoy!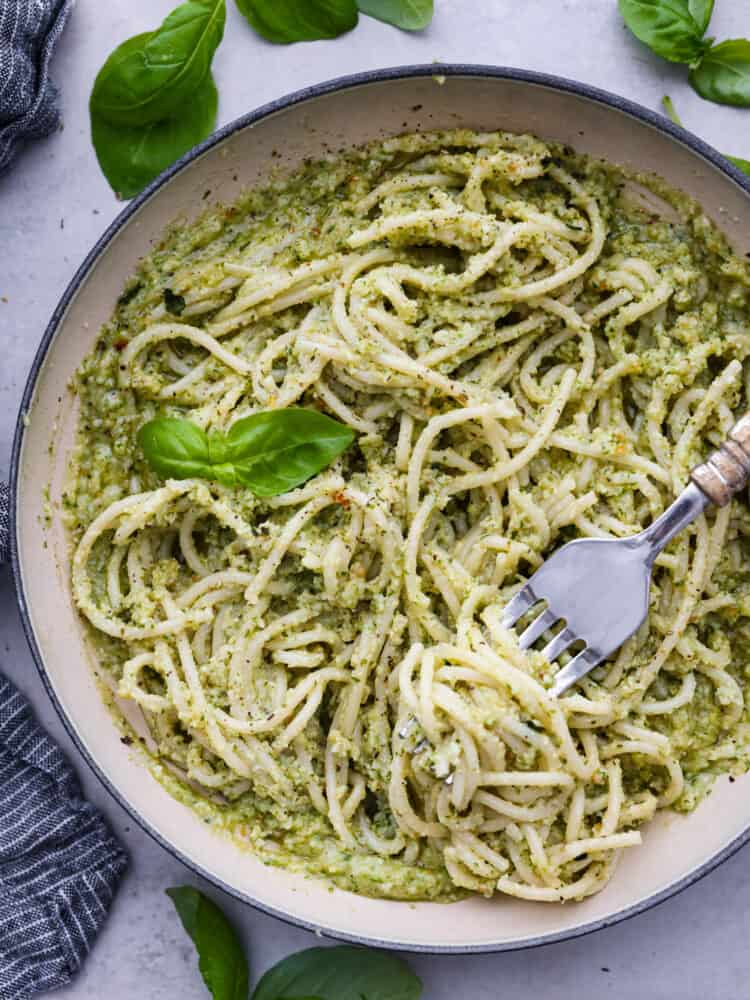 [Cradit_https://therecipecritic.com]

[ad_3]

Source link
You may also like
Calendar
April 2023
M
T
W
T
F
S
S
1
2
3
4
5
6
7
8
9
10
11
12
13
14
15
16
17
18
19
20
21
22
23
24
25
26
27
28
29
30