Uncategorized
Coquito | The Recipe Critic
This website may contain affiliate links and advertising so that we can provide recipes to you. Read my privacy policy.
Coquito is a seasonal Puerto Rican drink that has coconut milk and cream with warm spices like cinnamon and nutmeg. Welcome in the holiday season with this unique and festive drink. It will become a new holiday tradition!
I love making homemade drinks during the holiday season! All year I look forward to colder weather so I can make my favorite White Hot Chocolate. My family especially loves when I put some Wassail on the stove all day, the house smells like Christmas! If you are new to holiday drinks, you've got to try this easy Christmas Cranberry Orange Punch, you'll be so glad you did.
What is Coquito?
It's my new favorite holiday tradition! It is a drink traditionally served around the holidays in Puerto Rico. It is a coconut based drink that is so creamy and delicious, and made festive by adding warm spices like cloves, nutmeg, and cinnamon. It's sweet and bright and warm all at the same time! I absolutely loved serving it to my guests, and they all asked me for the recipe! I served coquito with pumpkin pie and it was a combination I will be making again and again!
Normally when you think of the holidays, you don't think of coconut (except for coconut cream pie at our house!). But this drink is spiced perfectly to remind you of everything you love about Thanksgiving and Christmas! Coquito is not the same as eggnog, even though some people will call it the Puerto Rican eggnog. Coquito has a coconut base whereas eggnog has a, you guessed it, egg base. It's a unique and scrumptious drink that will become a staple for your holiday recipes!
Ingredients
I added rum extract to make this recipe kid-friendly, but most recipes call for rum. Coquito is so simple to make and full of delicious ingredients that aren't hard to find. These ingredients last a long time in the pantry too, so you'll be able to whip it up without having to run to the store. You can find exact measurements in the recipe card below.
Canned Coconut Milk: You should be able to find this in the canned section at your grocery store. It's a great pantry staple and gives the drink it's delicious and creamy flavor.
Cream of Coconut (Coco Lopez): You should be able to find this at your local grocery store, or on Amazon. It ramps up the coconut flavor and makes a huge difference.
Sweetened Condensed Milk: So sweet and creamy! This ingredient is thicker and is the sweetener for the whole drink.
Evaporated Milk: Also adds creaminess and flavor. You might be able to try other milks here, but I have never tried and evaporated milk is usually what is in coquito.
Vanilla Extract: A little vanilla takes these flavors to the next level.
Ground Cinnamon: Perfectly warm and goes great with rum if you are adding that.
Ground Nutmeg: It's a holiday spice that you will miss if you don't add it!
Ground Cloves: Cloves are actually a little sweet, and go great with coconut.
Rum Extract: This is optional. You could leave it out or you could add real rum instead. It's up to you and how you want to serve it!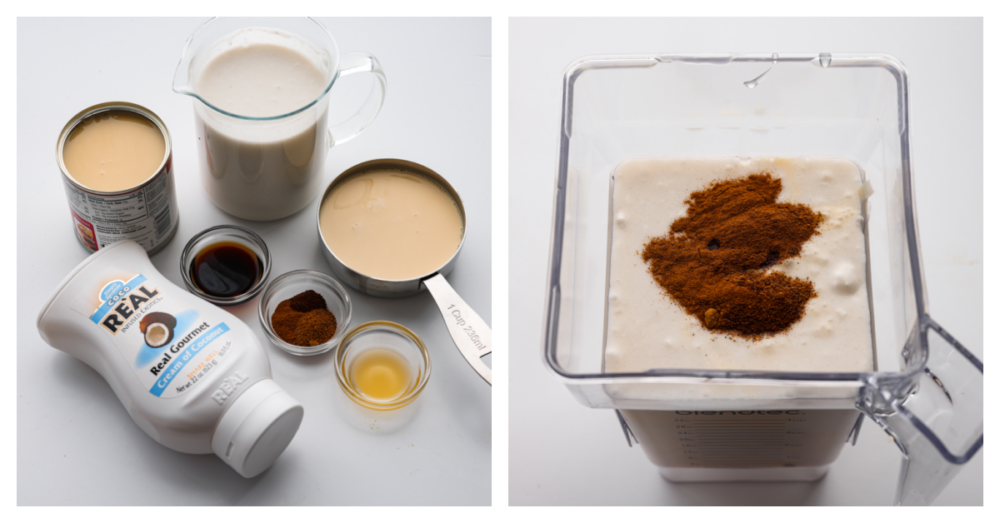 How to Make Coquito
I love a good dump and do recipe! Especially around the holidays. You already have enough to think about. With this drink, you just pull the ingredients out of the pantry, dump them in the blender and you have an amazing dessert drink that everyone will love!
Blend: Combine the coconut milk, cream of coconut, sweetened condensed milk, evaporated milk, vanilla, cinnamon, nutmeg, and cloves in the blender and blend until smooth.
Chill: Transfer the mixture into a pitcher or container and refrigerate for up to 4 hours so the flavors can meld together and chill.
Shake: Shake or stir before serving.
Garnish: Pour into glasses and garnish with a sprinkle of cinnamon, cinnamon stick, or sweetened coconut flakes.



[Cradit_https://therecipecritic.com]

[ad_3]

Source link
You may also like