Uncategorized
Ciabatta Sandwich | The Recipe Critic
This website may contain affiliate links and advertising so that we can provide recipes to you. Read my privacy policy.
This Ciabatta Sandwich is a flavor packed and quick meal that is sure to satisfy! Fluffy and soft ciabatta bread is layered with quality deli turkey and salami on top of a bed of mozzarella and pesto for the perfect bite every time.
Sandwiches don't have to be ham and cheese every time. There are so many combinations that make sandwiches a fun way to get a variety of flavors in a fast and easy way. You can also switch up the type of bread you make it with for even more options. If you love making bread, this Homemade Bread recipe is so much better than store bought and makes your home smell fantastic! Sourdough bread is also one of my favorites for a sandwich, and if you don't have a starter yet, don't worry! I have a recipe here for that too.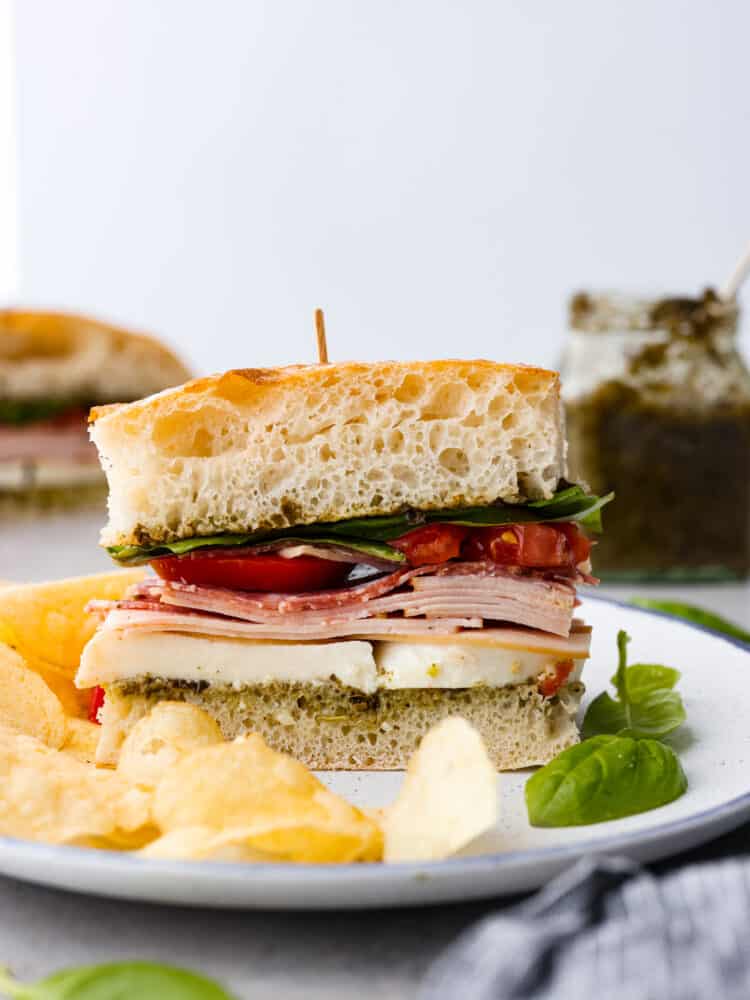 Ciabatta Bread Sandwich
Let's talk about ciabatta! If you haven't had it before, you are in for a treat. It is SUCH a tasty bread and it makes the ultimate sandwich. Ciabatta bread is a yeast dough that is full of air which is what makes the holes. It is also full of delicious savory flavor, and a nice crispy crust. You could compare it to a French baguette but it's much wider. It is different than focaccia because it has a hard crust and a different flavor, but it looks similar in size and shape.
This ciabatta bread sandwich is so easy to whip up and is the perfect meal to feed a group of 6. The bread can be evenly sliced into 6 big servings that will leave everyone satisfied and wanting another piece at the same time. My kids definitely love this sandwich. They either ask for a Monte Cristo, or this ciabatta sandwich! You'll want to save this recipe for later.
Ingredients
A sandwich is literally whatever you want it to be! You can assemble this sandwich however you like, but this is my favorite way to make it. I love each one of these ingredients that go in this ciabatta sandwich because they are fresh and so full of flavor. Check the recipe card below for exact measurements.
Ciabatta Bread: Ciabatta is a delicious and savory bread. It usually has a harder crust and lots of holes on the inside. It's soft and chewy texture and makes a great sandwich bread!
Pesto Sauce: Pesto is a basil based sauce that is so yummy and full of flavor. The one I make at home has pine nuts, garlic, and olive oil as well which is what is in most store-bought pestos. It's really easy to make at home and I always feel like it has better flavor when it's homemade!
Deli Turkey: Any sliced turkey will do, I like to have them slice it for me fresh at the deli.
Italian Dry Salami: Salami is such a unique flavor and really makes this sandwich stand out. It is a cured meat so it has a great salty and savory flavor.
Tomato: Fresh tomato adds moisture and lots of flavor to this sandwich.
Mozzarella Cheese: You can buy mozzarella cheese in a log in the cheese section at the grocery store. It is a soft cheese with the perfect flavor to go with the turkey and pesto.
Fresh Basil Leaves: I like to add additional fresh basil on top to really bring all of the flavors together. You could leave this out if you wanted to, or add other herbs or veggies like spinach!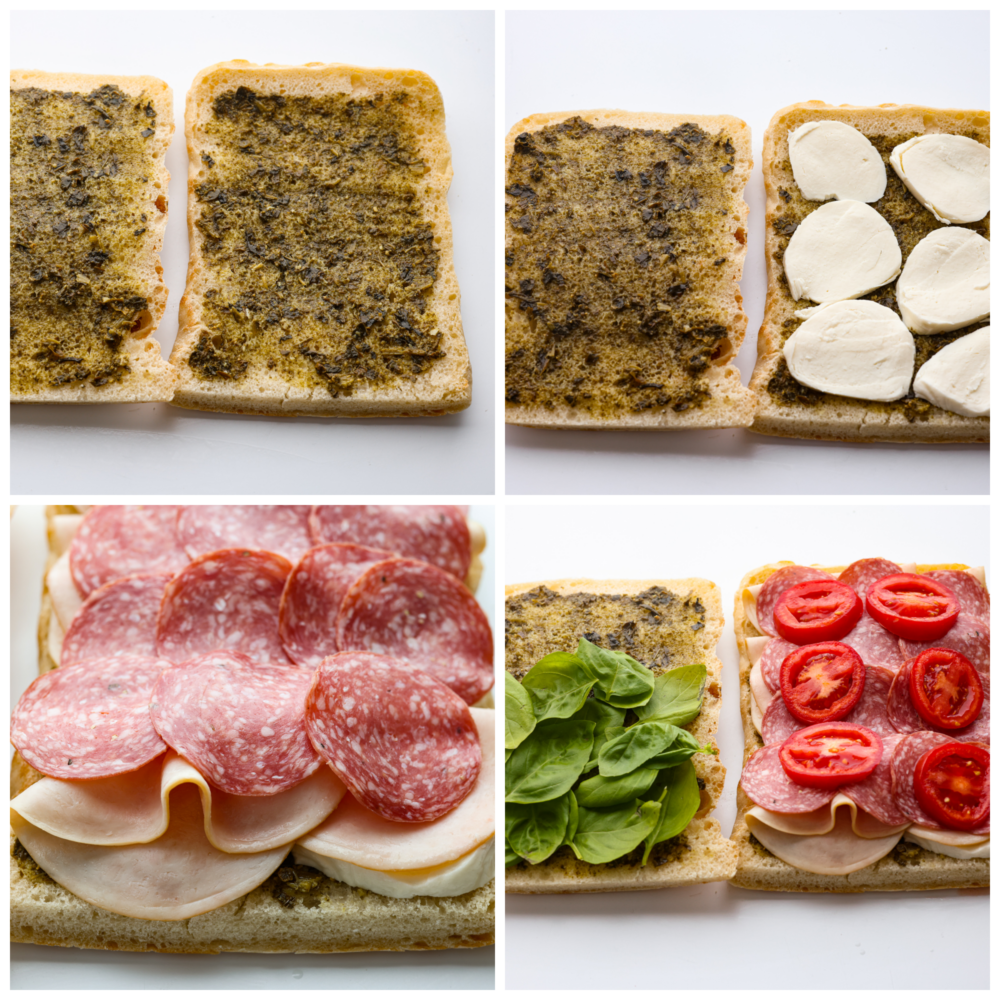 Ciabatta Sandwich Recipe
I know everyone knows how to put a sandwich together! But there actually is a science to the way a sandwich is assembled. They've totally done research on it! Your tongue will taste different flavor combinations depending on how the sandwich is put together. I love this flavor combo because you taste pesto and cheese, then the yummy meats, finishing it off with fresh tomato. You can put it together however you like, this is just my favorite way.
Slice: Slice the ciabatta loaf horizontally to assemble the sandwich open-faced.
Add Pesto: Spread the pesto sauce on both sides of the loaf.
Layer: Layer the sliced mozzarella cheese on the bottom half of the loaf.
Add Meat: Next, layer on the turkey and salami.
Add Toppings: Add the sliced tomatoes and fresh basil leaves.
Enjoy: Carefully close the sandwich and slice it into smaller pieces to enjoy!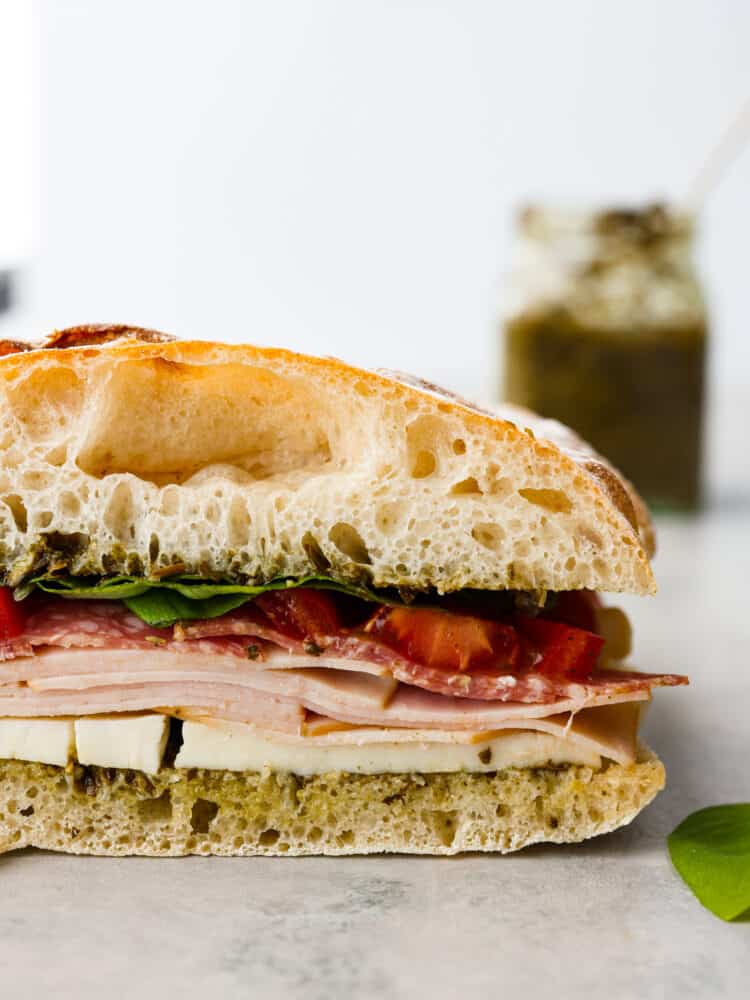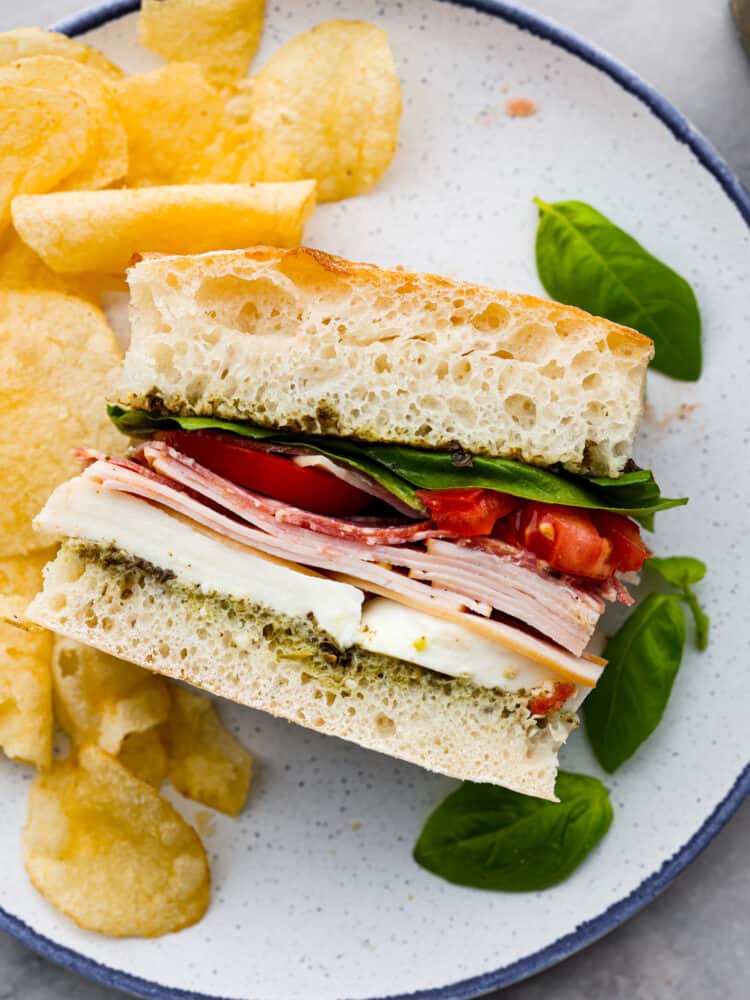 [Cradit_https://therecipecritic.com]

[ad_3]

Source link
You may also like