Uncategorized
Chocolate Brownie Cheesecake Recipe | The Recipe Critic
This website may contain affiliate links and advertising so that we can provide recipes to you. Read my privacy policy.
Chocolate brownie cheesecake – the ultimate cheesecake for chocolate lovers! It has a fudgy brownie bottom topped with a rich and creamy chocolate cheesecake, chocolate ganache, and whipped cream.
Chocoholics rejoice! These are the recipes for you! If you're wanting more rich and decadent chocolate desserts, you've got to try chocolate lava cake, German chocolate pie, or these classic chocolate cupcakes! They're all so irresistible, you won't be able to get enough!
Rich and Fudgy Chocolate Brownie Cheesecake Recipe
Chocolate lovers get ready! Today I'm sharing an ultra-chocolatey dessert for when that sweet craving hits! This decadent chocolate brownie cheesecake is sure to impress at your next family gathering or holiday party. It has a fudgy brownie "crust" topped with layers of creamy chocolate cheesecake, chocolate ganache, and whipped cream. It's so silky-smooth! And let's be honest, you really can't go wrong with a brownie crust. It's love at first bite!
Cheesecake and brownies are two of my favorite desserts. This is the best combination of both! Everyone always loves it. It's one of my new favorite desserts to make because it's a hit wherever it goes. With how indulgent it is, how could you not want to snag a piece? Not only is it delicious, but it's gorgeous, too! It's the perfect holiday centerpiece. The chocolate ganache, swirls of whipped cream, and shaved chocolate really take it to the next level. (Trying not to drool here!) It looks like something you'd get from a bakery! Let's get cooking because you need a slice of this in your life. It's too good to pass up. To keep your sweet tooth happy, find my full list of chocolate desserts here.
Ingredients You'll Need
Now, I know this chocolate brownie cheesecake has a pretty lengthy ingredient list, but hear me out! A lot of them are standard baking ingredients. It's great because you probably already have them on hand! Check out the recipe card below for measurements.
Brownie Crust
Unsalted Butter: Adds rich flavor and moisture.
Chocolate Chips: I used semi-sweet chocolate chips, but feel free to use milk or dark chocolate chips!
Sugar: I use both granulated and light brown sugar here for the perfect sweetness.
Cocoa Powder: Use high-quality cocoa powder for the best flavor!
Vanilla Extract: If you don't already have it, I recommend getting some pure vanilla extract. It will make all of your baked goods taste better!
Eggs: I used large eggs at room temperature so that they mix into the brownie batter smoothly.
Baking Powder: You want to add baking powder so your crust isn't too dense.
Salt: Just a pinch is all you need to enhance the flavor!
Flour: All-purpose flour works great here. It has a low protein content which means your brownie bottom will turn out soft and fudgy.
Cheesecake Layer
Cream Cheese: The main ingredient for your cheesecake layer. You'll want this to be softened so it mixes together with the other ingredients easily.
Granulated Sugar: Makes the filling nice and sweet!
Chocolate Chunks or Chips: I used semi-sweet!
Unsweetened Cocoa Powder: For more chocolate goodness.
Flour: Helps the filling set.
Vanilla Extract: I love adding vanilla because it makes everything taste better! Use pure vanilla extract if you can.
Large Eggs: Add structure to the filling.
Sour Cream: Adds a hint of tang and creamy texture!
Chocolate Ganache
Chocolate Chunks or Chips: Feel free to use milk or dark chocolate if you prefer.
Heavy Whipped Cream: Makes the ganache creamy and smooth.
Garnish (Optional)
Chocolate Shavings: These are the perfect finishing touch! (I love them because they're delicious, too!)
Whipped Cream: You've got to have some whipped cream on top! It adds a little extra creaminess and makes it look picture-perfect.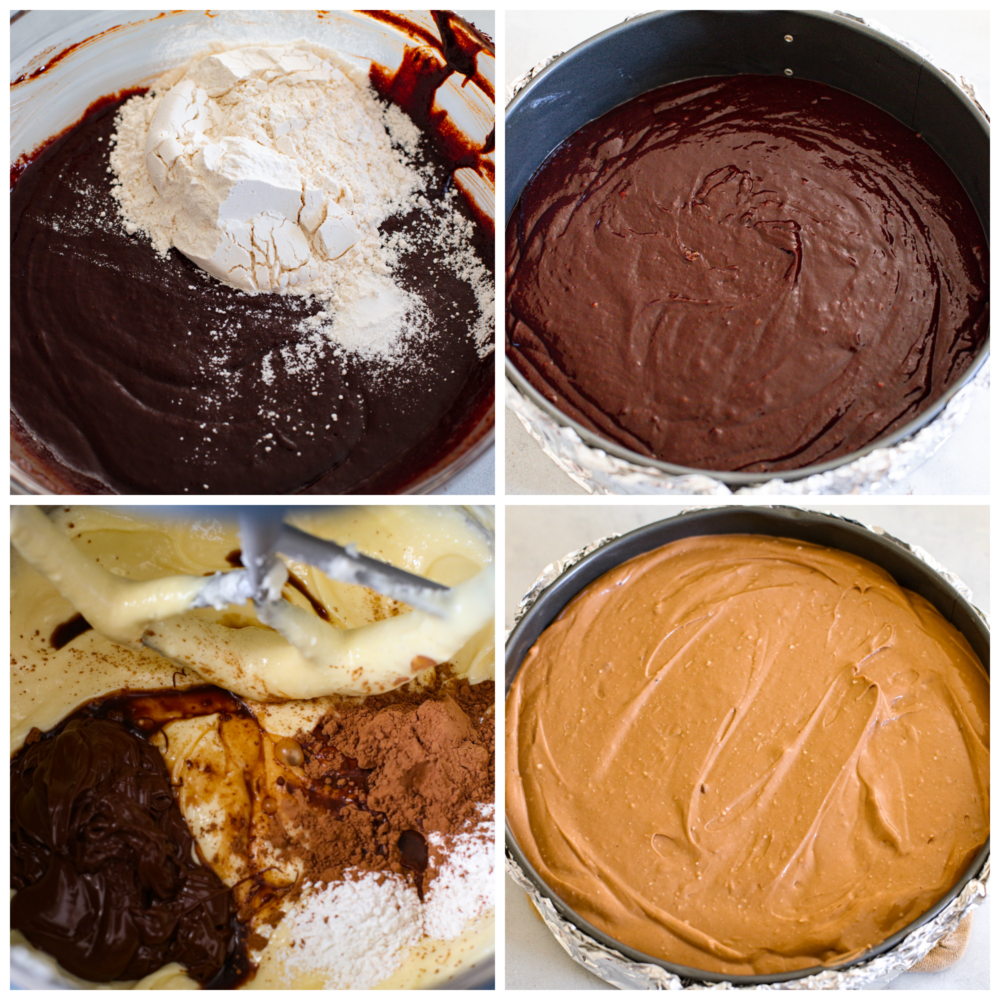 How to Make Chocolate Brownie Cheesecake
Don't let all of the steps fool you. Chocolate brownie cheesecake is a dessert that anyone can make! Psst- if you want to speed up prep, feel free to use boxed brownie mix for the crust! You can also use the recipe from these simple 3-ingredient brownies.
Preheat Oven, Prep Pan: Preheat oven to 350°F. Line the bottom of a 9-inch springform pan with parchment paper and grease the sides. Wrap the outer layer of the pan with a double-layer of heavy-duty aluminum foil to prevent leaking.
Brownie Bottom:
Combine Ingredients: To make the brownie crust, combine the melted butter and melted chocolate in a large bowl until smooth. Whisk in both sugars until combined.
Add Eggs and Vanilla: Whisk in the vanilla and then the eggs, one by one – mixing until incorporated.
Mix in Dry Ingredients: Add baking powder, salt, and slowly mix in the flour until smooth and just combined.
Bake: Pour the batter into the prepared pan and spread evenly. Bake in preheated oven for 22-24 minutes. (Brownie may not be fully baked which is okay since you will bake it with the cheesecake.)
Cheesecake Layer:
Adjust Temperature: Remove the pan from the oven and set aside. Reduce the oven temperature to 300°F.
Mix Cream Cheese and Sugar: While the brownie is baking, make the cheesecake layer. Using a stand mixer (or hand mixer) on low speed, beat the cream cheese and sugar until smooth and combined. Scrape down the sides of the bowl and beat slowly, until just smooth.
Add Eggs: Next, add eggs one at a time, scraping down after each addition.
Add Chocolate, Flour, and Vanilla: Add melted chocolate, cocoa powder, flour, and vanilla together until smooth.
Mix in Sour Cream: Add the sour cream and beat on low speed until smooth and combined.
Pour Into Pan: Slowly pour cheesecake batter over brownie layer and spread evenly. The pan will be very full.
Water Bath: Place springform pan inside a large roasting pan. Fill outside pan with enough warm water to go about almost halfway up the sides of the springform pan.
Bake: Bake at 300°F for 1 hour and 30 minutes. The center will be slightly jiggly.
Cool in the Oven: Turn off the oven, and allow the cheesecake to cool in the oven with the door closed for 20 minutes.
Chill: Crack open the door and leave the cheesecake in the oven for 30 minutes or until set. Remove the cheesecake from the oven and discard aluminum foil wrapping. Cover and refrigerate until firm, 5-6 hours, or overnight.
Transfer to Serving Plate: Once the cheesecake is completely cool, remove springform pan sides from cheesecake and place cheesecake on a serving plate.
Chocolate Ganache:
Add to Bowl: Place the chocolate chips in a heat-safe bowl.
Heat and Mix: Using a double-boiler or the microwave, heat the heavy whipping cream until it just begins to boil, then pour over the chocolate chips. Allow the mixture to sit undisturbed for 1-3 minutes, then whisk until smooth.
Add to Cheesecake: Spread the ganache onto the cheesecake into an even layer. Garnish with shaved chocolate and whipped cream, if desired. Voila! You have a delicious chocolate brownie cheesecake ready to go!



[Cradit_https://therecipecritic.com]

[ad_3]

Source link
You may also like