Uncategorized
Chicken Tinga (Tinga de Pollo)
This website may contain affiliate links and advertising so that we can provide recipes to you. Read my privacy policy.
If you're a fan of Mexican cuisine, you have to try chicken tinga! This delicious dish is a classic from the Puebla region and is made with shredded chicken that's been simmered in a flavorful tomato-based sauce with smoky chipotle peppers. The result is a savory, slightly spicy, and oh-so-tasty dish that's perfect for tacos, tostadas, or just served over rice. Trust me, once you taste it, you'll be hooked!
Mexican food is just divine. The meats are always so tender and flavorful, thanks to all of the delicious spices and seasonings they're slow-cooked in! After you try chicken tinga, you'll have to make some shredded sweet pulled pork or chorizo for your next taco night!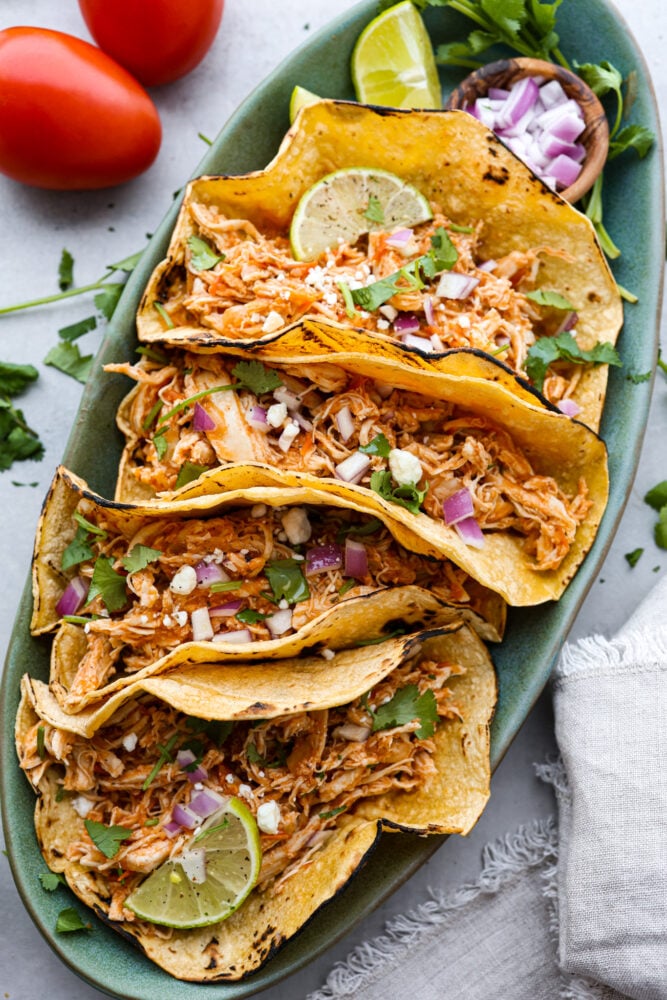 What is Chicken Tinga?
Chicken tinga, also known as tinga de pollo, is a traditional Mexican dish that consists of shredded chicken that's been slow-cooked in a tomato-based sauce. It's made with a variety of smoky spices, such as chipotle peppers, cumin, and Mexican oregano. The end result is a dish that's packed with flavor and just the right amount of heat. While you can certainly find pre-made chicken tinga at your local grocery store, making it from scratch is not only easy, but it allows you to customize the flavors to your liking!
Chicken tinga can be served in a variety of ways! Enjoy it on a tostada, taco, or burrito, or serve it on a bed of Mexican rice for a filling and flavorful meal. The chicken itself is super flavorful, but you can always add toppings like onions, cilantro, avocados, or crumbled queso fresco to take your meal to the next level. I know you're going to love this flavorful shredded chicken as much as I do! It's the best way to switch up taco night in a new and delicious way.
Ingredients Needed
Time to show your spice rack some love! Chicken tinga uses super simple ingredients, most of which you probably already have on hand. Together, they make the most flavorful chicken ever! See the recipe card below for exact measurements needed.
Olive Oil: Used for sautéing the onions and garlic with.
White Onion: Adds a slightly sweet and savory taste to the dish.
Garlic: You can't go wrong with garilc, especially when it comes to chicken tinga. It adds a ton of flavor and a subtle kick that's sure to please.
Chicken Broth: Gives the chicken moisture and also adds a rich, savory flavor!
Chicken Breasts: Let's face it, chicken breasts are the MVP of the poultry world. They're lean, versatile, and perfect for shredding into tender, juicy pieces. You can also use boneless, skinless chicken thighs if you prefer.
Roma Tomatoes: These are the key to giving your sauce a bright, fresh flavor. Make sure to remove the seeds before blending them up with the other ingredients.
Salt, Black Pepper, Mexican Oregano, Ground Chipotle Pepper, and Cumin: These are all the spices and seasonings I used! Together, they give the chicken a flavor that is out of this world. Savory and rich with the perfect amount of heat!
How to Make Chicken Tinga
It's so easy, you're going to love this chicken tinga recipe! Most of the cooking time is hands-off while it simmers, so you can use that extra time to make a delicious side dish to go with your meal (like these refried beans!), or even just watch an episode of your favorite TV show!
Saute Onions and Garlic: In a medium pot, heat your olive oil over medium high heat and sauté your onion until the onion is transparent, 3-4 minutes. Add in the garlic and saute just another minute.
Cook Chicken: Add your chicken broth, chicken breasts, prepared tomatoes, salt and pepper to the pot. Bring everything to a boil then cover and reduce heat to low. Simmer until the chicken is cooked through, about 30-40 minutes.
Shred: Once the chicken is cooked, remove it from the pot and shred it. Then set aside.
Blend Sauce: Use a slotted spoon to remove all the tomatoes and onions from the pot and add them into a blender with ¾ cup of your boiling liquid. Blend until smooth. Discard the remaining liquid from the pot and then return the pot to medium heat.
Combine: Add the chicken and blended mixture to the pot along with your oregano, chipotle pepper, and cumin. Cook the chicken in the sauce, stirring continuously for about 5 minutes. The chicken should be evenly coated and the sauce will reduce slightly. You can add additional salt and pepper to taste.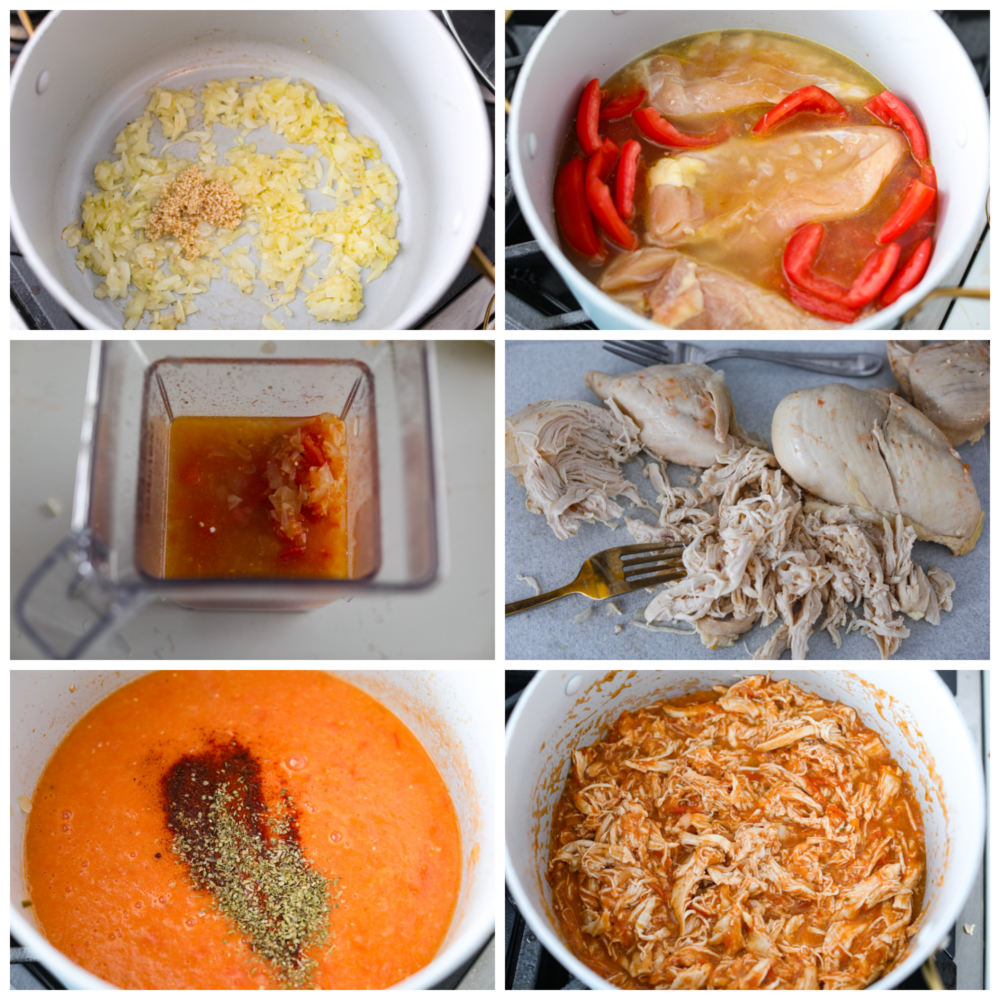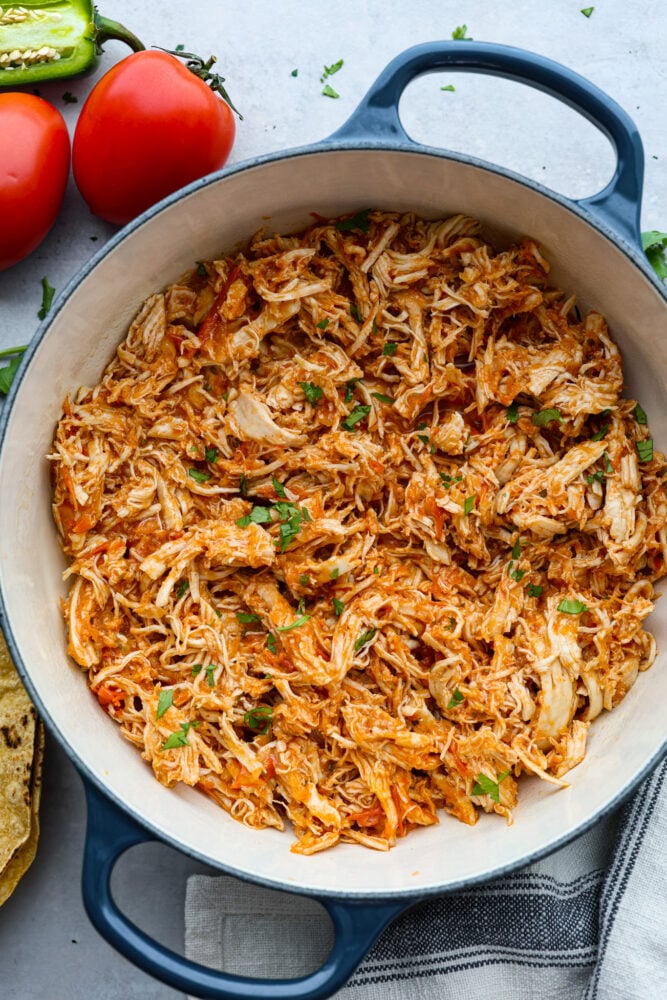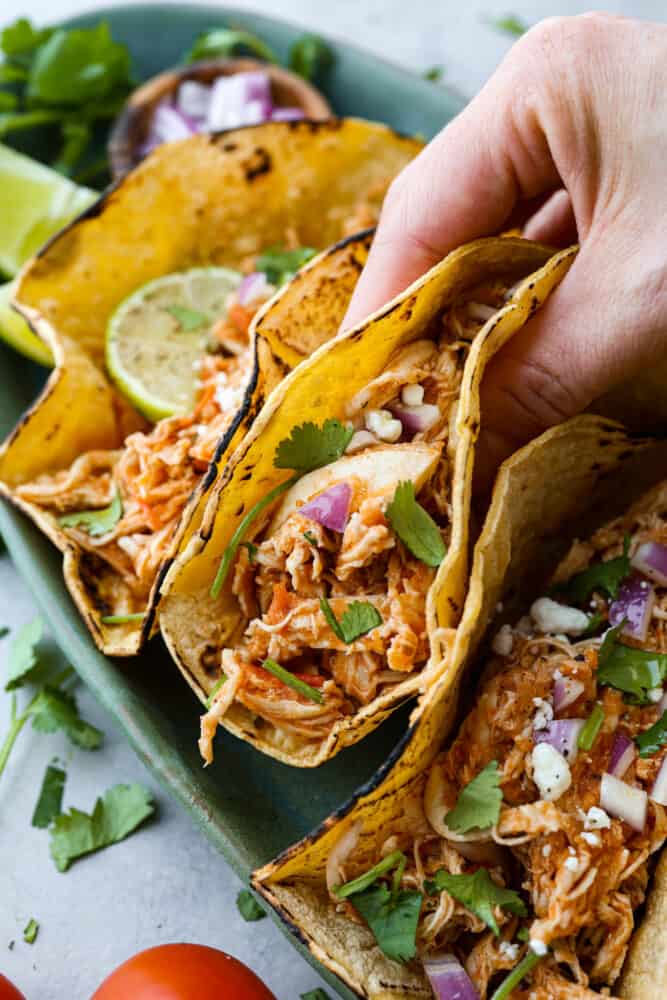 [Cradit_https://therecipecritic.com]

[ad_3]

Source link
You may also like