Uncategorized
Chicken Pesto Pasta | The Recipe Critic
This website may contain affiliate links and advertising so that we can provide recipes to you. Read my privacy policy.
Chicken Pesto Pasta is made creamy with Parmesan, mozzarella, and heavy cream. Fresh basil pesto coats this pasta and chicken for the perfect pop of flavor in every bite. This is a quick and easy recipe that everyone will love!
Pasta is always a winner at my house. My kids love it, so I've tried about a thousand different pasta recipes over the years. This pesto pasta is one we come back to again and again! It's creamy, full of flavor, and filling. For more great basil pesto recipes, try this Baked Pesto Chicken, this delicious Pesto Chicken Sandwich, and this Caprese Sandwich with Pesto.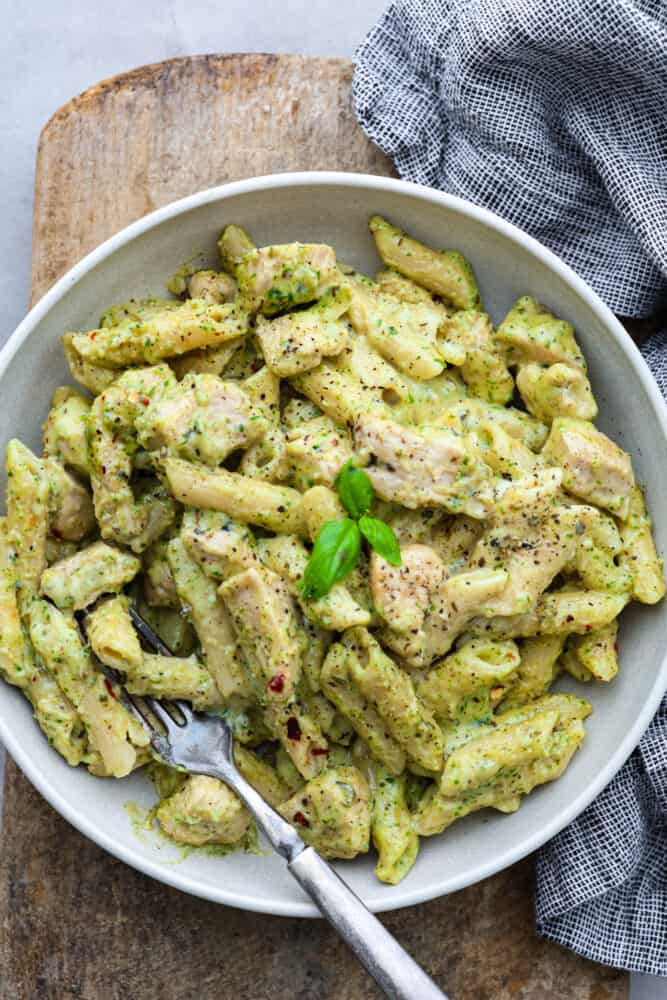 Pesto Chicken Pasta
Don't you just love a delicious and SIMPLE pasta recipe? I know I do! That's probably why we eat this chicken pesto pasta so often. It just doesn't get old! The chicken is seasoned and then you make this incredible creamy pesto sauce that just goes together so well. I prefer to make my own basil pesto, but there are a few great options you can pick up from the grocery store.
Another reason I love a good pasta recipe is you don't need to worry about making a lot of sides! I like to whip up some roasted root veggies or even better, some delicious air fryer mushrooms to go along with the pasta and you're done. Of course a salad like a Caprese salad or a spinach salad would also go great! You've got a well-rounded meal that is fresh and delicious. I think you are going to love this recipe as much as I do. Let's get cooking!
Ingredients
These ingredients are so simple and come together to make yummy chicken pesto pasta. I like to add two cheeses, but you could choose just one or the other. You can also switch up the type of meat you use, it's delicious with turkey or even pork. You can find the measurements below in the recipe card
Olive Oil: It has the best flavor and makes a great base for the sauce.
Chicken Breasts: You can use any part of the chicken you like, just cut the chicken up in good bite size pieces.
Onion: You could add in fresh onion, I like to add onion powder to keep it easy.
Dried Italian Seasoning: This just goes so well with the pesto!
Kosher Salt: High-quality salt matters.
Butter: To saute the garlic.
Garlic: For fresh flavor that goes perfect with basil.
Chicken Broth: To make the sauce. You could use reserved pasta water instead.
Heavy Cream: Lots of cream makes the sauce so thick and creamy!
Parmesan: I love Parm with this sauce.
Mozzarella Cheese: Melts into the sauce!
Basil Pesto: You can use homemade or store bought.
Penne Pasta: That's what I prefer, you can choose whatever noodle you want.
Salt and Pepper: To season the chicken.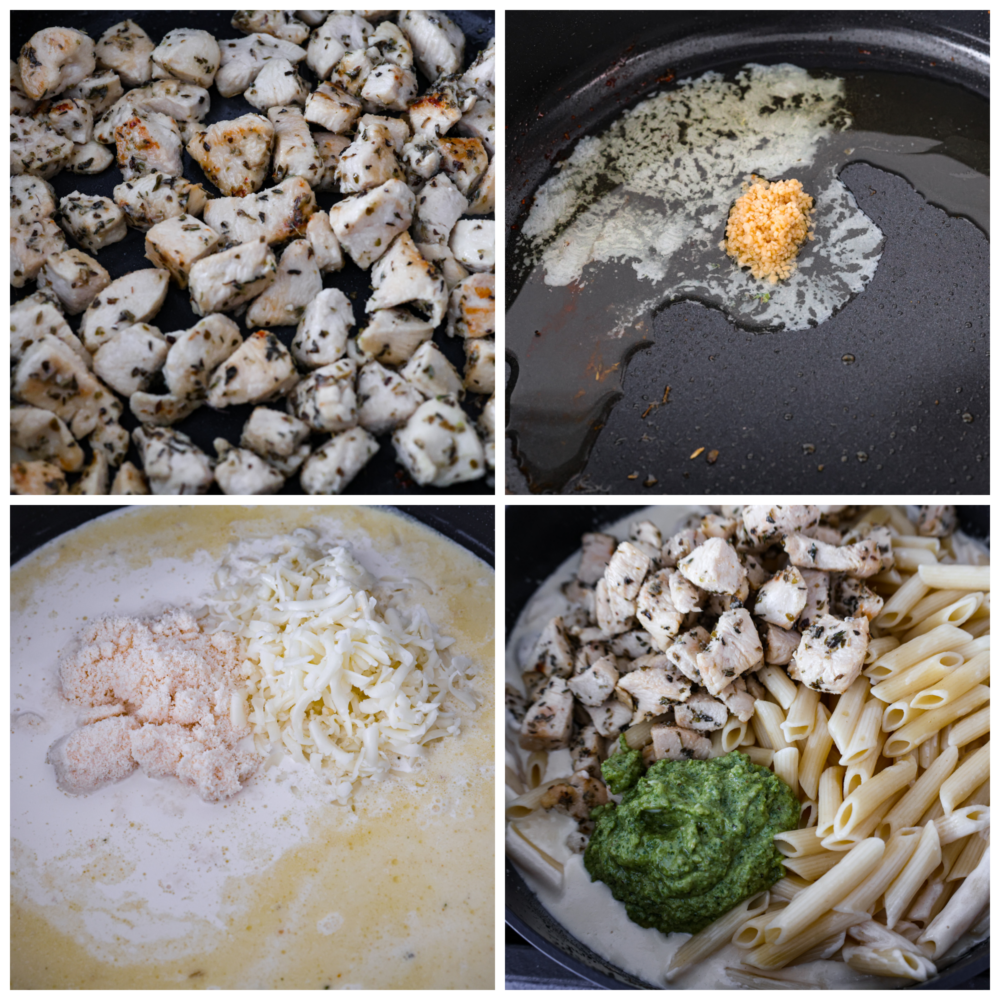 Chicken Pesto Pasta Recipe
The list of ingredients may look a little long for this chicken pesto pasta recipe, but they are super simple. You can also switch up the ingredients to suit your needs. I like adding new things to this recipe all the time. You will figure out exactly the way that your family likes it best. I share some of my tips below for changing things up.
Brown Chicken: Add the olive oil to the skillet over medium heat. Add the cut chicken, onion powder, Italian seasoning, and salt to the skillet. Stir and cook until the chicken is browned on the outside and cooked through. Remove from the skillet and set aside.
Cook Garlic: In the same skillet, add the butter and garlic. Melt the butter and saute the garlic for 30 seconds until fragrant.
Make Sauce: Add the chicken broth, heavy cream, Parmesan cheese, and mozzarella cheese to the skillet. Whisk to combine and continue to stir and cook the sauce over medium-high heat. Simmer for 5-10 minutes or until the sauce starts to thicken.
Make Pasta: While the sauce is thickening, boil the pasta in a pot according to package instructions until al dente. Drain and set aside.
Put It All Together: Once the sauce has thickened, add the cooked chicken, cooked pasta, and pesto sauce to the skillet with the sauce. Stir to combine and cook until warmed through.
Season: Season with additional salt, pepper, and red pepper flakes if desired.
Garnish: Garnish with additional Parmesan cheese and enjoy!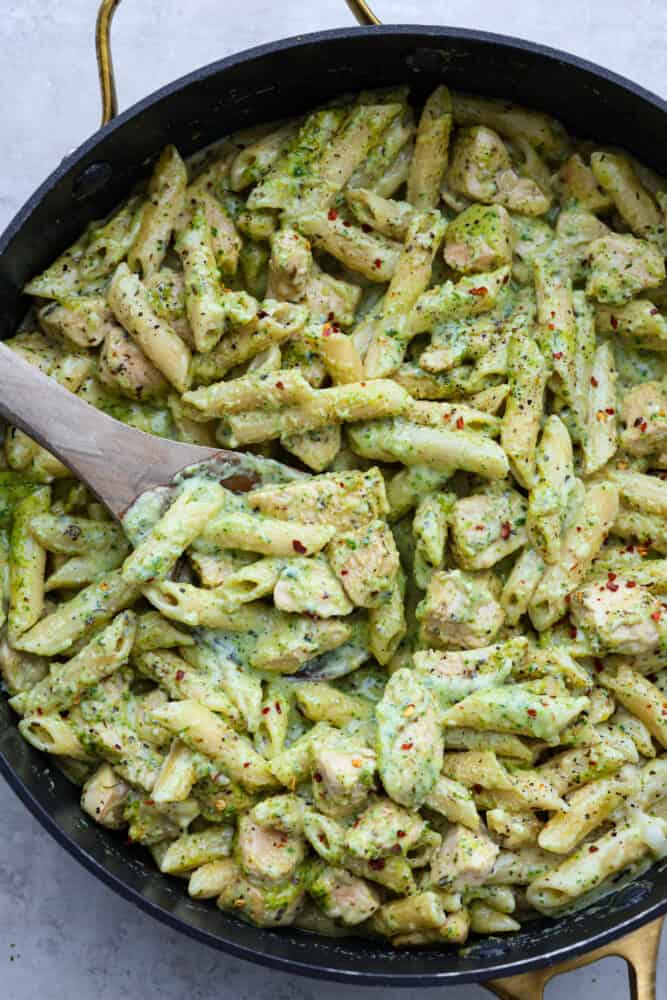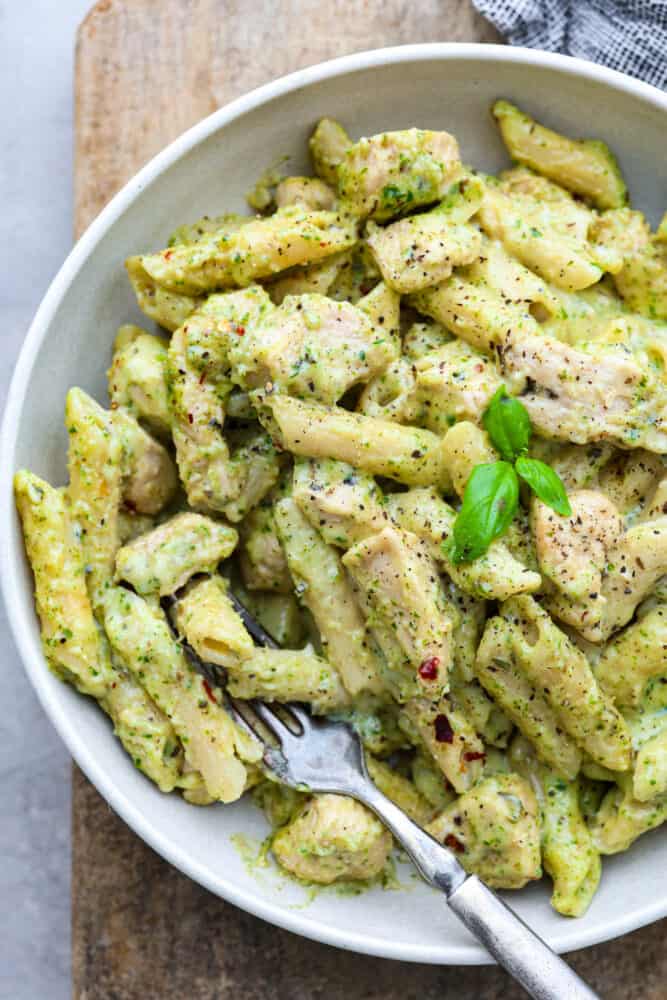 [Cradit_https://therecipecritic.com]

[ad_3]

Source link
You may also like