Uncategorized
Chicken Fajita Meal Prep Bowls
This website may contain affiliate links and advertising so that we can provide recipes to you. Read my privacy policy.
Whether you are trying to stick to a diet, eat out less, or just stop stressing about what to make for dinner, these Chicken Fajita Meal Prep Bowls are your answer! This recipe makes a flavorful and filling meal that is ready to go for the perfect work lunch or quick dinner.
Mexican-inspired dishes are one of my favorites to make a lot of because I know the whole family will be happy with the flavors all week! It always reheats so well, and is something I honestly crave all the time. If you are like me, then you have to try these fun Mexican Pinwheels, this delicious Mexican Pasta Salad, and this crave-able Mexican Corn Chowder.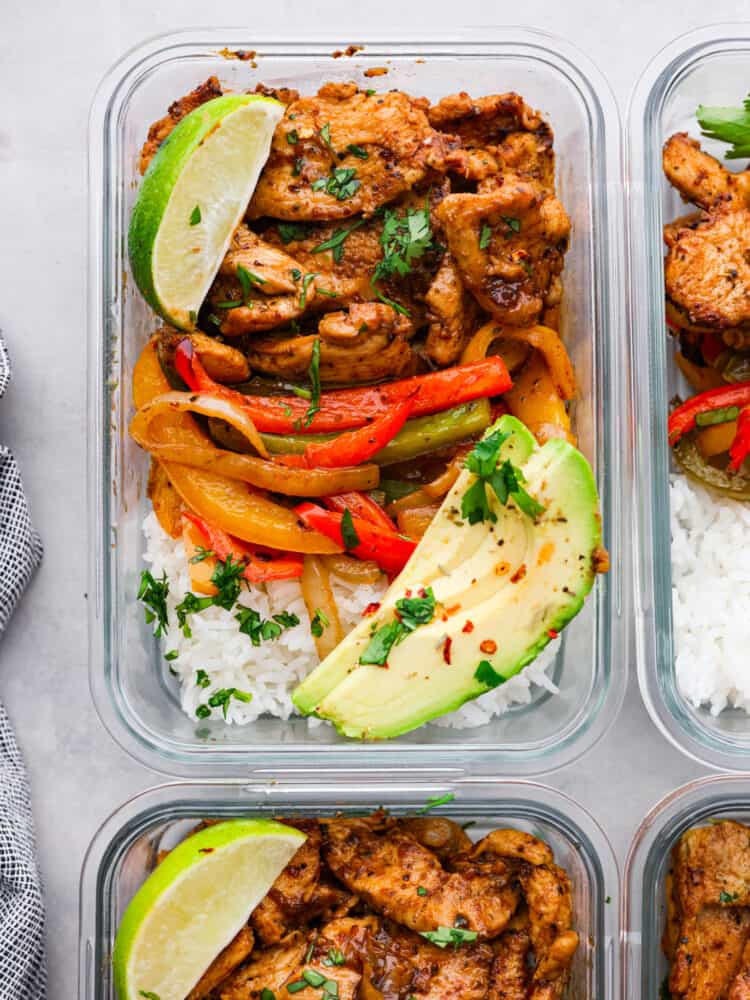 Chicken Fajita Bowl Meal Prep
We've all been there. It's a crazy busy week and everyone is asking what's for dinner. You've been going non-stop for 15 hours straight and you SERIOUSLY need a break. Enter meal prepping. We've all heard of it, and maybe tried it at one point. But the thing about meal prepping, is it needs to make your life EASIER, not more complicated. That's why I love making these chicken fajita meal prep bowls. They are super simple to make, and only take a few extra minutes to portion out to have meals ready to go for the week. Use the calculator on the top right hand of the recipe card to double or triple the recipe for larger families.
This is just a jumping off point for your meal prepping journey. This recipe is simple, but you can absolutely add more to it! What do you like with your fajitas? I know I love fresh salsa, and this blender salsa is ready in just minutes. I can't help but crave some guacamole too. You can even switch up the flavor of the chicken by using taco seasoning instead of fajita seasoning. Get creative with the recipe, make it the way you want it!
Ingredients
These chicken fajita meal prep bowl is so convenient to have on hand! It's also really simple to make. This is just the basic ingredients, other things I love to serve with it are extra vegetables, black beans, corn, and top it with sour cream. You can find tips for cooking the rice in the tip box below. You can find measurements below in the recipe card.
Olive Oil: This is for sauteeing the veggies and meat.
Chicken Breast: I like to use boneless skinless chicken breast, but any part of the chicken will work here.
Fajita Seasoning: I have a recipe for a homemade blend that I always keep on hand! If you don't want to make your own, one packet of store bought fajita seasoning will work. It has enough salt to perfectly season the chicken breasts and it tastes so fresh! It's a blend of cumin, chili powder, paprika, and a few other seasonings that are just amazing together.
Bell Peppers: I like to use a variety of green, red, and orange bell peppers. They have amazing flavor together!
Onion: This is for extra flavor and texture. What is a fajita without onions!
Rice: You will need some precooked rice. I share some of my favorite rice recipes below in the recipe box.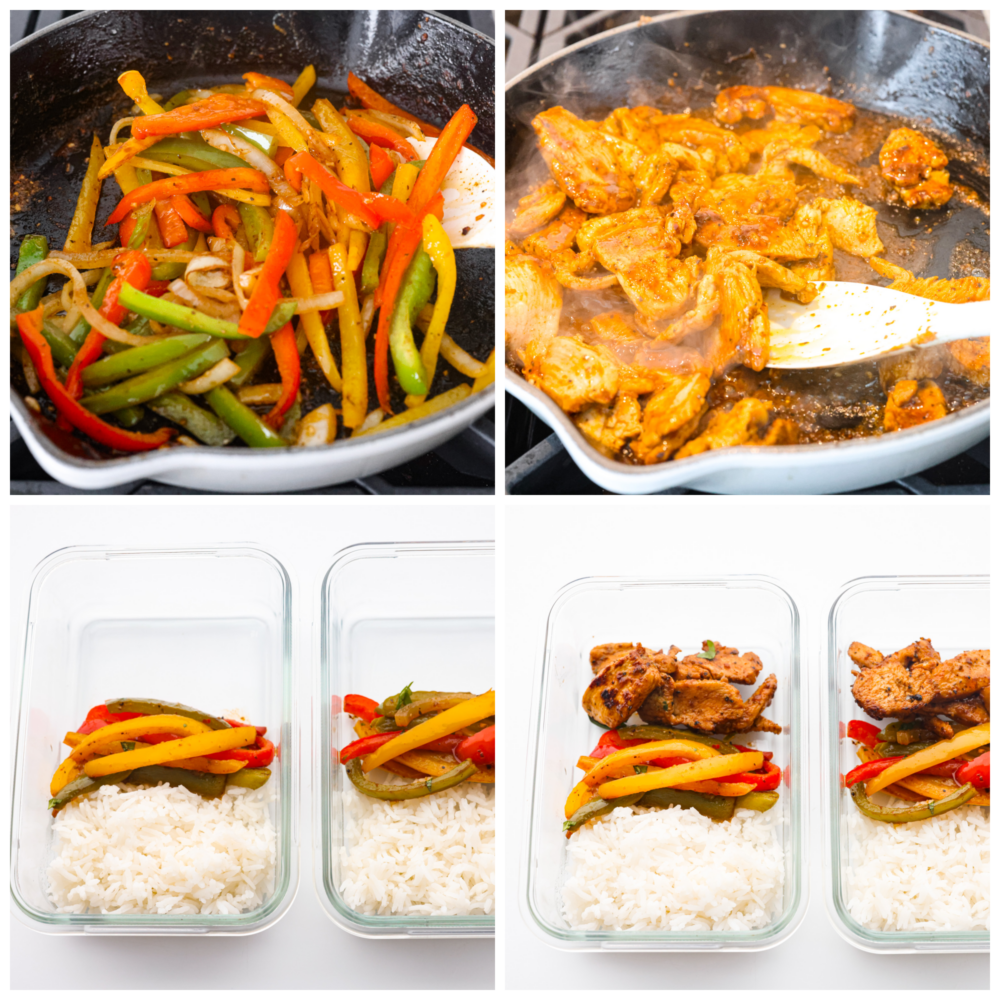 Chicken Fajita Bowls Meal Prep Recipe
These chicken fajita meal prep bowls are too easy to put together. They are also amazing to be able to pull them out of the fridge all week. Perfect for work lunches or sending with the kids for a school lunch. Here is how to make this recipe.
Season Chicken and Cook: In a large skillet over medium-high heat, add the olive oil and chicken. Sprinkle half of the fajita seasoning on the chicken and cook until no longer pink. Set chicken aside on a plate.
Saute Veggies: Add the bell peppers, and onion. Sprinkle remaining fajita seasoning on top. Sauté until they are tender. Add chicken back to the skillet and stir until warmed through.
Add Rice: To assemble, place ½ cup cooked rice into four sealable containers. I like to use leftover rice or prepackaged cooked rice for convenience.
Add Chicken: Place 1 cup of cooked chicken fajitas into the containers.
Store: Seal the containers and store in the refrigerator until ready to eat. Warm in the microwave and garnish with chopped cilantro. Serve with sliced avocado if you desire!



[Cradit_https://therecipecritic.com]

[ad_3]

Source link
You may also like