Uncategorized
Carrot Bundt Cake | The Recipe Critic
This website may contain affiliate links and advertising so that we can provide recipes to you. Read my privacy policy.
Carrot bundt cake is a beautiful combination of moist and sweet carrot cake, topped with divine cream cheese frosting and chopped walnuts. It's full of warm spices and bright flavors that blend together for the perfect festive dessert.
I absolutely love the flavors of carrot cake. It's always been one of my favorite desserts. This carrot bundt cake does not disappoint, it's absolutely incredible! I'm a frosting girl myself, so I love a thick layer of cream cheese frosting on top. Once you try this carrot cake recipe, you've got to try this Carrot Cake Cheesecake, this Carrot Cake Quick Bread, and these fantastic Carrot Cake Cookies.
Carrot Cake Bundt Cake
carrot cake, cream cheese frosting
Why make a carrot bundt cake? Well for starters, it's a beautiful cake that is easy to slice into the perfect pieces. It's great for dinner parties and sharing with friends. You don't have to be a great cake decorator to make this carrot cake with cream cheese frosting a true centerpiece. Depending on what bundt pan you have, you can make so many different designs. You could choose to make a cream cheese glaze instead for a more elegant look.
You don't have to only use your bundt pan for pound cakes! There are so many cakes that taste amazing in a bundt pan, but I actually make my carrot cake in it about half of the time. You don't have to worry about clean edges, frosting the entire thing, and decorations. The cake comes out looking beautiful, and it's the perfect dessert to serve at Easter!
Ingredients
Don't be intimidated by the list of ingredients on this carrot bundt cake. There are a lot of spices, and that's why the list gets a little long. You will need to grate a few carrots, so I recommend using your food processor with the grater attachment to make things really fast. This is by far one of the best carrot cake recipes you will ever try!
Carrot Cake Ingredients
All-Purpose Flour: This is the easiest to work with.
Baking Powder: This helps the carrot bundt cake rise.
Baking Soda: Helps the cake get fluffy.
Egg: I always use large grade A eggs in my recipes.
Vegetable Oil: You could also use olive oil, or your favorite oil for this recipe. Carrot and coconut go great together, so you could even use coconut oil.
Granulated Sugar: To sweeten the cake.
Brown Sugar: Adds a depth of sweet flavor from the molasses.
Vanilla Extract: I always add vanilla extract to my cakes to help bring out all of the other flavors.
Carrots: You need 2 ½ cups of shredded carrots.
Walnuts: You can use crushed pecans instead.
Spices and Seasonings
Salt: To enhance all of the flavors in the carrot bundt cake.
Cinnamon: Such a warm spice, perfect in this cake.
Nutmeg: Nutmeg is warm and nutty.
Allspice: Allspice tastes like cloves, nutmeg, and cinnamon combined.
Ginger: Ginger has a little bit of heat that pairs perfectly with these other spices.
Cloves: This is a very flavorful spice that is sweet and warm at the same time.
Frosting
Cream Cheese: The key ingredient of course! It's tangy and the perfect contrast to the warm spices.
Heavy Whipping Cream: This is what makes the frosting so smooth and light.
Vanilla Extract: I like to add a little extract to enhance all the flavors.
Salt: To bring out all the other flavors.
Powdered Sugar: This sweetens the frosting while keeping it silky smooth. It's perfect on top of the carrot bundt cake.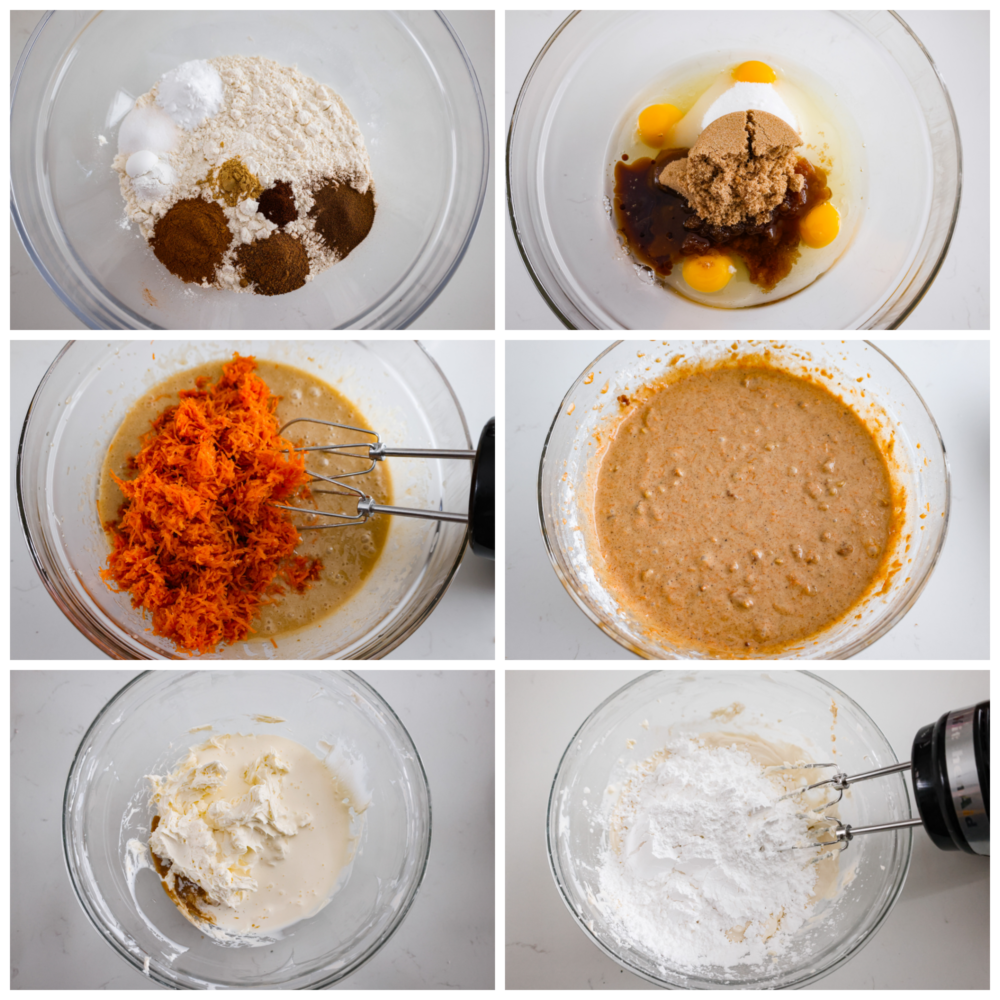 Carrot Bundt Cake Recipe
Yes, carrot bundt cake has a lot of ingredients, but it's actually a really simple cake to make! In just a few steps, your cake is in the oven. I love making this cake in fall and spring, I just think the warm spices go perfect with slightly chilly weather. You are going to love baking this cake for friends and family!
Prep: Preheat your oven to 350 degrees Fahrenheit, prepare a bundt cake pan by spraying it liberally with baking spray. Grate your carrots and measure them out, setting them aside.
Mix Dry Ingredients: In a large bowl, whisk together your flour, baking powder, baking soda, salt, cinnamon, nutmeg, allspice, ginger, and cloves. Set aside.
Mix Wet: In a separate large bowl beat together your eggs, vegetable oil, granulated sugar, brown sugar, and vanilla, add in your carrots and mix.
Add Dry to Wet: Add the dry ingredients to the wet ingredients about ½ cup at a time until it all comes together. Once your batter is mixed, then add in the chopped walnuts and mix to incorporate.
Bake: Pour your batter into your prepared bundt pan and bake for 45-50 minutes. A toothpick inserted should come out clean. Allow the cake to cool for at least 20 minutes before gently removing it from the bundt pan.
Make Frosting: In a medium bowl, using a hand mixer, whip your cream cheese until it is smooth. Then add in your whipping cream, vanilla, salt, and powdered sugar. Whisk until it all comes together smoothly.
Frost Cake and Garnish: Once your cake has cooled to room temperature, frost it with your cream cheese frosting. Optional: then garnish with more chopped walnuts and a sprinkle of cinnamon or nutmeg.



[Cradit_https://therecipecritic.com]

[ad_3]

Source link
You may also like