Uncategorized
Bechamel Sauce Recipe (Sauce Béchamel)
This website may contain affiliate links and advertising so that we can provide recipes to you. Read my privacy policy.
Bechamel sauce is just the creamy, dreamy sauce you need in your life! It's smooth and velvety and can be used in a variety of dishes, from mac and cheese to lasagna. Once you get a taste of its creamy, subtly savory flavor, you'll be hooked!
Is there anything better than a creamy, savory sauce to cover all of your favorite dishes? Bechamel sauce is super versatile and a recipe you're going to love having on hand, but you'll also have to try this homemade white sauce, hollandaise sauce, and alfredo sauce!
What is Bechamel Sauce?
If you haven't tried béchamel sauce before, it's a creamy and luscious white sauce that'll take your taste buds on a joyride. Bechamel sauce, or as the French call it, "Sauce Béchamel," is a classic sauce that has been around since the 17th century. It's made by whisking butter and flour together to make a roux, then adding milk and stirring until the sauce thickens. It's a versatile sauce that can be used in a variety of dishes. Think lasagna, mac and cheese, and gratins. It's also used as a base for other sauces like Mornay sauce, which has grated cheese added to it, or Velouté sauce, which uses a light chicken or fish stock instead of milk.
Bechamel sauce really is the best place to start when you want to add some creamy goodness to your favorite dishes. On its own, it has a very subtle flavor so you can dress it up however you'd like! I like to keep things simple and just use a little salt, pepper, and a pinch of nutmeg for some warmth. It's so delicious! This sauce is perfect for tossing with your favorite pasta, covering poached eggs, using in pot pies, as a base for sausage gravy, the list goes on and on. Keep it in an airtight jar in the fridge so it stays fresh, because you're going to want to have it on hand!
Ingredients for Bechamel Sauce
It only takes a handful of simple ingredients to make this classic French sauce. I'm sure you have them all in your pantry, no grocery store trip needed! If you're looking for measurements, they can all be found below in the recipe card.
Unsalted Butter: Adding unsalted butter to bechamel sauce creates a rich and smooth base that's perfect for pasta dishes, veggies, and more! You can also use olive oil, but your sauce won't end up quite as rich or creamy.
Flour: All purpose flour is essential in making the roux and gives bechamel sauce its thick and creamy consistency.
Milk: Warm milk is gradually added to the butter-flour mixture to create a velvety and delicious bechamel sauce. For a richer sauce, use heavy cream or half and half. Want to make it dairy-free? You can also use plant-based milk like almond, soy, or oat milk instead.
Salt and Pepper: Don't forget to add a pinch of salt and pepper to your bechamel sauce for a burst of flavor. If you're feeling adventurous, you can experiment with different herbs and spices like thyme, rosemary, or even some cayenne pepper. You can also cook your bechamel sauce with a bay leaf in it to infuse more flavor.
Nutmeg: A pinch of nutmeg adds a little extra warmth to the sauce. I love the way it tastes!
How to Make Bechamel Sauce
Bechamel sauce is something anyone can make! It's super easy and only takes 10 minutes from start to finish.
Make Roux: In a large saucepan, melt butter over medium-low heat. Add the flour and whisk constantly for about 2 minutes, until thick and bubbly and just starting to lightly brown.
Stir in Milk: Slowly add the milk a little at a time while whisking constantly to prevent clumping. Increase to medium heat and continue to whisk for 3-4 minutes until thickened and nearly boiling.
Season to Taste: Add salt and pepper to taste as well as 1 pinch of nutmeg. Continue to whisk and cook for another 3-4 minutes.
Serve: Remove from the heat and serve.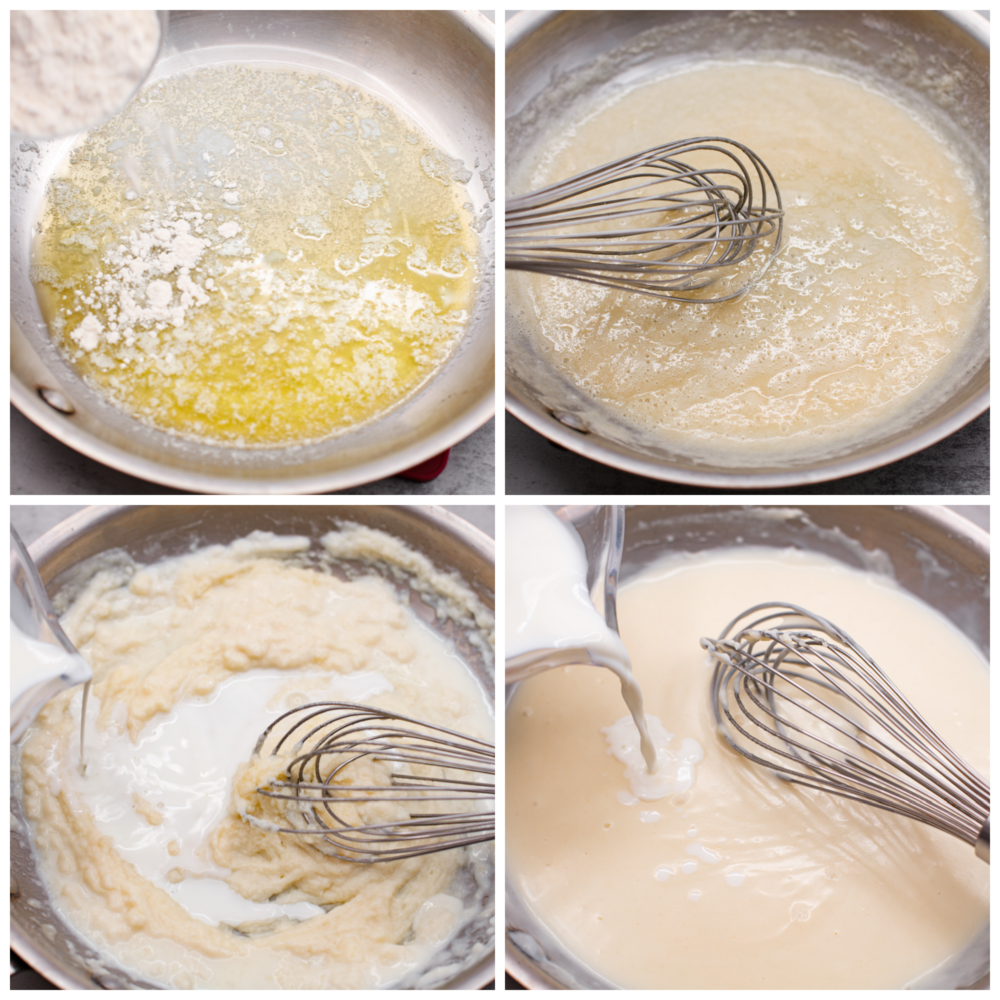 [Cradit_https://therecipecritic.com]

[ad_3]

Source link
You may also like