Uncategorized
Air Fryer Frozen Onion Rings
This website may contain affiliate links and advertising so that we can provide recipes to you. Read my privacy policy.
You are going to love how crispy and perfectly cooked these Air Fryer Frozen Onion Rings get! They are so simple, and you can have frozen onion rings cooked to crispy perfection in minutes. You'll love serving them along with a burger or as an appetizer at your next gathering.
I am a total snacker. I LOVE appetizers. There is nothing that makes me happier than walking into a party and seeing a table full of finger foods. If you love appetizers too, then you have to try this Hot Spinach Artichoke Dip, these delicious Jalapeño Poppers with Bacon, and this simple and delicious Rotel dip.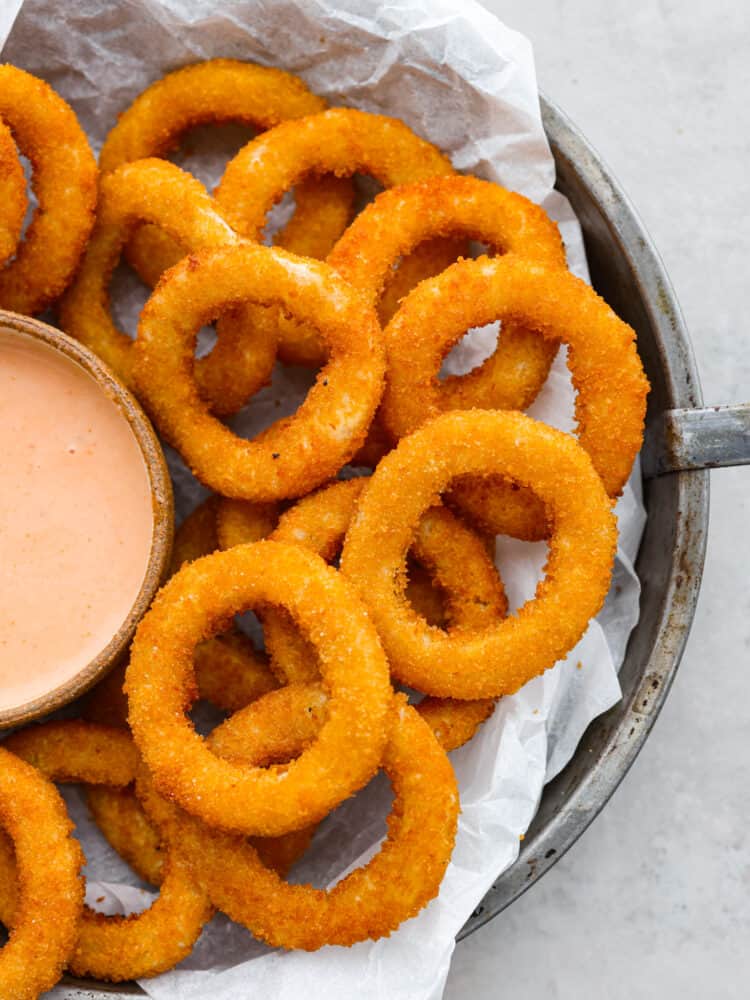 Frozen Onion Rings in Air Fryer
I used to think that onion rings were only good from a restaurant. They only made sense to get from the restaurant because they were so much work at home and honestly, heating up oil has never been my favorite thing. And the frozen onion rings that you bake were always disappointing and dry. UNTIL! I realized that my air fryer would make the most perfect and delicious air fryer frozen onion rings. Guys, this is a fried food game-changer!
It's no secret I love my air fryer. I have SO many air fryer recipes on the blog that you have to try if you have an air fryer. If you don't have one, you should get one! It really is possible to make healthy air fryer recipes and they are so simple and foolproof. They are crispier when you air fry them than when they are baked in the oven. These are the best frozen onion rings out there, and they are perfect dipped in ketchup or ranch dressing. I will definitely be making them again soon.
Ingredients
You guessed it, all you need is frozen onion rings! I like to spray my onion rings with a little oil to make them extra crispy. The oil spray is optional, but it does make them just like they are served at a restaurant. You could also drizzle a little olive oil or vegetable oil if you wanted to. Air fryer onion rings are so simple and perfect for a quick party appetizer. Everyone loves them!
Frozen Onion Rings: Go to the freezer section of your grocery store and grab your favorite brand of frozen onion rings. They are by far the best tasting when popped in the air fryer! I really love the ones from Trader Joe's brand. The Alexia onion rings are also a great brand.
Non-Stick Cooking Spray: You will want to spray your air fryer basket before cooking the onion rings.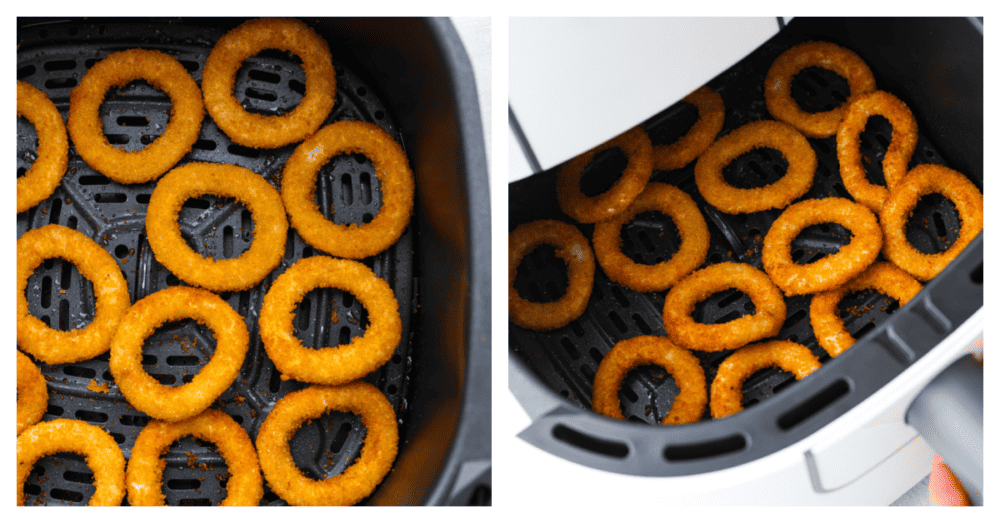 How to Cook Frozen Onion Rings in Air Fryer
The key to air fryer frozen onion rings is how long you cook them! The other trick is actually flipping them halfway through. That makes sure they are evenly cooked and crispy on all sides. If you are ready for the easiest appetizer recipe out there, then grab your air fryer and onion rings and get cooking! I love onion rings because they are always a crowd pleaser. Once you are done with these onion rings (they won't last long!), then you'll have to try air fryer mozzarella sticks and french fries!
Layer: Layer half of the bag of frozen onion rings into the basket of the air fryer. Make sure to layer them in a single layer making sure not to overlap the onion rings.
Spray: Lightly spray the onion rings with non-stick cooking spray. This gives them extra crispiness.
Cook: Close the air fryer and cook at 400 degrees Fahrenheit for 8-10 minutes.
Flip: Halfway through the cooking process, open the basket and then flip the onion rings. Continue to cook to desired crispness.
Repeat: Remove the cooked onion rings from the basket and then repeat these steps for the remaining frozen onion rings.
Enjoy: Enjoy right away with your favorite dipping sauce!



[Cradit_https://therecipecritic.com]

[ad_3]

Source link
You may also like
Calendar
April 2023
M
T
W
T
F
S
S
1
2
3
4
5
6
7
8
9
10
11
12
13
14
15
16
17
18
19
20
21
22
23
24
25
26
27
28
29
30