Uncategorized
Absolutely Perfect Chicken Pot Pie
This website may contain affiliate links and advertising so that we can provide recipes to you. Read my privacy policy.
There is nothing more comforting than this absolutely perfect chicken pot pie! A flaky pie crust filled with chicken, veggies, and tons of flavor is just what you need on a cold winter day, or any day. This is a classic recipe you will definitely want in your recipe book!
I am a huge fan of chicken pot pie. We ate it growing up and it always just hits the spot! It's a wholesome meal in just one dish and it's something that everyone loves. It's kind of like the perfect casserole! If you want some other fun casserole recipes, you need to try this Overnight Breakfast Casserole, this yummy Taco Casserole, and this incredible Hashbrown Casserole.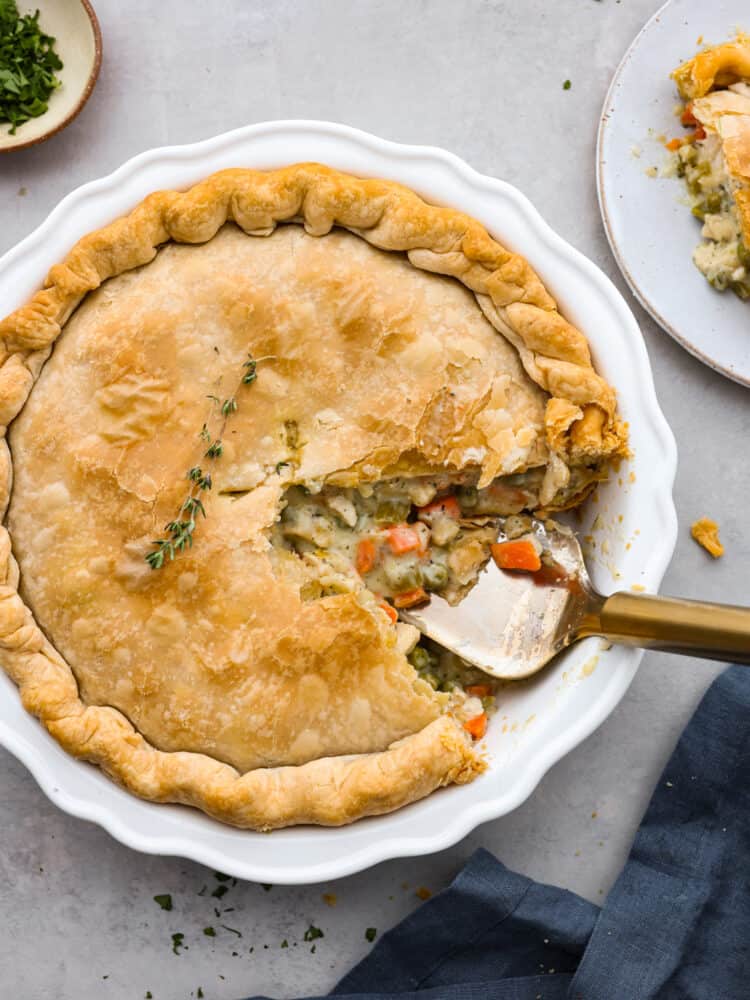 Homemade Chicken Pot Pie
When I think of comfort food, I think of a homemade chicken pot pie! It's everything I want in a meal. Lots of flavor, delicious veggies, and covered in a buttery flaky crust. What's not to absolutely love?! I have a great pie crust recipe that I share in the recipe card, but this butter pie crust recipe is also one of my favorites. I think some people shy away from making chicken pot pie at home because they think it will take forever. Think again! This recipe takes 20 minutes to make and an hour to bake.
The inside of this chicken pot pie is so flavorful, and while it's baking it becomes this perfectly creamy and gravy like mixture. You are seriously going to love it! The best part is, it's the perfect meal all on it's own. I definitely love it with some mashed potatoes and fresh vegetables like this chilled cucumber tomato salad. There is no right or wrong way to serve this chicken pot pie, it's a classic that everyone will love.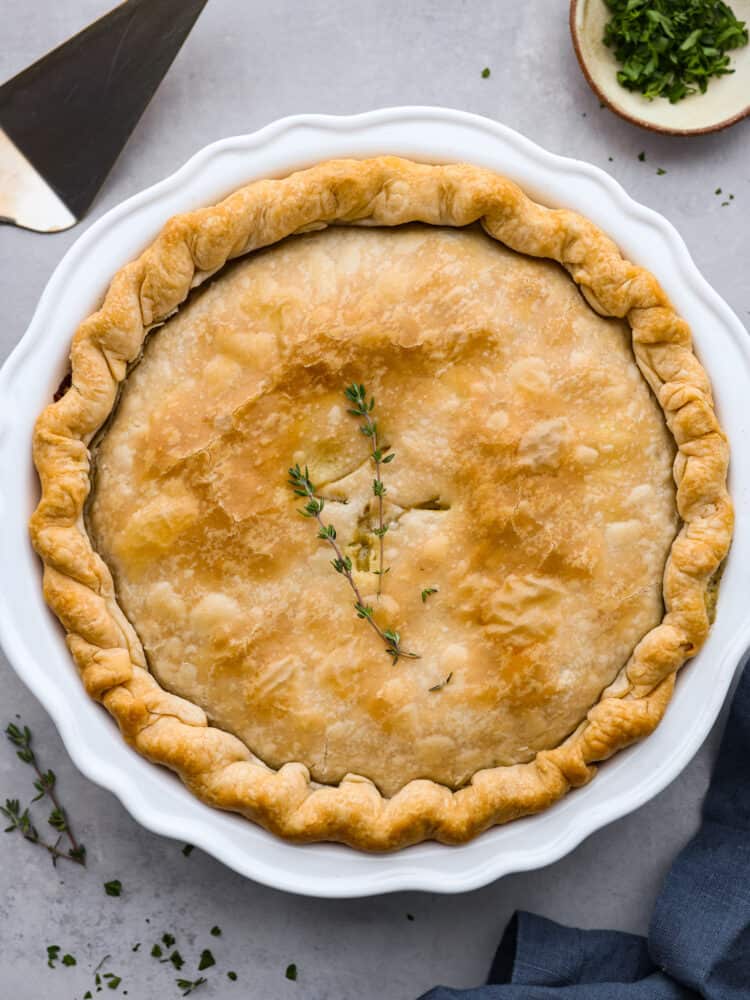 Ingredients
This absolutely perfect chicken pot pie recipe is a total classic. These ingredients are simple, straight forward, and so tasty when they all come together. Fresh and quality ingredients will always taste best. I didn't include this but you can make a simple egg wash or brush the top of the crust with heavy cream to help it brown nicely. You can find exact measurements below in the recipe card.
Chicken Pot Pie
Pie Crust: I absolutely love this homemade pie crust recipe, I think you will too! I like making extra and freezing some so that I can always pull some out of the freeer. A store bought pie crust will work too.
Chicken Breast: You will want to either boil some chicken breast or roast it ahead of time. The chicken should be cooked and skinless for this recipe. You could use other parts of the chicken as well, the dark meat has lots of flavor.
Butter: Butter makes everything better!
Onion: Onions add a lot of flavor to the filling.
Carrots: They get so soft and delicious!
Celery: They have a nice light flavor and a great texture.
Peas: This is optional. My picky eaters don't like them but I love them!
Flour: This will help the gravy get thick.
Chicken Broth: This is what makes the filling so perfectly flavorful.
Half and Half: This helps the sauce get nice and creamy.
Lemon Juice: A little acid really brightens up the sauce and brings out all of the delicious flavors.
Seasonings
Dried Parsley Flakes: This has a milk sweet flavor. You could also use dried basil instead.
Pepper: This adds extra flavor and a little heat.
Nutmeg: This might be a surprising ingredient, but nutmeg has a warm earthy flavor that goes a long way in this dish!
Dried Thyme: I absolutely love thyme, and it is the perfect herb for this dish.
Chicken Boullion: This is where a lot of the flavor comes from, and you will add it to taste. I would start with one teaspoon and give it a taste to see if you want more or not.
Salt: Salt helps to bring out all the flavors in this dish.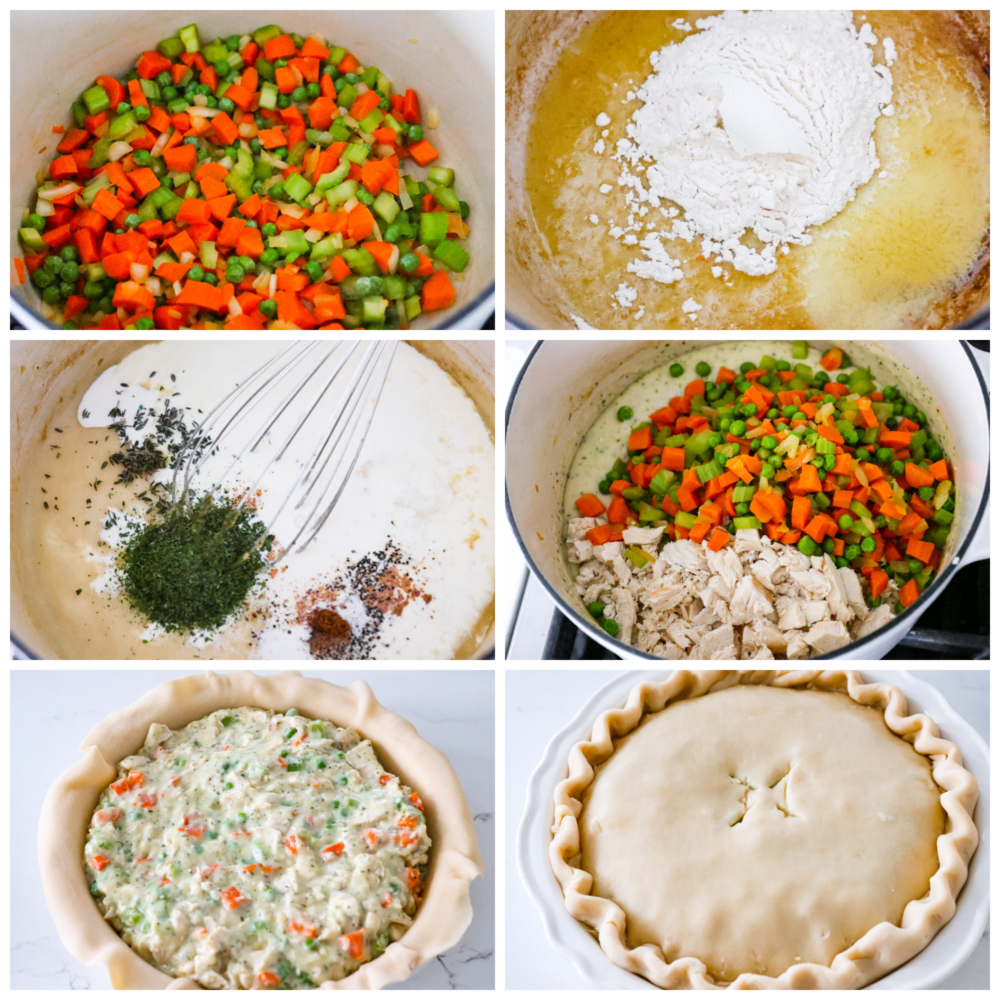 Chicken Pot Pie Recipe
Homemade chicken pot pie is actually really easy to make! You don't have to do anything special, just cook the filling in a pan before baking it. You will cook the vegetables until they are aldente, because you are still cooking them in the oven for an hour afterward. Other than that, there is nothing to worry about with this recipe!
Prep Crust: Prepare the pie crust by rolling out one crust to place in the bottom of a deep dish 9″ pie dish. Make sure the crust is bigger than the pan dish so there is extra to create a pretty edge when you seal it.
Cook Veggies: Melt 2 tablespoons butter in a medium-sized pot over medium heat. Add the onion, carrots, and celery. Cook until soft and tender for about 5 minutes. Set aside.
Make Roux: In a large stock pot, melt ¼ cup butter. Stir in the flour and whisk to make a roux. The mixture will look like a paste. This helps to thicken the filling
Whisk Liquids In: Slowly whisk in the chicken broth and milk.
Add Seasonings: Add the lemon juice, salt, pepper, parsley, thyme, nutmeg, and chicken bouillon. Stir frequently until the mixture becomes thick.
Stir in Veggies: Remove from the heat. Then stir in the cooked chicken pieces and veggie mixture.
Taste: Taste and adjust the seasonings or add salt or chicken flavoring if needed.
Add to Crust: Pour the mixture into the crust of the pie dish.
Top with Crust: Roll the remaining pie crust over the top and then pinch the edges shut. Then cut slits in the top of the pie.
Bake: Bake for 1 hour at 375 degrees Fahrenheit, or until golden brown.
Cool and Enjoy: Allow to cool slightly and serve!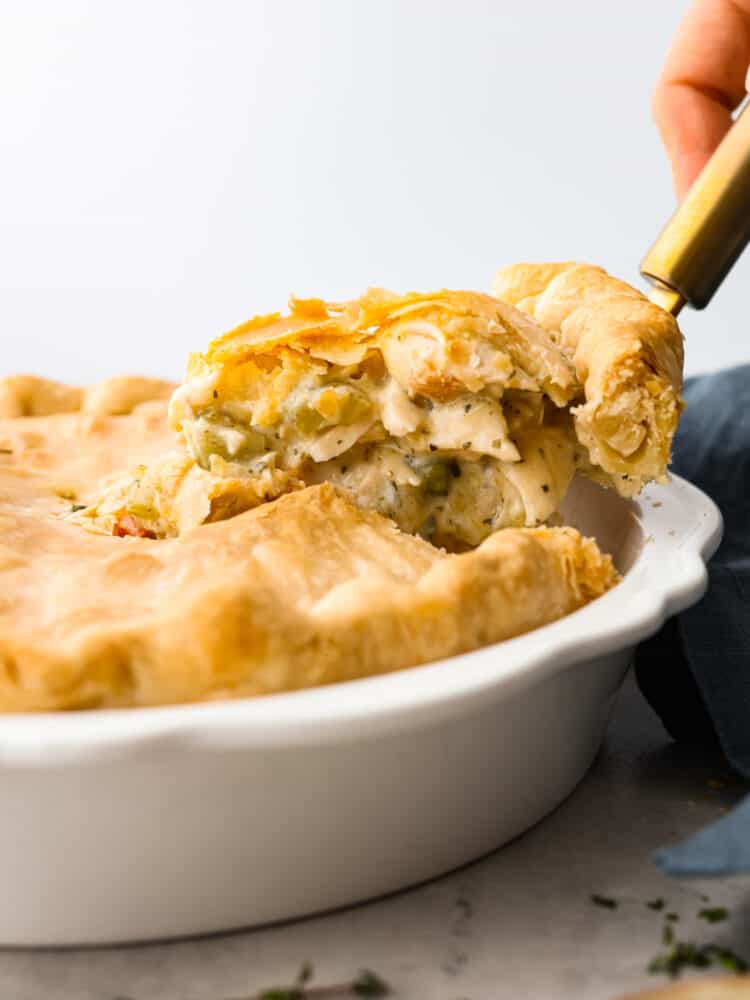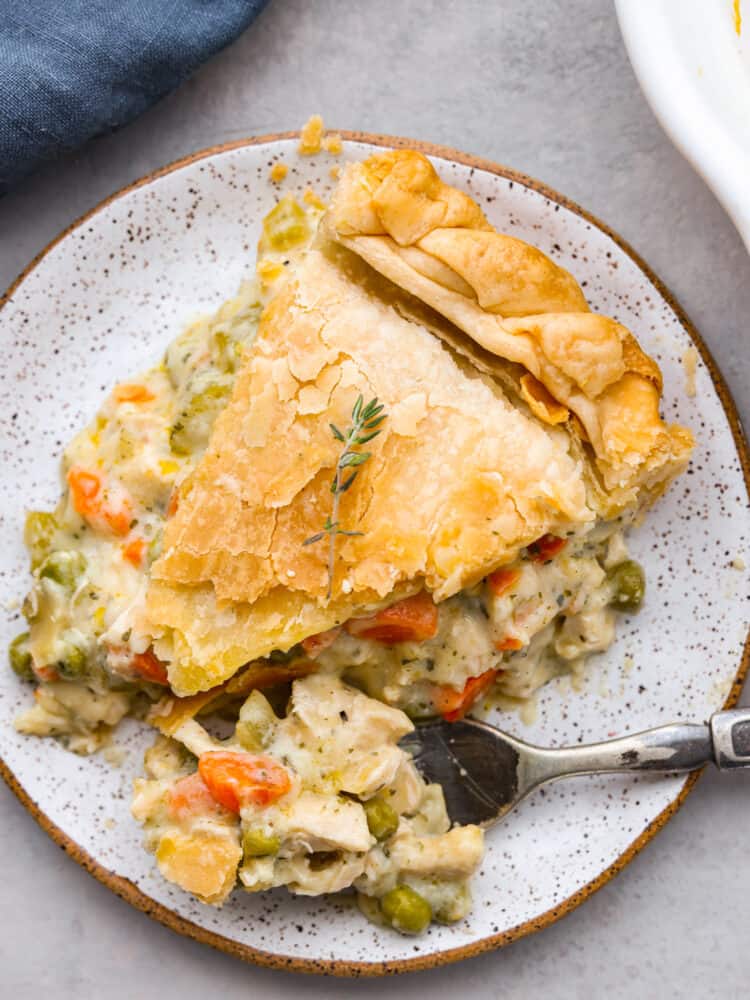 [Cradit_https://therecipecritic.com]

[ad_3]

Source link
You may also like
Calendar
April 2023
M
T
W
T
F
S
S
1
2
3
4
5
6
7
8
9
10
11
12
13
14
15
16
17
18
19
20
21
22
23
24
25
26
27
28
29
30